Films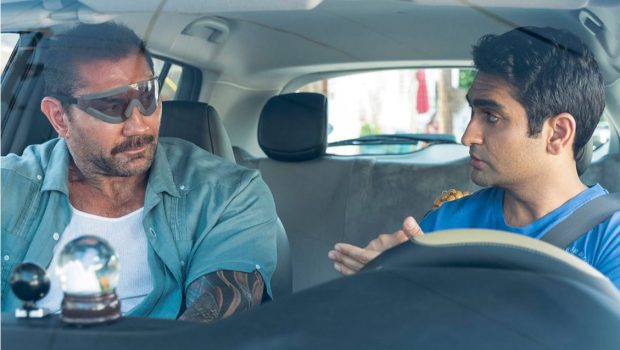 Published on July 9th, 2019 | by Curtis Mayfield
Stuber – Film Review
Reviewed by Curtis Mayfield M-H on the 8th of July 2019
20th Century Fox presents a film by Michael Dowse
Written by Tripper Clancy
Produced by Jonathan Goldstein and Jon Francis Daley
Starring: Kumail Nanjiani, Dave Bautista, Iko Uwais, Natalie Morales, and Betty Gilpin
Music by Joseph Trapanese
Cinematography: Bobby Shore
Edited by Jonathan Schwartz
Running Time: 105 minutes
Rating: MA15+
Release Date: the 11th of June 2019
The R-rated comedy has become a rarity these days as it has been lost among comic book films and teen romances. Fortunately, the dream team of director Paul Feig and actor Melissa McCarthy satisfied audiences whenever stoners Seth Rogen and Evan Goldberg weren't making a movie. Bridesmaids (2011) and Spy (2015) for example proved to be the cream of the crop.
The foul-mouthed jokes of 21 and 22 Jump Street (2012 and 2014) also elevated the increasing unmarketable comedy genre. Another one of the genre's recent successes was Blockers (2018). It was a gender-switch movie about teenage girls trying to lose their virginity. These films proved that adults will pay good money to laugh at scatological humour.
Stepping up to the plate is the dirty MA-Rated buddy comedy Stuber. It pairs odd couple Kumail Nanjiani (The Big Sick, Silicon Valley) and Dave Bautista (Guardians of the Galaxy, Blade Runner 2049) together to strike comedic gold. Nanjiani plays Stu, a gentle soul who works in a sports store by day and drives a car for a certain ride sharing app. For those playing at home, this is the second time Nanjiani has played an Uber driver. Stu is pedantic about maintaining his five‑star driver rating, keeping his leased car clean, and starting a new business.
He is also secretly in love with his friend and future business partner Becca (GLOW's Betty Gilpin) and attempts to juggle the day in the life of an overworked pushover. Bautista fits his giant arms and head perfectly into the role of hardened Vic, a clichéd Los Angeles cop character. His DNA makeup consists of alcohol and street justice. He is determined to avenge his murdered partner (a little nod to Guardians with this casting choice) who was killed by Tedjo (Iko Uwais).
Teijo is a white whale criminal who continues to evade the law. Naturally, Vic vows to puts his life on hold until he catches his nemesis. He neglects his grown-up daughter, Nicole, who is played by the always-underused Natalie Morales (Parks and Recreation). In a twist of fate not unlike Collateral (2004), Vic uses (and abuses) his police authority to force Stu to drive him around L.A. For the sake of the plot, Vic has also undertaken laser eye surgery. He is left virtually blind and unable to navigate L.A.'s criminal underground without Stu's help.
The film's director, Michael Dowse, has developed some of the funniest alternative comedies in film and television, including episodes of Man Seeking Woman, Futureman, and Preacher, as well as the cinematic gem Goon (2011). However, despite having a talented director and interesting leads, Stuber is a misfire. It fails to provide enough big laughs to lift the movie off the ground.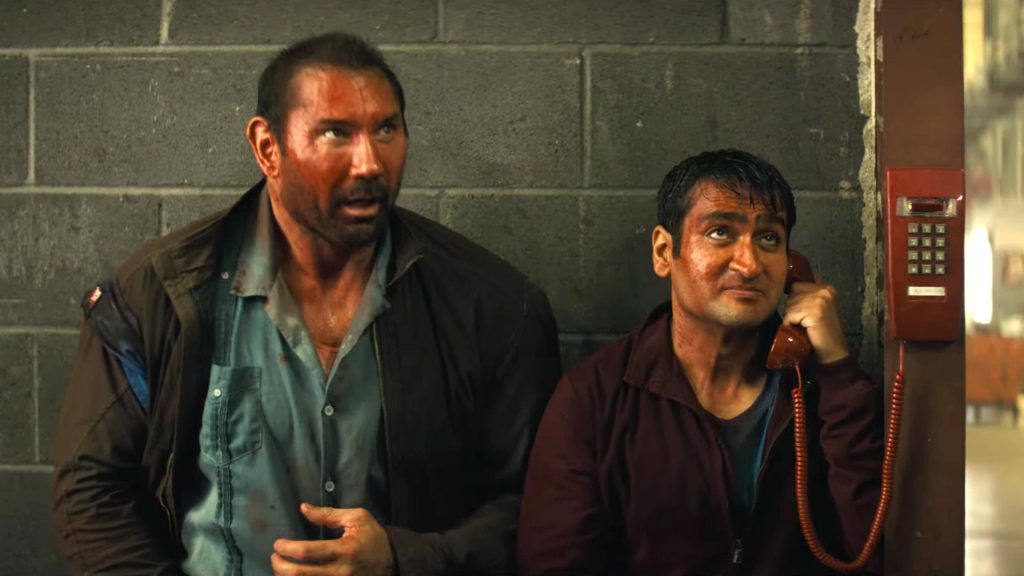 A lot of slapstick comedy is milked from the premise and it works well until it doesn't. Bautista seems backed into an acting corner as he doesn't shine as brightly as he does when playing the funny but deadly Drax in Guardians. With more room to fly he could have achieved what Channing Tatum did in 21 Jump Street and prove his likability as comedic actor. Nanjiani suits his role perfectly as he cruises through the part of the everyman in an over-the-top situation. Witnessing Stu cry and scream after accidentally shooting a bad guy is a moment of comedy gold.
As the story progresses and Stu longs to leave deadly shootouts and dead bodies behind, the clichés rise. The biggest contrivance is Vic's dedication to his job as the comedic John McClane or 'Douche Lundgren' as Stu hilariously calls him. Both characters had the potential for a great odd couple pairing as they are physically contrasting but equally disconnected from the women in their lives.
While the laughs continue throughout the adventure, they are not as hard-hitting as expected from two proven comedic acts. Speaking of missed opportunities, Uwais is wasted as the villain. His impressive fighting skills, showcased in the genre defining martial arts films The Raid: Redemption (2011) and The Raid 2 (2014), are underused. One of the film's highlights involves Stu narrating a fight between Vic and Tedjo, but like the rest of the movie the combination of action and comedy doesn't reach its full potential.
Summary: While the laughs continue throughout the adventure, they are not as hard-hitting as expected from two proven comedic acts. Consequently, the combination of action and comedy doesn't reach its full potential.