Blu-ray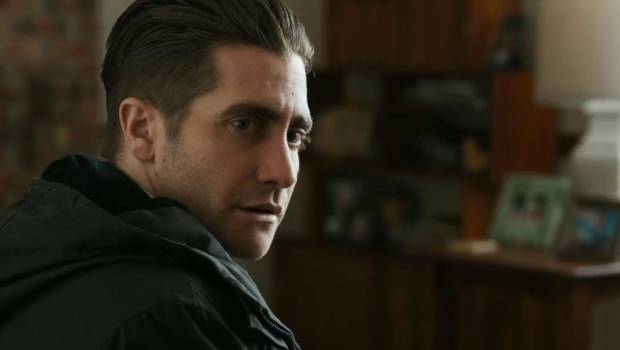 Published on June 16th, 2018 | by Curtis Mayfield
Stronger Blu-ray Review
Summary: Stronger goes beyond the heroic image of the news stories and digs bone deep into the vulnerability of this character's world and their story.
"They're trying to make a hero out of me" might just the piece of dialogue that reveals the crux of what Stronger, the true story of a suvivor of the Boston bombings, is built on. Jake Gyllenhaal perfectly slips into the real life character of Jeff Bauman, a 27 year old who lost both legs in the 2013 terrorist attack on the Boston marathon. David Gordon Green is the unlikely director of this powerful biography who's shown he can do a lot more outside of his usual world of comedy (Pineapple Express, Your Highness). Over the years Green has slowly built up a solid body of dramatic work (Joe, Prince Avalanche) and this time he's perfected his direction to a T. Stronger could have been turned into the typical Hollywood treatment of real life tragedy and triumph, but instead cast and crew have come together perfectly to portray a real life struggle in realistic terms.
Gyllenhaal's portrayal of Jeff Bauman is as down to earth and pragmatic as it gets. Bauman is shown just to be a regular guy who unfortunately was involved in an extremely traumatic event. Green and screenplay writer John Pollono waste no time in putting the lead character through his challenges as there's no big build up to the tragic bombing, and instead glide through it to focus on Jeff's road to recovery instead. Stronger doesn't shy away from first telling a slow painful story filled with agony, rather than focusing on the glossy triumphant moments. Gyllenhaal's shines brightest in the smaller, agonising moments of the movie. For example when Jeff is getting his wounds cleaned for the first time, he winces and looks away all while looking at his girlfriend Erin (an amazing performance by Tatiana Maslany). It sounds corny on paper but only an expert movie making team like this one could make it as good as it is.
What separates this bio-pic from most others is its truthful scope on the main character. Jeff is prematurely held up by his family and the tight-knit city of Boston to be a symbol of strength more than he's ready to be. The fantastic performance from Miranda Richardson as Jeff's overbearing alcoholic mum Patty, is amazing to watch. While Jeff struggles with his recovery as well as the fame and new expectations of being a public figure, the rest of the world around him wants him to recover faster than he can. The most painful scenes of the movie may be watching a character with PTSD being thrown into the spotlight when he's clearly still got a lot of mental damage to mend. Richardson's portrayal of the boozy mum does the incredible balancing act of making things funny just as easily as she makes things extremely sad. It's funny to see her drunkenly praise Oprah but then the other shoe drops and we see her too hungover to take her son to rehabilitation. It's the characters that are closet to Jeff that don't see (or ignore) the pain he's feeling just below the surface. All except Erin who grits her teeth and holds on for as long as she can. This role will be career defining one for Maslany as she portrays her ability to evoke hundreds of emotions before she's even spoken a word.
The behind the scenes special feature on the Blu-ray paints a more vivid picture of this story with interviews with not only the cast and crew but with Jeff Bauman himself, who's autobiography this movie was based on. The special feature opens up the movie's heart and shows off all its working pieces with a technical breakdown of how they created the shots that made it look like Gyllenhaal had both legs missing to the casting of the real life doctors and rehab workers who helped Bauman during his recovery. 
Stronger avoids all the tropes of a regular inspiring biography by choosing to use a micro-lense on a macro-worthy story and gets into the gritty details of recovery for both Jeff and his family and friends. Jeff's story isn't sugar-coated either as we see him battle addiction of his meds to making dumb choices like driving drunk (you'll have to watch it for yourself to see how the possibility of this scene plays out). The movie succeeds for its amazing cast and the filmmakers decision to keep reality in check. Stronger goes beyond the heroic image of the news stories and digs bone deep into the vulnerability of this character's world and their story.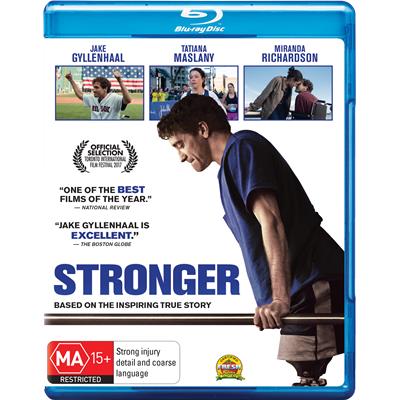 Blu-ray details
Director – David Gordon Green
Actors – Jake Gyllenhaal, Tatiana Maslany, Miranda Richardson
Film Genre – Drama
Label – Roadshow
Audio – English (DTS-HD 5.1)
Subtitles – English
Running Time – 118
Aspect Ratio – 2.40:1
Region Coding – B (Blu-Ray)
TV Standard – HD
Rating – MA15+
Consumer Advice – Strong injury detail and coarse language
Year of Release – 2017
Primary Format – Movies/TV – Blu-Ray