Events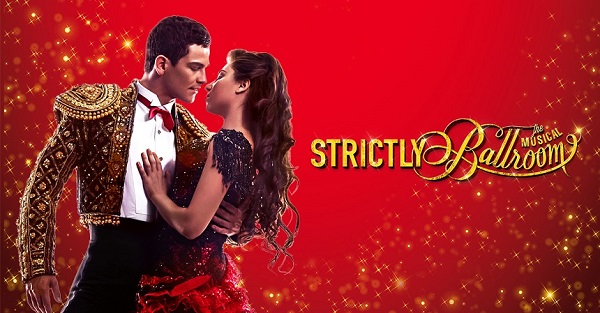 Published on June 15th, 2015 | by admin
STRICTLY BALLROOM THE MUSICAL FINAL TICKETS NOW ON SALE!
STRICTLY BALLROOM THE MUSICAL is leaving Melbourne and final tickets have just been released for Melbourne's hottest show, so don't miss your chance to see this feel-good show before it's too late! The final chance to catch this spectacular musical is Friday 28th August before it opens in Brisbane in September.
STRICTLY BALLROOM THE MUSICAL had its Melbourne Premiere on Saturday January 17, 2015 at Her Majesty's Theatre to rapturous reviews and thrilled audiences.
 'A MUSICAL NOT TO MISS' Channel Nine   'STRICTLY AMAZING' Herald Sun
This new production is staged by the original creative team behind the classic 1992 film, including director and co-writer Baz Luhrmann, set and costume designer Catherine Martin, choreographer John "Cha Cha" O'Connell and co-writer Craig Pearce.
Playing the pivotal roles of 'Scott Hastings' and 'Fran' are Thomas Lacey and Phoebe Panaretos who lead an outstanding Australian cast of 43 including Bob Baines as Les Kendall, Drew Forsythe as Doug Hastings, Natalie Gamsu as Abuela, Robert Grubb as Barry Fife, Fernando Mira as Rico, Heather Mitchell as Shirley Hastings and Mark Owen-Taylor as JJ Silvers.
STRICTLY BALLROOM THE MUSICAL is the inspiring story of a championship ballroom dancer who defies all the rules to follow his heart.  This uplifting and courageous tale originated as a stage play that Baz Luhrmann devised with a group of students at the National Institute of Dramatic Art (NIDA) back in 1984.
STRICTLY BALLROOM THE MUSICAL features break-into-song numbers created from original classics from the film, Love is in the Air, Perhaps Perhaps Perhaps, and Time After Time as well as some wonderful new songs by artists such as Eddie Perfect and Sia.
Get ready to fall in love with STRICTLY BALLROOM THE MUSICAL.
www.strictlyballroomthemusical.com www.ticketek.com.au
Facebook.com/strictlyballroomthemusical twitter@strictlystage
Venue: Her Majesty's Theatre
Performance Times: Performance schedule
Wed 7pm, Thurs – Sat 8pm
Wed 1pm, Sat 2pm, Sun 3pm
Prices: Wednesday & Thursday Evenings, tickets $55 – $135
Wednesday Matinee, tickets $55 – $120
Friday, Saturday & Sunday, tickets $55 – $150
Bookings: Tickets now on sale
Ticketek.com.au or 132 849
Groups 20+ and School Groups 20+ call 1300 364 001