News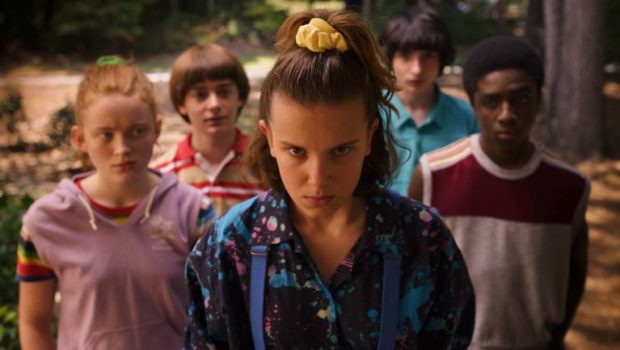 Published on July 10th, 2019 | by Damien Straker
Stranger Things in Numbers: EVERY Arrest, Telepathy Use, Demogorgan Appearances and More
Stranger Things in Numbers: Season 3 is the deadliest series so far 
An interactive guide dissects all three seasons of Stranger Things to reveal which episode features the most Demogorgons, visits to the Upside Down and psionic power uses.
Season three is the deadliest instalment so far, with eight notable character deaths across eight episodes – making the new series twice as deadly as the first.
Police Chief Hopper is the most argumentative and most often apprehended character, while Nancy Wheeler has the most romantic liaisons.
Have you ever wondered which episode of Stranger Things features the most Demogorgons, which character is the most argumentative, or how many times Eleven uses her powers?
Stranger Things in Numbers collates data from every episode from seasons one to three, and compares them across ten categories to produce definitive stats from the Upside Down.
This includes total Demogorgon appearances, psionic power uses and the number of romantic liaisons, along with visits to the Upside Down, 80s film references and much more.
S2 Chapter Nine: The Gate features the most Demorgon appearances with 96, while S2 Chapter Seven: The Lost Sister features the most psionic power uses with 21. S3 Chapter Six: The Birthday features the most notable character deaths with three, making the third series the deadliest so far.
The detailed analysis also reveals that Chief Jim Hopper is the most argumentative character, being involved in a total of 19 fights, fallouts and confrontations throughout the series. He's also the most often apprehended character, while Nancy is the most romantic with 10 liaisons.
Fans of Eleven can skip S2 Chapter Six: The Spy, as actress Millie Bobby Brown doesn't appear onscreen for the entire episode. Brown went from reportedly earning $20,000 per episode in season one to $350,000 per episode in the newest series – meaning she collected  a $2.8 million salary from season three, not including bonuses.
Eleven went from speaking just 246 words across season one to 152 complete lines in the latest series, earning an average of $18,420 per line in season three. There are a total of 139 Demogorgon appearances, 98 psionic power uses, 24 visits to the Upside Down and 98 fights and fallouts throughout the franchise.
All 25 Stranger Things episodes are analysed in detail, including the newly released and highly anticipated season three instalments. Fans can view statistics for each episode across ten categories, alongside trivia, facts and season synopses.
The full list of categories compared includes:
Locations visited

Demogorgon appearances

Telepathy and telekinesis uses

Notable character deaths

80s film references

New characters

Arrests and detainments

Romantic liaisons

Visits to the Upside Down

Fights and fallouts
To find out which Stranger Things characters are mouthbreathers and which never lie, Stranger Things in Numbers has all the information you could need and more to turn your world Upside Down….
To view Stranger Things in Numbers, please visit: https://www.strangerthingsinnumbers.com/
Powered by Stranger Things In Numbers