Comics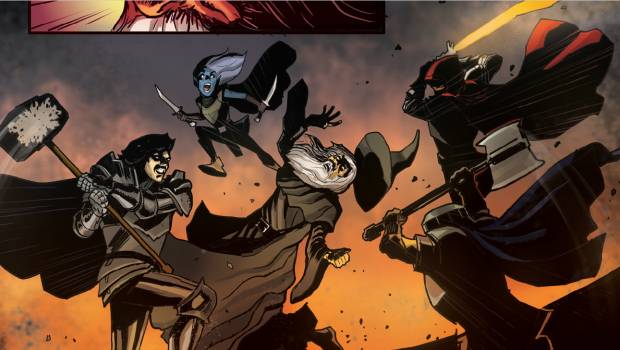 Published on February 12th, 2021 | by Tim Chuma
STRANGER THINGS AND DUNGEONS & DRAGONS #4 (2020) Review
Summary: If you are already a fan of both of these things then consider this story. Everyone else have a look first.
Loosely following on from the events of Stranger Things season 3, the gang finally gets together for one last session of Dungeons and Dragons that they never really got to do during the series due to so many things going on.
It is a nice crossover series having them inside the game and most likely something for the bigger fans of Stranger Things and Dungeons and Dragons.
If you have already watched all the series there is nothing really new on display here it is really just an extra epilogue to the series and a chance to see what the inside of one of their D&D sessions is like from their imagination.
Not sure if you would get this unless you had all the other Stranger Things stories already but it is worth having a look if you have even a passing interest in these characters.
I did like Eleven being concerned about her friends dying in the game to which the reply was "we die all the time!" and that it wasn't really about fighting monsters, more telling their own story.
This was only a limited series so it would be easy to go back and read the other ones if this is of any interest to you.
Comic Details:
Writer: Jody Houser, Jim Zub
Artist: Diego Galindo
Letterer: Nate Piekos
Colorist: MsassyK
Cover Artist: E. M. Gist
Genre: Science-Fiction, Action/Adventure
Publisher: Dark Horse
Publication Date: February 17, 2021
Format: FC, 32 pages; Miniseries