Comics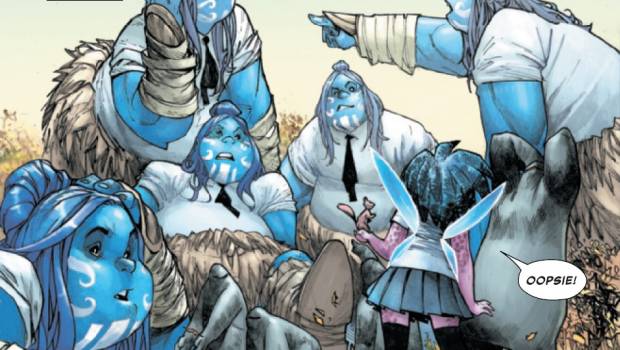 Published on February 7th, 2021 | by Tim Chuma
Strange Academy #8 (2020) Review
Summary: More of the continuing adventures of the students of Strange Academy. By this point you would either be invested in these characters or have moved on.
4
Meeting the Strange principal
I had missed the last few ones of this series but they explain what happened including one of the main characters dying and being bought back to life by Emily. The students are in class when Emily is called out for a meeting with Dr Strange so he can give her a ring to protect her. Her friends are on a field trip on an ice planet and running into trouble of their own.
This story is still interesting even after missing a few issues and worth having a look at if you would like something different. I am not sure if it is going to tie into the large Marvel movie universe at any point or is just a storyline off on its own.
The concepts of good and evil are flexible at this school it seems as one of the students is meant to be the child of a supposed "bad guy" but everyone treats him as one of the normal kids. There is something larger at play if the magic users can override what even the Avengers normally have a say over. Thor turns up at one point but is only in for a short time.
While there is not really a heap of action in this story it is still good to find out some more details about the characters. The character that was bought back to life is afraid of being responsible for the deaths of their friends due to a prophecy. Dr Strange has seen a lot of prophecies come and go and is not as concerned.
You don't often get to see the Avengers doing relatively normal things and hanging out and this series is a good chance to see Dr Strange running a school and how he handles administration. I would recommend it even for that factor.
Comic details:
Writer: Skottie Young
Penciler: Humberto Ramos
Cover Artist: Humberto Ramos
Publisher: Marvel
Published: February 03, 2021