Comics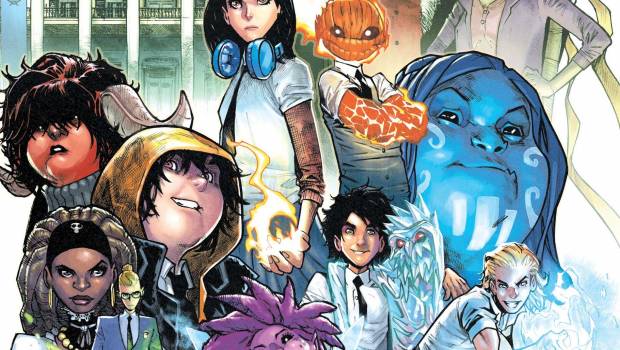 Published on March 7th, 2020 | by Tim Chuma
Strange Academy (2020) #1 Review
Summary: Welcome to the School of Mystical arts where the children of the MCU's more notrious magic users send their children to learn. Will they survive each other?
4
Harry Potter this aint!
Emma Bright has always been gifted in magic but her parents make her promise not to reveal her secret to anyone. Things have been building up as she gets older and one day when she brings her dog back to life she feels the pressure of some unseen force. This comes to a head when a tree attacks her and she is rescued by Zelma from the School of Mystical arts who wants her to attend.
Her family is against it at first, but Zelma eventually brings them around. There is no train here, they pop through a door to another dimension and emerge in New Orleans because of course the school is there as "everyone already looks weird".
Things get off to a bumpy start with the other students fighting each other in the playground and Doctor Vodoo the headmaster saying they have to get along "no matter who their parents are" as Loki is dropping off his son a frost giant to be students alongside a boy from Asguard, a demon from the dark dimension, Despair (Dessy) from Limbo amongst others.
They meet all the teachers and one wonders out loud where is Dr Strange, who then appears fighting an interdimensional monster and asks them if they would like a fun activity for their first day at school.
Whoa! This is quite a lot to fit into the one entry of the story. It is all handled very well and does not feel like they tried to introduce too much at once. It is good only having the one character's back story introduced as I am sure they will go into the others during the series.
There will be inevitable comparisons to Harry Potter with this series of the X-Men series but this one seems different as there are no giant Sentinels yet and they seem to want to keep to themselves.
The characters all seem interesting by themselves and having them all together should lead to a lot of adventures even before they go dimension hopping. One of the classrooms is just a door into space and they are promised the school will be challenging but not boring.
Excellent character designs and a great story makes this one to seek out if you are a fan of stories with magic or the Marvel universe. I have not heard of any of these characters as they seem to be new for this story.
I would recommend this one if you are a fan of Harry Potter or Marvel and want something fun to read.
Comic details:
Published: March 04, 2020
Writer: Skottie Young
Penciler: Humberto Ramos
Cover Artist: Humberto Ramos