Games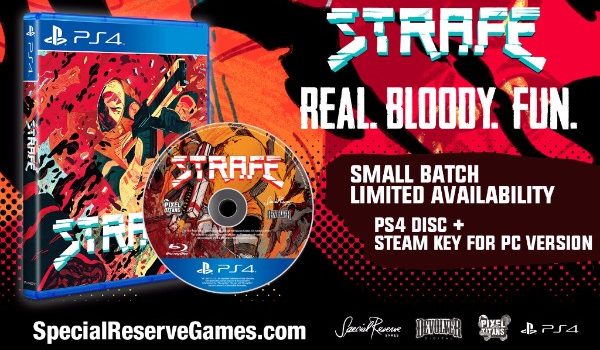 Published on April 29th, 2017 | by admin
STRAFE Preorder Announcement
The Endless Vacuum of Space – Independent developer Pixel Titans and virtual murder peddlers Devolver Digital have unveiled three spectacular collector's sets for STRAFE® and blessed the trembling masses with the opportunity to preorder the game on PC and Mac ahead of its gib-filled May 9 release [http://strafe.devolverdigital.com]. Fans that preorder the game on Steam or through any of the physical collector's sets will receive the exclusive in-game VV-1N weapon that will change the face of exclusive in-game preorder bonuses forever.
Disposable income-loving consumers can preorder STRAFE® via Steam or monetarily prove their worth as a 'real gamer' by grabbing one of the flashy new physical collector's sets:
STRAFE® Throwback Collector's Edition: Designed and produced by Special Reserve Games, this handsome collection of 90s era STRAFE® includes items like floppy disks and pogs and comes with a digital download of the game on Steam.
STRAFE® Vinyl Collector's Edition: Produced by industry leader Laced Records, audiophiles can choose between the standard two-disc vinyl set or the special edition that is limited to 300 copies. Both versions of the STRAFE® vinyl set are adorned with custom artwork inside and out and fans can bundle the vinyl set with a digital download of the game.
STRAFE® PS4 Collector's Box: A limited run of STRAFE® PlayStation Blu-Ray disc and case is being made available via Special Reserve Games, region free.
"STRAFE® is already the fastest selling new procedurally generated first-person shooter IP released on the second week of May," noted Devolver Digital CFO Fork Parker. "Gamers can now get in on this unstoppable revenue train by giving us money earlier than we plan on giving you the game. It's a win-win if you only consider the best interests of the developer and publisher."
STRAFE® is the fastest, bloodiest, deadliest, most adjective-abusing, action-packed first-person shooter of 1996. Featuring breathtaking photorealistic graphics and persistent gore that allows you to paint levels red with the excessive entrails of your enemies.
For more information, visit www.strafe1996.com and pull up those pants, mister.