Games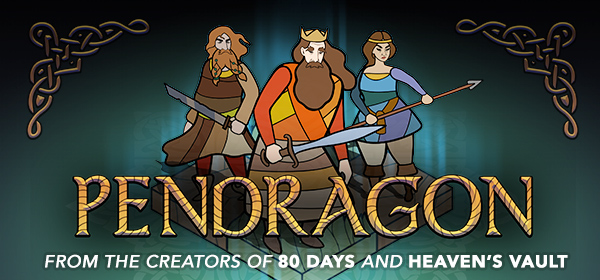 Published on September 23rd, 2020 | by Adrian Gunning
Storytelling meets strategy in PENDRAGON, inkle's Arthurian epic out now for PC and Mac
Maybe you've heard the story of the Round Table before, but have you heard it from Sir Gawaine's perspective? And Merlyn's? And Morgana le Fay's?
The latest game from two-time IGF Excellence in Narrative winner inkle, Pendragon is not a simple interactive story, but hundreds of stories that unfold based on your strategic moves across a randomized, ever-changing game board that ensures each playthrough is yours and yours alone.
Rally the Round Table to King Arthur's side as he faces his final, fated showdown with the treacherous Sir Mordred and experience the story of Camelot as it's never been told before — and never will be again.
Available Now for PC and Mac

Released today on Steam, GOG, and the Mac App Store, Pendragon sells for $16.99 / £13.49 / €13.99 has a 10% discount through September 29.
About Pendragon

AD 673. Camelot has fallen. The jealous Sir Mordred has broken the fellowship of the Round Table with hatred and lies. Now Arthur Pendragon faces his final battle. Can his Knights reach him in time?
Embark on a dangerous journey from Camelot to Camlann in a character-driven epic told turn by turn on the field of battle itself. Secrets will be uncovered. Hearts will be broken. People will die. But maybe, just maybe, King Arthur can be saved…
Even if you've played inkle's previous games Heaven's Vault, 80 Days, and Steve Jackson's Sorcery!, a completely new type of interactive storytelling awaits in Pendragon. Branching narrative meets turn-based strategy in this compact, yet infinitely replayable reimagining of Camelot legend.
Features:
Gather your heroes. Play alternately as Sir Lancelot, Queen Guinevere, Sir Kay, and six other legendary characters, all with unique perspectives and personalities. Some heroes can only be unlocked through your choices and discoveries.
Face your foes. Encounter wild creatures, brutal rogues, and Sir Mordred's dark knights on your perilous journey to Camlann. Successful runs will unlock harder difficulty levels with additional enemies, strategies, and secrets.
Draw your sword. Fight turn-based battles with simple yet deeply strategic combat where position is everything, losses are inevitable, and every step permanently shapes the narrative.
Live the legend. There will be love, suspicion, revenge, sacrifice, and murder. No one is safe, not even your leader.
Decide Camelot's fate. Your actions determine whether Arthur faces Mordred alone or with his friends by his side — and how the legend of Camelot will be remembered throughout history.