Comics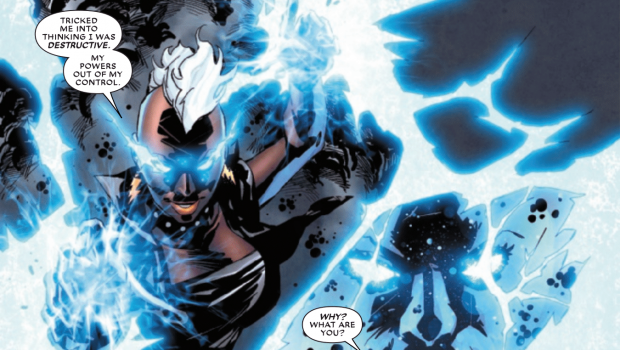 Published on October 3rd, 2023 | by Howard Smith
Storm #5 REVIEW @annienocenti @geraldohsborges
Trial of Lies and Love
The truth of Blowback has been revealed and mayhem among the winds of nature commences. In Storm #5, Storm and Blowback come to blows in the heat of battle. Betrayed by the man she thought she could fall in love with, Travis's split personality is put on trial. Storm questions Travis and Blowback's motives for the deceit and lies told by them both, but through her fury, she finds that one seeks to go home while the other wants to make amends for his deeds. With a little help from the X-Men, Rogue joins Storm in the struggle with Blowback. For Storm to understand the situation, Rogue reveals that Blowback and Travis are like mutants but cannot exist on the same planet as Storm. In this electrifying last issue of the series, many will come to understand why Storm's title of wind-rider is suitable for her level of mastery of nature.
The final issue in the series brings about an escalating and fantastically written story about Storm's mini-retirement as the leader of the X-Men. Storm #5 manages to not only provide readers with a satisfying ending but also a great display of the trials and tribulation that comes with having a split personality. Anne Nocenti (Wolverine Unleashed, Longshot) has written a tale that is steeped in deception and manipulation that Storm must deal with as she finds out her love for Travis was all a ruse. The comic book shows what kind of effect this type of relationship shrouded in revolving emotions can have on someone's vulnerability. Storm's frustration and confusion are equally justifiable when she's hurling lightning and punches only entities can handle. Nocenti's approach to this part of Storm's life shines on an aspect of her life that was otherwise not privy to readers before. While Storm is a strong and compelling character, she has a reserved and vulnerable side when she feels she has lost control over her own abilities. The entanglement with Blowback and Travis for Storm gives readers a window into the realization that even the ones closest can create unforeseeable heartbreaks.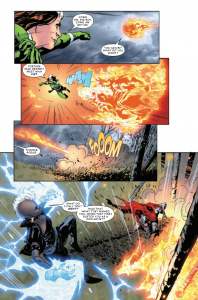 After taking over for Sid Kotian midway into the series, Geraldo Borges's (The Ravangers, Venom 2099) artwork for Storm #5 has been a wonderful visual ride. Borges was tasked with an immense amount of action and movement required to capture the level of writing Nocenti imagined, which turned out to be a success for the story presented. The panel artwork that readers will enjoy stems from the natural flow of direction Borges provides. Riddled with twists and turns, the artwork within this final issue of the comic book series offers an observation of quality storytelling. During the pinnacle of the story, Borges's artwork overloads with excitement and amazing craftsmanship. Of course, without Andrew Dalhouse (Justice League, Rai) the coloring of the work wouldn't be as memorable as it was. His use of vibrant and dynamic coloring not only adds value and volume to Storm's attire but demonstrates her overwhelming strength in her powers brought to life on the page. Andrew Dalhouse's contribution to this series, particularly in his treatment of Storm, ensures that the visual experience is as impactful as the narrative itself. His color choices on the other hand elevates Storm's character in a way that delights readers and engages them in the story.
Comparably, Ariana Maher's (8House, Spider-Gwen) lettering work on Storm #5 has been nothing short of outstanding. The attention to typography and layout improves the visual storytelling, which adds an overall quality of reading experience. Maher's use of fonts, speech bubbles, sound effects, and captions seamlessly blends with the artwork. Her work contributes to the depth and emotion of Storm's character, making readers feel the magnitude of who she is as both a mutant and a member of the X-Men.
Last, but not least, Alan Davis (Modern Masters) and Alejandro Sánchez (Lazarus Planet: Alpha) illustrate a stunning cover that captures the essence of what happens within this comic book. Their cover artwork signifies the revelation Storm discovers and demonstrates what her fury amounts to when she has been played like a puppet.
The adventure ends with Storm #5, but it doesn't end on a somber note. Instead, the story rejuvenates and brings back confidence in Storm's abilities that she thought she could not control. As this series has been interesting and full of enjoyable moments, the comic book itself gives readers insight into a time frame that happened in Storm's life worth noting. While the X-Men are notorious for epic fights, individually they have their own shadows to embrace. Regarding that embrace, don't forget to pick up this action-packed last issue from your local comic book store or online where copies are sold.
Comic Details
Writer: Ann Nocenti
Artist: Geraldo Borges
Colorist: Andrew Dalhouse
Letterer: VC's Ariana Maher
Cover Artists: Alan Davis, Alejandro Sánchez
Editor: Mark Basso
Publisher: Marvel Entertainment