Comics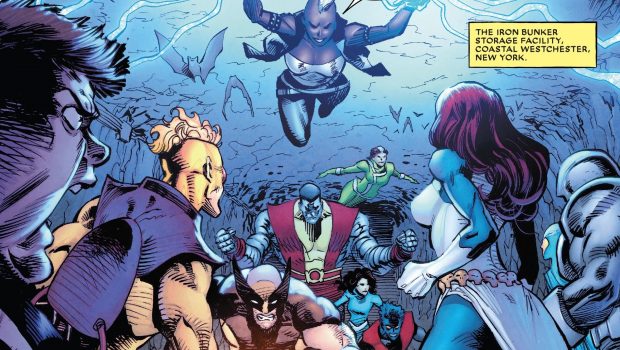 Published on May 30th, 2023 | by Howard Smith
STORM #1 REVIEW
Summary: A thunderous intro to the series.
Tale of the Wind-Rider
Long before the Quiet Council of Krakoa, Storm #1 takes place years prior when fellow mutants found refuge at the X-Mansion. A newly added Rogue and rebellious teen Kitty Pryde joins the team. These two still have a lot to learn as a member of the X-Men. The story follows Storm as she takes the point of the X-Men and carries the mantle of their team leader. A battle with the Brotherhood of Evil transpires at a recently evacuated amusement park. Seemingly, months after beating Callisto and donning her attire, Storm's leadership position is questioned by a few members who presume her skills are wavering due to her own self-arrogance. Alone, her swift wardrobe attire and mohawk hairstyle confuses a young mutant that does not quite trust her.  Her doubts may be clouding her mind or perhaps her powers are backlashing due to karma. Before Storm was a member of the Quiet Council, she attempts to find her place and confidence through self-discovery.
Written by Ann Nocenti (Marvel Age, X-Men Legends, Excalibur), Storm #1 takes a step back into who Storm is as a character and where she finds herself struggling with the use of her weather manipulation abilities. She may be powerful, a great leader, and a tough mutant, but she still has her own personal issues to deal with just like the humans that outcast her. Nocenti understands that without an internal conflict, there can be no growth for a character like Storm. For her to become what we see in recent X-Men comics, we as the readers need to attend Storm through her tribulations. As she is reminded how hard she can be on some members of the team, Nocenti appoints Logan as Storm's confidant. For someone who's lived a long time, Logan proves to be the best wingman a leader needs, especially for Storm. Plus, this story suggests that there is more to Storm's life than readers initially thought back in 2014.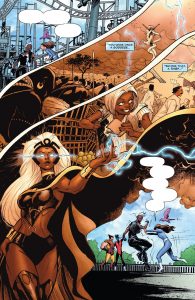 Remarkably, Sid Kotian (Dream Police, Elektra, Gambit) exhibits illustration mastery. Sid's use of art style works perfectly for Nocenti's imagery of the scenes. From page to panel, Sid's composition was packed with a lot of detail. Whether there was a full-on battle between the X-Men and the Brotherhood of Evil or having a fun day on the beach, Sid was able to capture it all. Having a lot to work with this comic book, Sid took on the challenge and made it work. Luckily for Storm #1, Nocenti chose the right artist to help her tell this story. Speaking of artwork, Alan Davis (Aquaman, Avengers, Best of 2000 AD) and Alejandro Sánchez (Batman / Superman: World's Finest, Dark Web, Skybound X) establishes an amazing cover that puts a reader right in the action. It works because, with a title like Storm, the cover provides a thunderous intro to the series. Both contributors did very well.
Last, but important, Andrew Dalhouse (Bloodshot, Burning Man, Batman Beyond) and Ariana Maher (X-Men: Red, Silk, Outpost Zero) showed off their skills as both the colorists and letterer for the beginning of this series. They came in strong and finished the same way. Dalhouse's coloring was a refreshing ray of entertainment. It was as if each character stood out on their own on each page. Their clothes, display of abilities, or facial expressions were vivid works of art. Mixed in with Maher's lettering, the pages were enhanced with sound effects and dialogue placed relevantly in the best opportune positions.
As the story progresses, Storm #1 is likely to give readers more in-depth knowledge about Storm. Seeing her in her own comic book again raises a few questions, but there's hope that Nocenti will put those questions to rest. Since this is only the first issue of the series, there is no telling how the story will turn out or what new revelations will be revealed in time. If you'd like to follow Storm on her path once again or if this is the first time pick up this issue at your local comic book store. If they don't have it there, you can find it online or where copies are available.
Comic Details
Writer: Ann Nocenti
Artist: Sid Kotian
Colorist: Andrew Dalhouse
Letterer: VC's Ariana Maher
Cover Artists: Alan Davis, Alejandro Sánchez
Editor: Mark Basso
Publisher: Marvel Entertainment