Films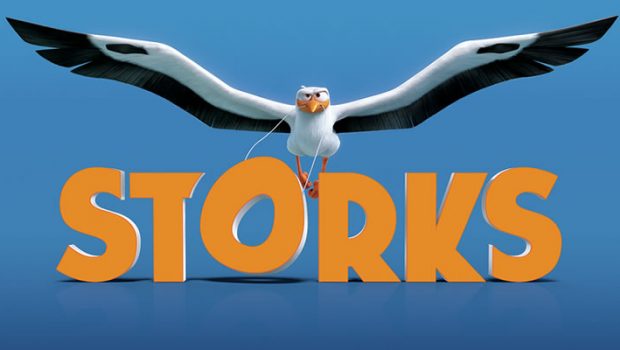 Published on September 26th, 2016 | by Curtis Mayfield
Storks – Film Review
Reviewed by Curtis Mayfield M-H on the 18th of September 2016
Roadshow presents a film by Nicholas Stoller and Doug Sweetland
Written by Nicholas Stoller
Produced by Brad Lewis and Nicholas Stoller
Starring: (voices of) Andy Samberg, Katie Crown, Kelsey Grammer, Jennifer Aniston, Ty Burrell, Keegan-Michael Key, Jordan Peele and Danny Trejo
Music by Mychael Danna and Jeff Danna
Cinematography: Simon Dunsdon
Edited by John Venzon
Running Time: 89 minutes
Rating: G
Release Date: 22nd of September 2016
It's always refreshing to watch a movie that isn't based on any sort of original source material and is just simply a unique movie. The new animated film Storks is fresh in premise but unfortunately lacks enough character to push it over the finish line. In this quirky movie, the world's babies used to be flown to families via (you guessed it) storks but that precious cargo has now be replaced with the delivery of online purchases (smart phones, etc). Andy Samberg lends his goofy and hilarious voice talents to the character of Junior, a hotshot stork that delivers packages at a record pace. Kelsey Grammer is perfectly cast as Junior's boss, Hunter, who's looking for somebody new to be in charge. The top spot is Junior's if he can just has to do one thing: fire the only human working on the factory floor, Tulip (Katie Crown). The bumbling but well meaning Tulip is a forgotten orphan who was never delivered to her family. Right before she's given the boot, Tulip accidently approves the manufacturing of a baby for a young boy called Nate, whose parents (Ty Burrell and Jennifer Aniston) are too caught up in their professional lives to give him attention and play time. To cut a long story short this narrative is super predictable but nonetheless is still a fun ride. It's just with the high standard of animated films (damn you Pixar!) the attempt at providing this movie with heart is a little shaky.
For instance, there's a strange relationship that develops between Junior and Tulip, which obviously steers clear of any romance but still has a strange vibe occurring between the two characters. Co-director and writer Nicholas Stoller has had hits (Forgetting Sarah Marshall, Get Him to the Greek, The Muppets) as well as complete and utter misses (Sex Tape, Gulliver's Travels). Storks will be placed somewhere in the middle of Stoller's scorecard. There are extreme high points in the movie with its choice of meta-humour and hilarious motifs (look out for Kelsey Grammer saying "baaawwwsseee") but there are mediocre parts of the story as well that drag everything down. As the odd couple go great distances to deliver one final baby there's an array of side characters that will entertain kids and stoners alike. The most prominent being a pack of wolves who are enthralled with the pink haired baby Junior and Tulip are delivering. Keegan-Michael Key and Jordan Peele easily capture their charismatic duo magic as the two bickering wolf pack leaders. Unfortunately, Danny Trejo's familiar menacing voice is wasted on a two-bit villain bird named Jasper who only appears for three whole seconds. With Samberg's on-point delivery and voice that matches his real-life kookiness, there's enough here to give this at least one watch.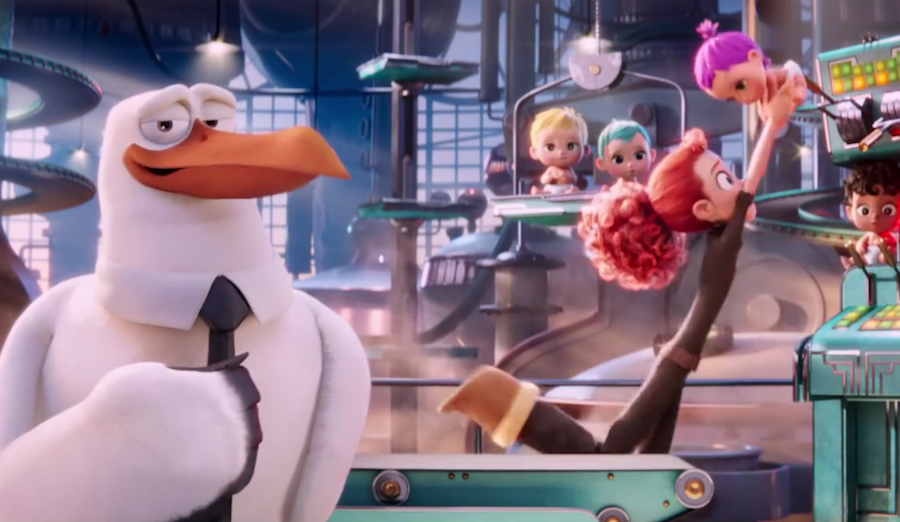 What does add to this movie's potential prestige is having Doug Sweetland co-direct. Sweetland has worked in the animation department for some of Disney Pixar's biggest films (Toy Story, Finding Nemo, Monster Inc.) and this movie marks his debut as co-directing a feature length movie. It may be an unfair comparison to measure Storks up against his previous work but it's just impossible not to (again, damn you Pixar!). In saying that, if you just switch off the old thinking brain for an hour and a half, this movie will probably be more enjoyable regardless of its cliché ending and predictable journey. It's the offbeat gags and silly humour that keeps this bird flying. Though it won't be to any staggering heights.
Summary: If you just switch off the old thinking brain for an hour and a half, this movie will probably be more enjoyable regardless of its cliché ending and predictable journey.