Interviews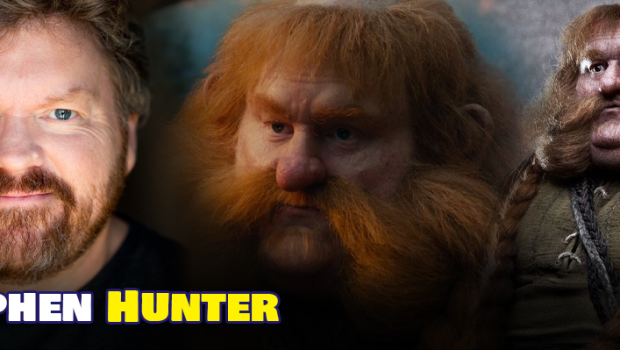 Published on June 11th, 2022 | by Admin
Stephen Hunter Interview @supanovaexpo @StephenJHunter1
Supanova is back for 2022 and we catch-up with Stephen Hunter prior to his appearance at one of Australia's largest and most popular conventions!
Welcome to Impulse Gamer Stephen, so what was it like being involved in the Lord of the Rings mythology?
Well of course I was part of the prequel – The Hobbit, but it always felt amazing to be a part of the Middle Earth story and the Tolkien Universe. It's a very passionate fanbase, that was firmly established way before any of the films. I felt a great responsibility – as we all did, to portrait our characters as the fans of the books would love to see them, and at the same time, as the film producers had envisioned. And, as with the Lord of The Rings, I think they did a fantastic job recreating that world for everyone. I remember seeing LOTR and being amazed how it was just as I had pictured it in my mind.
You've worked with some amazing actors, who are your top two favourites?
Oh that's a very hard question! I made so many friends on The Hobbit – particularly in the company of dwarves, and many of those guys have remained lifelong mates. We spent so much time together and had this incredible, shared experience. There have always been actors I've worked with who I've been very excited to meet and spend time with. Ian McKellen is probably the coolest person I've ever met. He is such a consummate professional, but at the same time, so relaxed and totally fun to be around. I also recently did a film with Jane Seymour (Ruby's Choice), she was very much the same. So talented and a pleasure to work with. She's probably one of the busiest actors around at the moment!
Tell us a little about the Barons?
Barons was a lot of fun. Most of the main cast were a lot younger (and prettier) than me, and I kind of felt like the 'Uncle' behind the bar at the Sports Club. The look of the show was fantastic, a real 70's surf vibe – I even had a fake tan! (I'm very pale), but thankfully for the audience I was fully clothed all of the time. I had just wrapped on BBC & Stans The Tourist with Jamie Dornan, when that came up.
Supanova 2022 is here, what are you most looking forward?
I'm actually just looking forward to getting back to a Con. It's been quite a while after the crazy couple of years. I'm also excited as it's the first convention for a very good friend of mine – Aaron Glenane, who was amazing in Snowpiercer and the just released Interceptor – among many other things. It'll be great sitting alongside himmand showing him the ropes! I'm an old hand at this now!
Will you be catching up with anyone else at Supanova?
My daughter will be very keen to meet James and Oliver Phelps, as she is a MASSIVE Harry Potter fan, and is working her way through the movies at the moment – so hopefully that can happen. I'm also looking forward to meeting Michael Biehn, who's been in so many amazing projects. I bet he's got some great stories. And reconnecting with some of the others I've done shows with in the past, like Mark Sheppard & Michael Rosenbaum. Also Daniel Webber – who I met on Escape from Pretoria, with Daniel Radcliff, John Jarrett as well – we worked together on Wolf Creek Series 2! And of course Todd Lasance – I haven't seen him in ages. We share the same agent!
About Stephen Hunter
Stephen's breakthrough big screen role was as the Dwarf, Bombur, in three of Peter Jackson's The Hobbit trilogy of films.
Before this Stephen worked extensively in NZ television, before landing the role of Sharpie in Network Ten's Love My Way, followed by lead guest roles the Seven Network's All Saints, Networks Nine's Rescue Special Ops and The Leftovers for HBO, as well as series lead roles on ABC's Janet King, Wolf Creek for Stan, Wanted for Netflix, in the series regular role of Otter in Reef Break for ABC Studios (US), as Stephan in Wakefield, for ABC Australia, and most recently McCoy in The Tourist for BBC and Stan.
Stephen's comedic TV credits include roles on Nickelodeon's The GO Show, ABC comedies Review with Miles Barlow, and Rosehaven, Foxtel's Spirited, The NZ series Fresh Eggs, and a lead role in the ABC animated series CJ the DJ.
Stephen's feature film credits include Australian Films' Killing Ground and The Merger, and the lead role of Madcap in the sci-fi action adventure Blue World Order, opposite Billy Zane, Jack Thompson and Bruce Spence, Australian/Indian feature UNindian, the Australian/Chinese feature The Whistle Blower, the short film MESSiAH opposite David Gulpilil, Australian/UK comedy Two Heads Creek, and alongside Daniel Radcliffe in the thriller Escape from Pretoria.
Stephen was recently nominated for Best Supporting Actor by the Film Critics Circle of Australia for his portrayal of Doug in Ruby's Choice, starring alongside Jane Seymour and Jaqueline McKenzie. He'll also be seen on the upcoming TV series Barons for ABC Australia, and the much anticipated Lucas Foster produced feature, Children of the Corn, written and directed by Kurt Wimmer.
About Supanova
Supanova Comic Con & Gaming began in Sydney in 2002 as a completely home-grown Australian production showcasing sci-fi, fantasy, comic books, anime, manga, games, cosplay and much more. The brainchild of Founder Daniel Zachariou, Supanova is run by a diverse and passionate team of independent professionals with backgrounds in private industry and the creative sector. Supanova takes place in six cities (Sydney, Melbourne, Brisbane, Perth, Adelaide and the Gold Coast), and is Australia's leading and largest event of its kind.
Supanova is a celebration of pop culture created by the Supanova family, for your family, to "bring out the inner geek" in fans of all ages.
SUPANOVA 2022 DATES: 
Sydney: 18-19 June 2022 | Sydney Showground Olympic Park
Perth: 25-26 June 2022 | Perth Convention & Exhibition Centre
Brisbane: 5-6 November 2022 | Brisbane Convention & Exhibition Centre
Adelaide: 12-13 November 2022 | Adelaide Showground