Interviews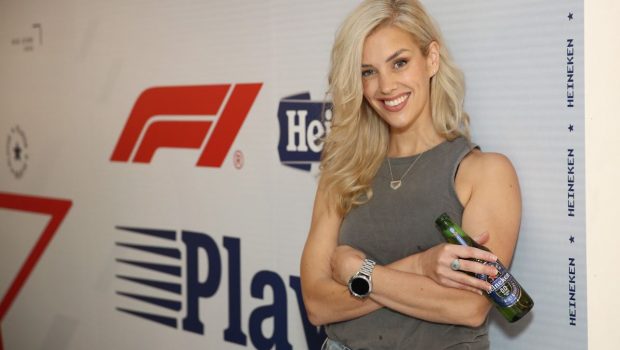 Published on March 23rd, 2023 | by Andrew Bistak
Stephanie Bendixsen Interview @Heineken Player 0.0 @hexsteph @jheuston @olantekkers
Impulse Gamer Q&A with Stephanie Bendixsen – We catch-up with Stephanie (aka Hex) Bendixsen to talk about the Heineken Player 0.0 and of course gaming!

Welcome to Impulse Gamer Steph! So how did you become involve in Heineken®'s Australian Player 0.0
I guess the whole idea behind Heineken®'s Australian Player 0.0 is to bring F1 fans together and maybe even score a spot trackside at the AusGP this year! There's been an awesome influx of new fans to F1 – due in large part I would imagine to Drive to Survive. It's been super interesting to see how powerful something like that can be in creating an accessible entry-point for newcomers to a sport. I don't think I really 'got it' before I was able to understand that it's so much more than just fast cars on a track. It's the near-impossible journey the drivers have been on just to get there. The incredibly high stakes. The insane amount of money on the line. The egos, the inter-personal relationships and rivalries. The drama!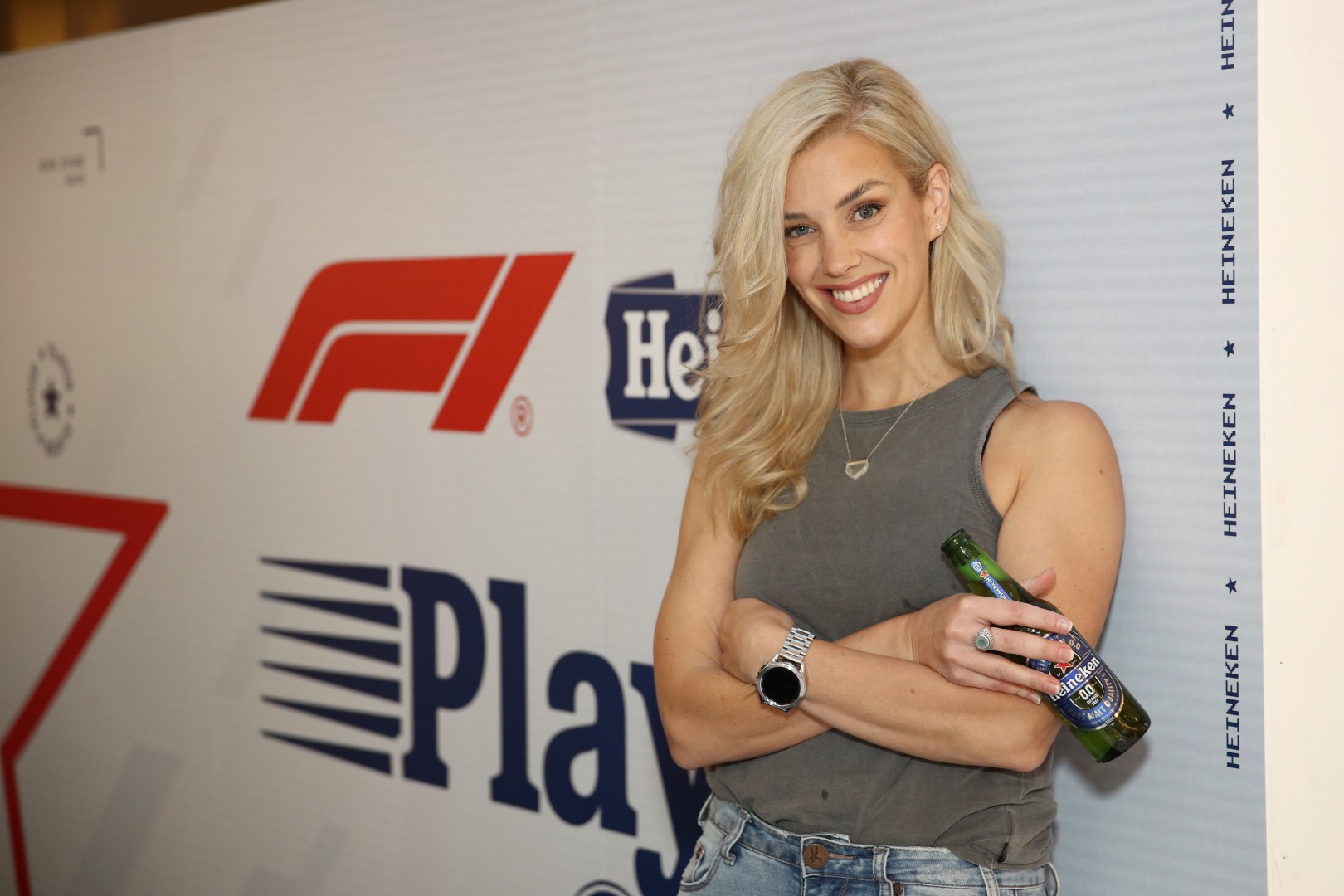 Stephanie Bendixsen
For those players wanting to engage in Player 0.0, what advice would you recommend?
My number 1 piece of advice is to learn the track as well as you can. I've always favoured more arcadey racers in the past – cos I want to just feel cool and maybe hit a 'boost' button over a jump or something. But sim racing really seeks to replicate the real thing as accurately as possible, and that means the turns are going to be your biggest barrier. No matter how many laps I did – there is one corner that I consistently came in too fast and would end up in the gravel. Every time. It's like my brain just deletes the lesson, I'm doomed to repeat the failure forever.
The best way for Aussies to get involved in Heineken's Player 0.0 is to head down to Chadstone Shopping Centre in Melbourne this weekend (24th – 26th March) to race their fastest lap time on the Player 0.0 simulator to be in with the chance to battle it out at the Grand Prix next weekend, to be crowned Australia's Player 0.0 champion. The winner will walk away with $2.5K cash and tickets to the 2024 Australian Grand Prix! More info can be found here.
Being a "new age" fan, is there much rivalry between the OG's and Drive to Survive fans?
Yeah, I mean it's not dissimilar to my early experience in video games, right? There's this perception that women feign interest in something traditionally dominated by men for attention. It's such a dumb attitude – because diversity in any community only ever makes it better. A broader audience moves the industry forward, creates more opportunities and access. Why stunt the the you love by gatekeeping it from others?
And what about between fellow ambassador Josh Heuston?
I think Josh and I are on the same page – we're not pros behind the wheel but we had an awesome time in the sim! But, listen – holy crap that man takes a good picture. I knew he had a background in modelling but I was not prepared. I feel like I was giving 'happy to be here' in the pictures from our racing sesh and he was giving 'I'm gonna break your heart, probably'. I need lessons.
How does the virtual race work?
You get three laps around the Albert Park track so that you get a few chances to get into a groove.
The Melburnian with the fastest lap time will win a ticket to attend the FORMULA 1 ROLEX AUSTRALIAN GRAND PRIX 2023 in Melbourne where they will compete for the ultimate title – the Australian Heineken® Player 0.0 Champion!
What is your fastest lap time of the Albert Park track?
I think it was like, 1:27? Which isn't great – BUT it puts me on par with Kevin Magnussen who has had the best comeback story ever, so I'm not mad about it!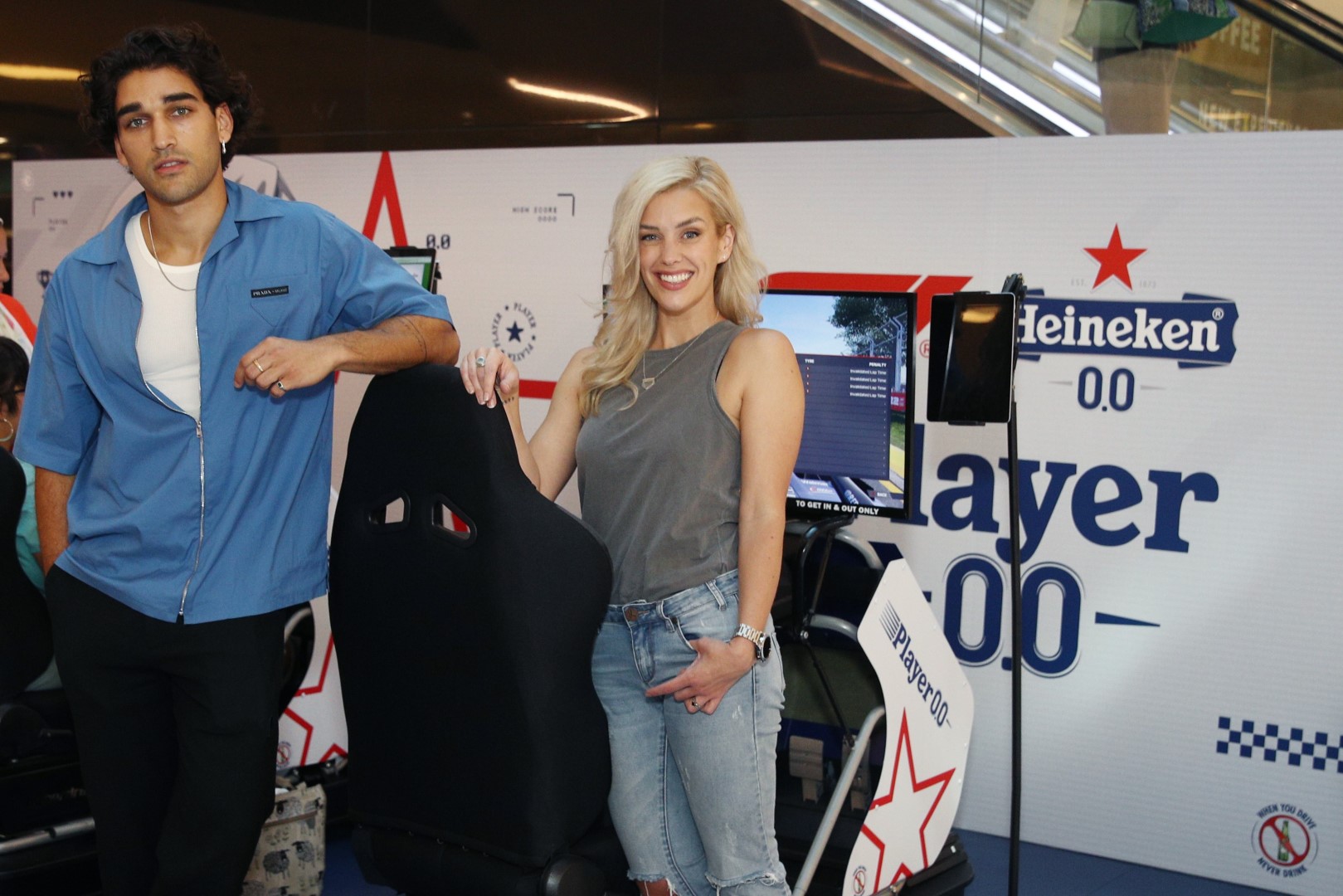 With the start of the F1 season about to begin in Melbourne, who do you think will come first?
Unless there's some funky changes to the cars, I'd say Verstappen is a pretty safe bet, right? He's just too good. I'd like to see LeClerc have his moment. And I have a feeling Lando Norris will be a superstar – but he's still young so I'd like to see him work a bit harder before he gets there.
While we're still on virtual racing, have you tried out Gran Turismo on the PSVR2 ?
I have not! But for me personally VR is currently at its best when seated so it suits racing and flying games super well.
Lastly, what are your top three games in your pile shame (titles not finished) and top three games of 2023 you're hoping to play?
Pile of Shame:
Cult of the Lamb – I dipped in but only briefly. It was so well-recieved and is such an Australian triumph, so I'd like to see it through. I blame my Destiny 2 addiction, honestly.
PARANORMASIGHT: The Seven Mysteries of Honjo – I've dipped in-and-out of a few streams of people playing this and it seems to be such well-crafted, creepy storytelling.
– Cyberpunk 2077. I'm a huge Witcher 3 fan and Cyberpunk always going to be a tonal shift – but I was excited for it to be the first game I played on my shiny new PS5 when it released. It was a bit of an unstable mess, repeated crashes – and then I just never went back, even once the 'official' PS5 version was released. I'd like to give it another go, probably on PC, and experience the unique characters and storytelling I've heard die-hards rave about.
Most anticipated 2023:
– I got hands on with Redfall last week (just the singleplayer) and had a great time with it – cannot wait to jump in with friends.
– Starfield looks stunning but I'm also a bit overwhelmed by big open world RPGs atm – but I'm excited by the possibility
– Baldur's Gate III is my most-anticpated, by far. I loved the beta. I LOVE Larian Studios.  I'm pretty confident it's going to be a strong contender for GOTY.
Thanks so much Hex and have fun at Heineken Player 0.0 this weekend!
If you're in Melbourne this weekend, the activation for Heineken Player 0.0 is taking place at Chadstone Shopping Centre between 10am-5pm on the 24th – 26th March For more information, check out https://www.heinekenf1.com.au/