Games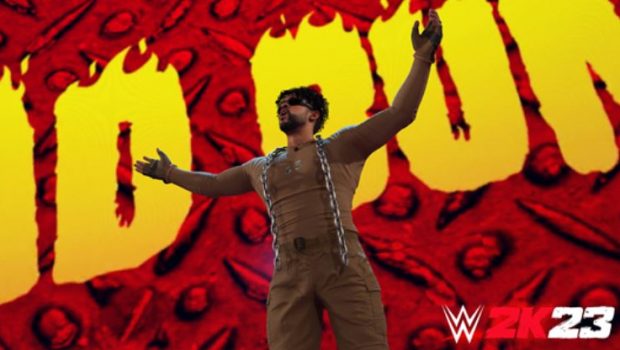 Published on October 23rd, 2023 | by Adrian Gunning
Step Into the Ring for the Holidays With Music Megastar Bad Bunny and the WWE 2K23 Bad Bunny Edition 
Today, 2K announced the WWE® 2K23 Bad Bunny Edition, available today. This all-new edition of the highest-rated game in franchise history according to Metacritic*, is headlined by global music phenom Bad Bunny, Billboard's Top Artist of the Year and one of the most streamed artists in the world for 2022. Bad Bunny's love for WWE is well-documented and he wowed the WWE Universe when he defeated Damian Priest in a San Juan Street Fight at WWE's Backlash 2023 premium live event.
"Following the global success of Bad Bunny's new album 'Nadie Sabe Lo Que Va a Pasar Mañana' last week, and his historic match at WWE Backlash in Puerto Rico, we are excited to continue to collaborate with the biggest artist in the world and continue to break records with the WWE 2K23 Bad Bunny Edition," said Neil Lawi, Head of Music, WWE.
The Bad Bunny Edition is available today for $139.99 MSRP and includes the WWE 2K23 Icon Edition, as well as the Bad Bunny Superstar Pack**, which features the following content:
New version of playable Bad Bunny, wearing the adidas Men's Tech Fall 2.0 Wrestling Shoe and clothing he wore at Backlash 2023;
Bad Bunny Diamond tier MyFACTION EVO card, which can upgrade to Pink Diamond;
Bad Bunny MyFACTION logo, nameplate and background;
LWO Puerto Rico shirt part for Superstar Creator;
15,000 VC.
The WWE 2K23 Icon Edition includes the following content:
Bad Bunny Bonus Pack, which includes Bad Bunny as a playable character, as well as a Ruby tier Bad Bunny MyFACTION card;
Ruthless Aggression Pack, featuring John Cena's early "Prototype" character, as well as "Leviathan" Batista, developmental rookie versions of Brock Lesnar and Randy Orton, the John Cena Legacy Championship and WrestleMania 22 Arena;
Emerald Paul Heyman MyFACTION Manager Card;
Three Deluxe Premium Launch MyFACTION Card Packs;
Ruby John Cena MyFACTION Evo Card, Gold Edge MyFACTION Card, Emerald Bianca Belair MyFACTION Card, Gold Asuka MyFACTION Card, and three Basic Premium Launch MyFACTION Card Packs
Season Pass to all five post-launch DLC content packs***;
MyRISE Mega-Boost and SuperCharger.
For players who already own WWE 2K23, the Bad Bunny Superstar Pack is available today as a standalone purchase for $9.99 MSRP. The Bad Bunny Bundle is also available for $89.99 MSRP and includes the WWE 2K23 Cross-Gen Standard Edition, the Bad Bunny Superstar Pack, Bad Bunny Bonus Pack, and 32,500 VC.
Also coming this autumn to WWE 2K23's MyFACTION game mode is the new Clutch Time Miz Live Event, which runs October 19-October 26****. In the Clutch Time Miz event players will use any Ruby male card to challenge Amethyst Miz from Fastlane and Miz '11 from Cash in Collective. By successfully defeating both versions of Miz, players can earn a Diamond Miz decked out in the jersey he wore when he hit a breathtaking half-court shot in the NBA All-Star Celebrity Game.
The WWE 2K23 Standard Edition is currently on sale on PlayStation platforms for 50% through October 25, and on PC via Steam for 50% off through October 26*****.
For more information on WWE 2K23, visit the game's official website, become a fan on Facebook, follow the game on TikTok, X, Instagram, and subscribe on YouTube. Official campaign hashtags #WWE2K23 and #EvenStronger.