Games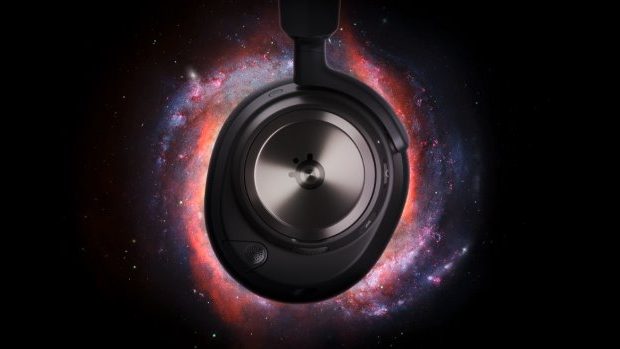 Published on May 24th, 2022 | by Adrian Gunning
SteelSeries Unveils The Future of Gaming Audio – The Arctis Nova Pro Series
SteelSeries, the worldwide leader in gaming and esports peripherals, today unveiled the future of gaming audio. Four years in the making, the goals were to challenge the status quo, alleviate pain points in gaming, and design the ultimate sound experience. Inspired by audiophile listening rooms that are devoid of noise and provide full audio control, that complete acoustic experience has been recreated within a gaming headset – the Arctis Nova Pro series.
Crafted from the ground up, the Arctis Nova Pro series produces a new level of excellence for high fidelity audio, AI-powered voice clarity, and all-day comfort with sleek Danish design aesthetics that seamlessly transfers between an array of gaming platforms like never before. To power the new Arctis Nova franchise, SteelSeries developed the Sonar Audio Software Suite, which introduces the world to the first pro-grade parametric EQ for gamers. Specifically designed to turbocharge any headset for gaming and provide a limitless ability to control sound across games, team chat, and the microphone, Sonar allows gamers to adjust every individual frequency and hear the sounds that matter the most.
By fusing these two entities (Arctis Nova Pro Headsets & the Sonar Audio Software Suite), the ultimate sound quality, clarity, and control come together to re-raise the bar for gaming audio and redefine SteelSeries' signature sound. The result is the incarnation of a new superpower for gamers, where they can lose themselves in the soundscape with 360° Spatial Audio, hear every critical step, reload, or enemy movement by taking control of every sonic element utilizing Sonar's EQ, and achieve sound purity unlike any other gaming headset through the all-new High Fidelity speaker drivers engineered for the Arctis Nova franchise.
"There are defining moments in every industry, and this is one of those landmark days," said Ehtisham Rabbani, SteelSeries CEO. "Today we usher in a new era of gaming audio with the launch of the Arctis Nova Pro series and the Sonar Audio Software Suite. We are truly excited to empower gamers, provide them with a competitive edge, and have them experience pure Hi-Fidelity acoustics in gaming."
For over 20 years SteelSeries has been laser-focused on the gamer experience and lifestyle and the Arctis Nova Pro series comes fully stocked with state-of-the-art features that do just that. A first in gaming, the Multi-System Connect hub allows for USB switching between multiple devices at the same time. Gamers can seamlessly swap between a PC, PlayStation, Switch, or mobile device with the press of a button, and without having to swap cables.
Because communication is key in gaming, the new AI-POWERED Noise Cancelling Microphone gives players crystal clear comms, while the Sonar Audio Suite silences all the background noise distractions from keyboards, computer fans, and much more. The ClearCast Gen2 mic gives players a true advantage through the same bidirectional microphone design used by Formula 1 crews for crystal clear, natural sound with flawless noise cancellation.
For marathon gaming sessions, the new ComfortMAX System is designed to accommodate any size or shaped head, offering 4-points of adjustment. The system includes height-adjustable, rotating ear cups, a flexible tension band, pivoting hangers, and a premium PVD-coated steel band that ensures long-term durability.
In addition to the introduction of 'Almighty Audio' and new features specifically designed for the Arctis Nova franchise and a gaming lifestyle, players can choose from different models based on their preferred style of play and platform of choice.
Arctis Nova Pro Wireless | Arctis Nova Pro Wireless (Xbox) | Arctis Nova Pro Wireless (PlayStation)
Infinity Power System – Gaming, unchained. The Arctis Nova Pro Wireless headset provides unlimited battery life and always keeps players in the action with a dual-battery system. Gamers can charge the second battery while the first battery is in play.
Simultaneous Game & Mobile Audio – Play and communicate all ways with Quantum 2.0 Wireless. Gamers can mix two audio connections at the same time, engaging with friends over the phone while gaming on a PC or console. The powerful 2.4GHz wireless is perfect for earning that in-game hot streak while using Bluetooth for calls, Discord, music, or podcasts.
Active Noise Cancellation – Completely transport to another world like never before as Active Noise Cancellation (ANC) for gaming tunes out unnecessary distractions. The advanced 4-mic hybrid system removes outside sounds, while mics inside the earcups balance the audio for optimal clarity. For taking in surroundings, Transparency Mode is just a button press away with adjustable hear-through levels to suit each situation.
Wireless Base Station – Total control at the player's fingertips. The Wireless Base Station acts as a command center across platforms and features adjustments for EQ, input device, volume, ChatMix, and much more on the fly, while never having to leave the game. The device remembers personal settings and a multi-function OLED display keeps users informed of battery life and other functions.
 Artis Nova Pro | Arctis Nova Pro (Xbox)
GameDAC Gen2 – Adding to the ability to control and enhance the supercharged sound, the Arctis Pro introduces GameDAC Gen2 to complete the 'Almighty Audio' experience with Hi-Res Audio Certification and a built-in amplifier. A new ESS Sabre Quad-DAC boosts the game audio with a 78% purer signal, bringing ultra-low levels of noise and distortion. The Arctis Nova Pro elevates the audio resolution to a sublime 96KHz/24-Bit, standing above the competition with 50x more detailed sound. The GameDAC Gen2 also acts as a command center across platforms. Gamers can easily set up the perfect audio, for a console or PC, by using the multi-function OLED display, which stores personal settings. Adjust the EQ, input device, volume, ChatMix, and so much more with a touch of the finger.
The Arctis Nova Pro Series collection is available at SteelSeries for the following MSRPs:
Arctis Nova Pro – $249.99 (NA) |€279.99 (EMEA) |$279.99 (APAC)
Arctis Nova Pro (Xbox) – $249.99 (NA) |€279.99 (EMEA) |$279.99 (APAC)
Arctis Nova Pro Wireless – $349.99 (NA) |€379.99 (EMEA) |$379.99 (APAC)
Arctis Nova Pro Wireless (Xbox) – $349.99 (NA) |€379.99 (EMEA) |$379.99 (APAC)
Arctis Nova Pro Wireless (PlayStation) – $349.99 (NA) |€379.99 (EMEA) |$379.99 (APAC)
SteelSeries Sonar Audio Suite – Free Download at: com/gg/sonar