Events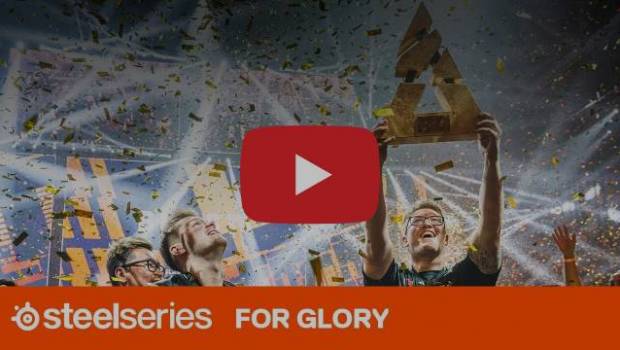 Published on February 2nd, 2021 | by Alex Novus
SteelSeries celebrates 20 years of innovation in Gaming & eSports
SteelSeries, the #1 premium gaming audio brand in the world, today kicks off a year-long celebration of its 20th anniversary as a company and leader in gaming and esports peripherals.
For two decades, SteelSeries has been a driving force of esports and professional gaming. From sponsoring the first pro teams, to creating products specifically for pros, to turning exceptional players into global superstars, SteelSeries has been growing the industry and helping gamers find glory by developing the products that make gaming more competitive and more fun.
Changing the game since 2001
SteelSeries was originally formed in Denmark in 2001 to meet the surface needs of hardcore gamers by introducing an innovative new anti-dust glass mousepad; the Icemat.
At the time, company founder Jacob Wolff-Petersen was just another Counter-Strike player in Copenhagen at the time, using the standard dust-magnet mousepad that made it impossible to aim. But unlike other players, he introduced the world's first glass mousepad built for FPS gamers, a flawless anti-dust surface that rewarded precision.
Since that original innovation, SteelSeries has created the first mechanical gaming keyboard, the first over-the-ear gaming headsets, retractable headset microphones, the first World of Warcraft MMO mouse, and endless other innovations.
2001: First gaming mousepad
2002: First brand to collaborate with esports players
2002: First brand to sponsor an esports event
2004: First gaming headset
2006: First mechanical gaming keyboard
2008: First online software solution for gaming peripherals
2018: First Hi-res audio system in gaming
2019: First magnetically adjustable keyboard
Said SteelSeries CEO Ehtisham Rabbani, "The first twenty years of SteelSeries have been marked by innovation, countless firsts, and true collaboration with pros. Together, we've built a global esports scene and fueled its meteoric rise. And we are hard at work forging the next frontier of gaming greatness with product and software innovations that will continue to be industry-defining in the years to come. At SteelSeries, we know that every gamer can feel like a star and push gaming further than anyone dreamed."
With over 40 patents in their first twenty years, SteelSeries balances professional-grade quality and durability with an unyielding pursuit of simple, modern design.  "The mission of the company has been the same since its inception – to create gear that caters to the most demanding consumer group in the world – gamers. That mission was articulated in an early campaign slogan: 'Winning Is Everything' which is, and always has been a core value of the company." said Jacob Wolff-Petersen.
The original esports brand 
Whether it's the SteelSeries-backed team OG being the first to win back-to-back Dota 2 International Championships, or giving every gamer the tools to step up their game, esports is at the heart of everything at the company.
SteelSeries' pro team relationships are more than sponsorships, they are partnerships. From ideation and design, to testing and validation, esports professionals are not only stakeholders of SteelSeries, they are collaborators and co-creators, together creating the world's best gaming peripheral products.
By 2006, SteelSeries gear was used by seven of the top ten FPS esports teams in the world.
Today, pros have won more money with SteelSeries than any other brand.
Celebrating 20 years of glory
In celebration of their 20th anniversary, SteelSeries has released six short animated films produced by their in-house creative team about the development of their technology and commitment to pushing the boundaries in gaming. Watch the films at steelseries.com/glory.
Join SteelSeries at twitch.tv/steelseries on February 4 at 1PM CT (February 5 at 6AM AEDST) for an AMA with Chief Technical Officer Tino Soelberg where he'll examine the technology of early gaming peripherals (and attempt to stream like its 2001) while demonstrating the evolution of SteelSeries' innovative products.
Finally, to commemorate their esports legacy, SteelSeries will host their inaugural online tournament, the Apex Masters from February 13-28. This new Valorant invitational series pits professional teams from around the world against each other in a battle for glory. Details at twitch.tv/steelseries.