Hardware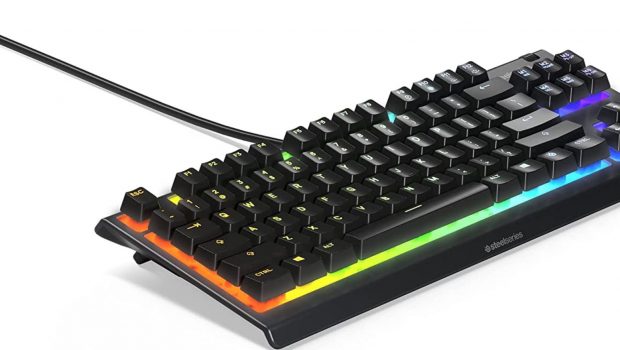 Published on November 10th, 2021 | by James Wright
Steelseries Apex 3 TKL Mechanical Keyboard Review
Being a gamer from when the pixel dinosaurs roamed the planet with beeps and bops, I've unintentionally destroyed a handful of keyboards thanks to accidentally knocking a glass of liquid onto them. Unfortunately when this occurs, the keyboard slowly becomes inoperable around the keys that were affected. However with the Steelseries Apex 3 TKL (TenKeyLess) Mechanical Keyboard which has been designed for fast-pacing gaming, it offers a IP 32 rating that translate to water and dust resistance to help prevent damage, particularly around small spills. As it is a wired keyboard, Steelseries gives the user a neat cabling system underneath the keyboard as well.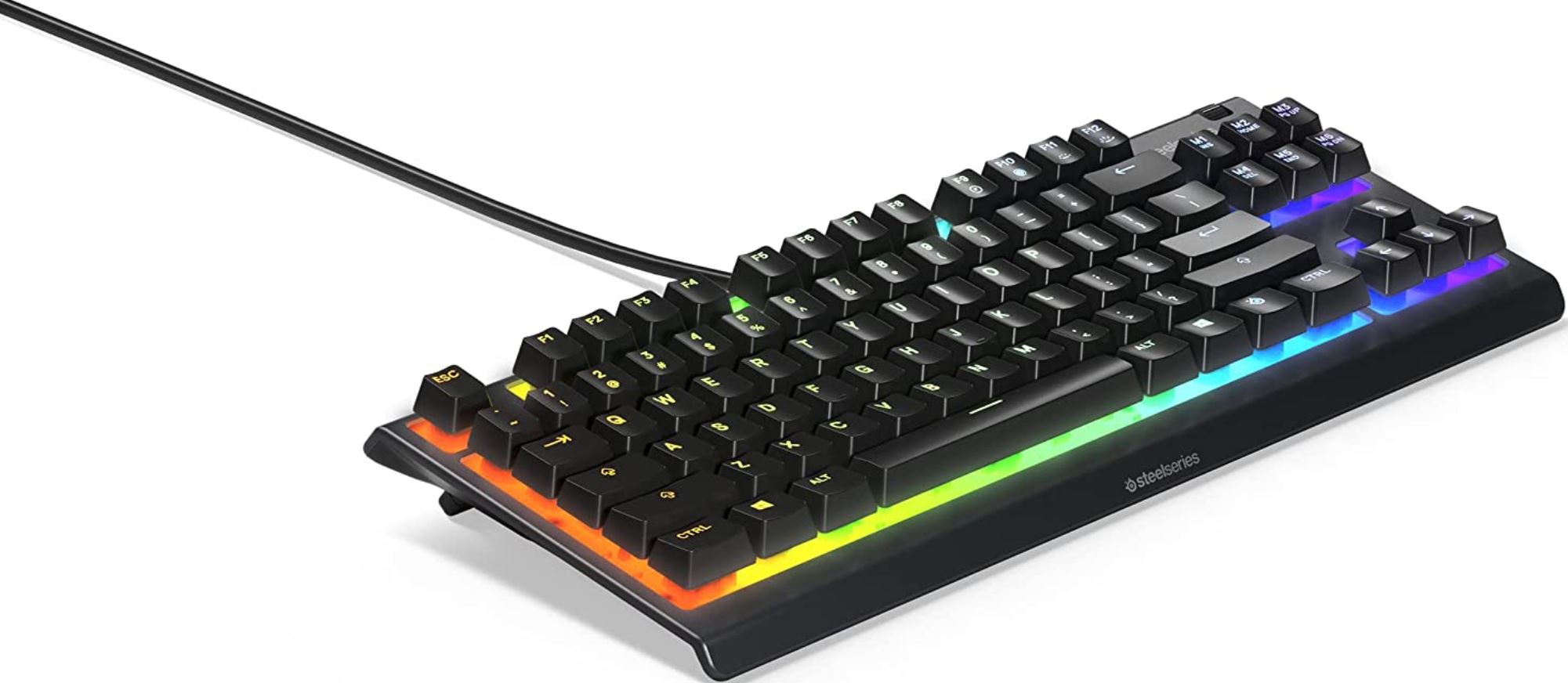 Additionally, it's a smaller keyboard as well due to the TKL form factor that basically removes the number pad on the right-hand side of the Apex 3 TKL. Further, for those that don't like loud mechanical keyboards, this is not the case with the new Apex as it boasts whisper silent switches with durable low friction material for over 20 million silent keypresses that are a joy to press, including antighosting which ensure no keys are missed when pressed! It even has RGB backlighting with clickable volume roller and media keys for quick access, including brightness adjustment. Best of all, the Steelseries Apex 3 TKL Mechanical Keyboard is very well priced at around $119AUD (Nov 2021).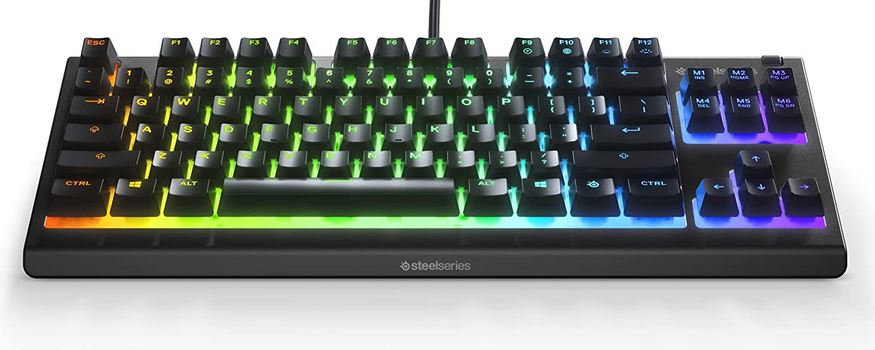 Even with the removable of the number pad, the Steelseries Apex 3 TKL still has full sized keys, including media and volume controls. While the keyboard is plug 'n' play, you do need to install the SteelSeries Engine that gives you further control over the device, including access to this company's proprietary Brilliant PrismSync backlighting technology that supports 8-zones with a choice of over 16 million colours. I'm a huge fan of Steelseries RGB backlighting due to the ability to easily adjust brightness on the fly and the various colour configuration effects.
Once connected to our gaming rig, I found the Steelseries Apex 3 TKL Mechanical Keyboard a very apt and fast keyboard. Key presses not only felt great but they are super responsive, particularly for games such as Fortnite, World of Warcraft, Doom Eternal and Call of Duty Black Ops. I really cannot fault the mechanical keys of the Apex 3 TKL and didn't hamper my gaming at all. I also think that the smaller form factor does make a difference when gaming as well due to the increased real estate on your desk that complimented my mouse keyboard combo.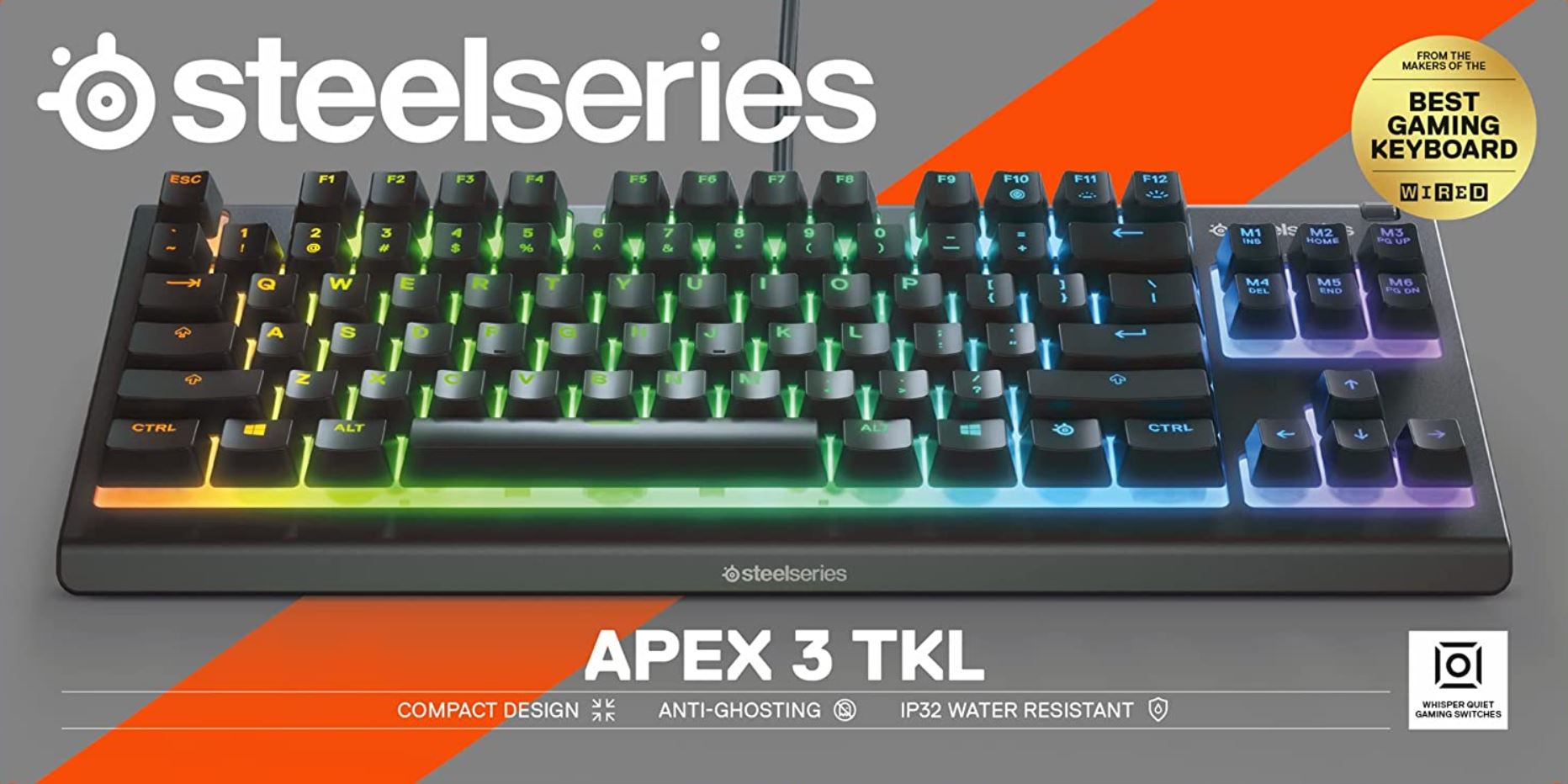 Final Thoughts?
If you're on the search for a smaller form factor gaming keyboard with fast mechanical switches and more importantly one that doesn't damage your budget, then check out the Steelseries Apex 3 TKL Mechanical Keyboard which really delivers, including adding +1 water and +5 dust resistant. With easy setup, good accompanying software, the Steelseries Apex 3 TKL Mechanical Keyboard provides great value for money and delivers that gaming keyboard with silent mechanical switches.
Recommended!
Steelseries Apex 3 TKL Mechanical Keyboard Specifications
Design
| | |
| --- | --- |
| Top Material | High Quality Polymer Frame |
| N-Key Roll Over | 24 Keys |
| Anti-ghosting | Gaming Grade |
| Illumination | 10-Zone RGB Illumination |
| Weight | 1.8 lbs |
| Height | 39.69 mm |
| Width | 444.7 mm |
| Depth | 151.62 mm |
Switch
| | |
| --- | --- |
| Type & Name | SteelSeries Whisper-Quiet Switches |
| Lifetime | 20 Million Keypresses |
Compatibility
| | |
| --- | --- |
| OS | Windows and Mac OS X. USB port required |
| Software | SteelSeries Engine 3.15+ (coming soon) for Windows (7 or newer) and Mac OSX (10.11 or newer) |
Trailer