Hardware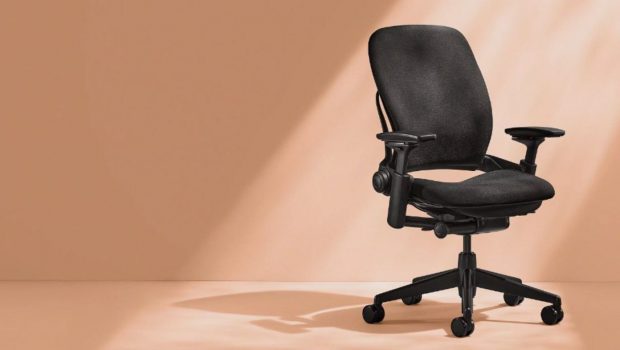 Published on October 11th, 2022 | by Andrew Bistak
SteelCase Leap Ergonomic Office Chair Review @SteelCase
Summary: SteelSeries Leap Ergonomic Office Chair provides comfort supreme!
Chairs, chairs and more chairs. Given how overcrowded the market is, it can sometimes be a challenge to find the right chair for you and every now and then, a product stands above its competitors and today we're checking out one of these standards. The star of today's review is the SteelCase Leap Ergonomic Office Chair that according to several staff members at Impulse Gamer is one of the most comfortable chairs that they've had the pleasure of using.
Gallery
It's also been designed for all-day comfort that ergonomically targets your body with the correct back support to ensure safe posture. Further supporting your sitting experience are the various control adjustments to your body, work and comfort. Another highlight of this chair is that it works as a gamer chair as well which makes playing PC or consoles games a treat due to the overall comfort levels and design features of the Leap.
The SteelCase Leap Ergonomic Office Chair retails from $1500AUD (October 2022) and before you go into some sort of financial shock, there is a reason behind the price. Firstly, the overall build quality of this chair is excellent and more importantly, it's been created to last and the various features which have been recommended by physiotherapists will hopefully prevent any issues as most of us sit way too long in our work chairs.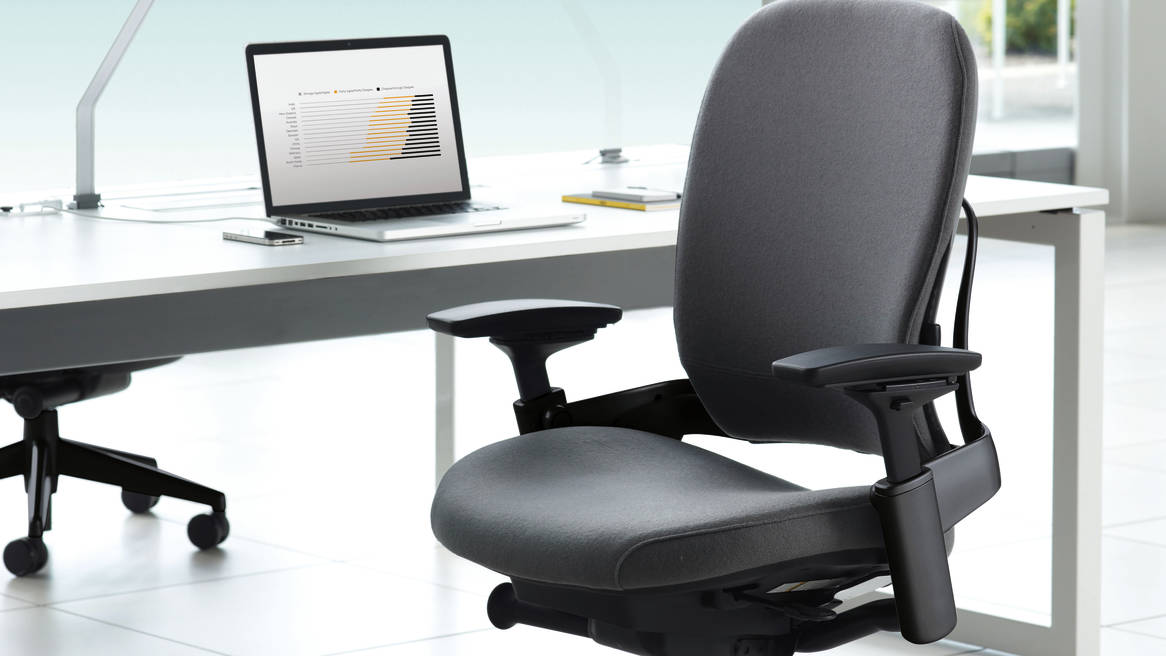 The chair also comes fully assembled and has a limited lifetime warranty. While the Frame, seat shell, outer-back, arm frame structure, base, stool and foot ring has a lifetime warranty, the Mechanism, pneumatic cylinders/gas lifts, arm caps, foam, casters, and glides has a 12-year warranty. So as you can see, SteelCase is backing the quality of their product 100%. In terms of materials used to design the Leap, SteelCase use excellent material and from its metallic frame to high quality plastic and fabric back rest and seat, it not only feels sturdy but aesthetically comes together very well.
Photo Gallery
Another aspect of the chair that we all liked was its size. This is not some bulky office or gaming chair but rather, quite a slim line and manageable chair to move that measures at 972 – 1099mm (height), 686mm (width), 533-629mm (depth), a seat width of 489mm and a back height of 635mm which soft castors that are perfect for hardwood floors. In order words, there is no effort required to move this chair on a variety of different surfaces, whether carpet, chair mat or hardwood floors. This also makes adjusting your position in the chair a breeze.
Comfort?
OMG! SteelCase Leap Ergonomic Office Chair is one of the most comfortable office chairs that I've ever used… I'm not sure why the word office is even in the title because sitting in this chair is in itself an experience of unparalleled comfort. Whether you're sitting straight or reclining, the chair really contours to your spine and your body with its adjustable seat depth, lumbar support, seat height and even fully adjustable arms that can be moved up, down, left, right and also onto angles. You can also lock the recline position as well.
So whether you're a Doctor (#DrFate, #BlackAdam) who has just finished a consult and a round of online gaming?
Or chilling after a hard day's of heroing or being a billionaire in your iron (#IronMan) armour?
Or just sitting around the office waiting for your next stormy (#StormTrooper) deployment or tallying (imperial) inventories in Microsoft Excel?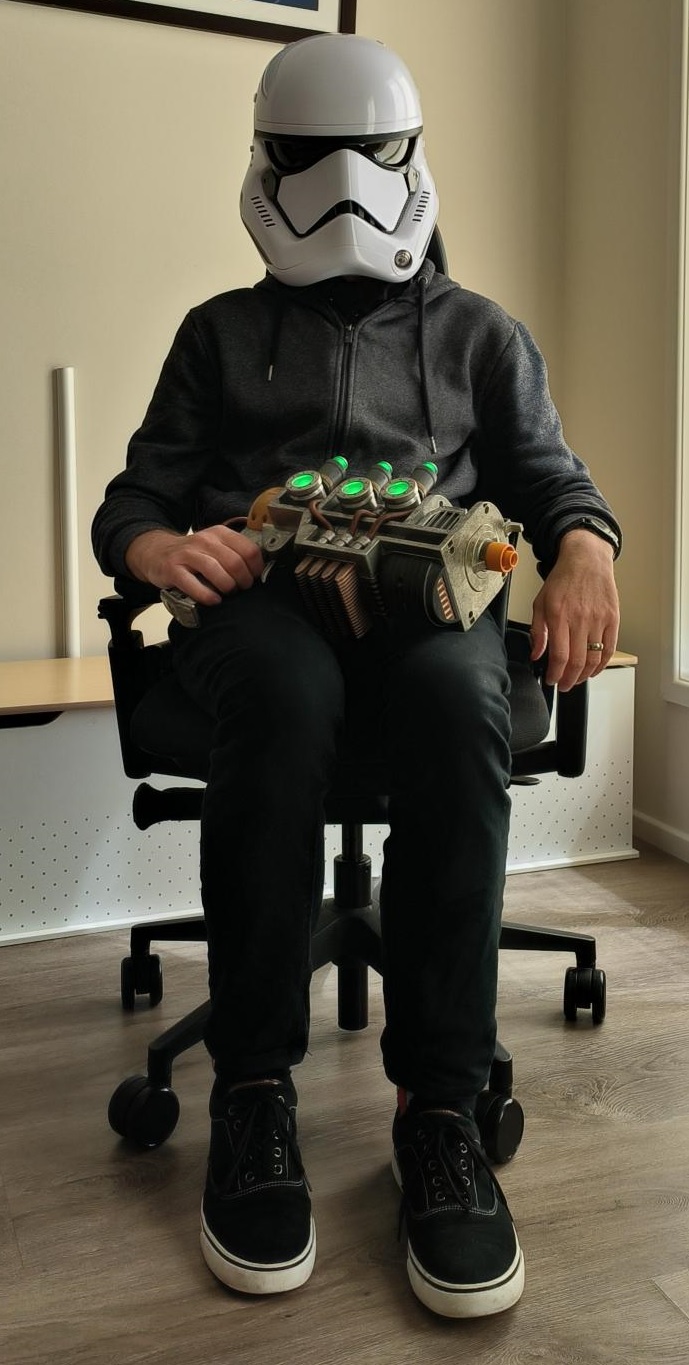 … then the SteelCase Leap Ergonomic Office Chair is indeed the chair you're looking for!
Final Thoughts?
Where was the SteelCase Leap Ergonomic Office Chair when I was working from home? The SteelCase Leap Ergonomic Office Chair is a remarkably piece of furniture that is really tailored toward the user and offers a wealth of health focused features, including unparalleled comfort. Whether you're using this chair for work or play, it perfectly amalgamates between the two, so why not do your body a favour and add an additional layer of protection to your sitting and again, comfort.
Highly Recommended!
For more information, please visit – https://au.steelcase.com/products/steelcase-leap?variant=35674840105113
SteelCase Leap Ergonomic Office Chair Features
Back Support That Brings You Relief
Leap's contoured backrest features LiveBack technology that changes shape as you move to support your entire spine in its natural, healthy S-shape. Height adjustable lumbar, and lower back firmness control let you set your preferred level of support for your lumbar spine.
Fully Adjustable Arms Keep You Connected
Armrests are designed to remain parallel to your work surface as you move, so you can stay comfortably on task at every angle of recline. Fully adjustable armrests raise up and down, pivot in and out, shift forward and back and side to side, to provide steady support for your arms so your shoulders can remain in a relaxed position.
Premium Seat Comfort for All Day Support
Leap's patented Natural Glide(TM) adjustment allows the seat to glide forward so you can recline without leaving your optimal zone for seeing and reaching your work. Our proprietary seat cushion design leverages built in air pockets that conform to your body and flexible edges that relieve pressure points under your thighs
Full Ergonomic Support and Control
No matter how you sit or recline, Leap is able to adjust to your posture and keep you comfortable and supported. Features include adjustable seat depth, fully adjustable arms, height adjustable lumbar, lower back firmness control, pneumatic seat height adjustment, recline tension adjustment, 5 position recline lock, and upholstered back and seat.