Games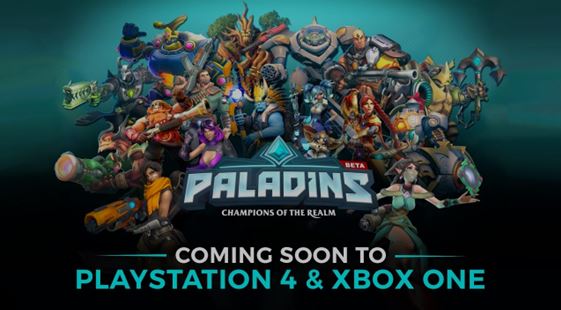 Published on October 3rd, 2016 | by admin
STEAM HIT PALADINS COMING TO PLAYSTATION 4, XBOX ONE
October 3, 2016 – Melbourne, VIC – Xbox One and PlayStation 4 gamers will soon be able to play Paladins: Champions of the Realm, the new hit team-based shooter from SMITE developer Hi-Rez Studios.
Paladins is a Free-to-Play fantasy-themed first-person shooter which has taken the PC gaming world by storm in recent weeks. The game drew more than 1 million players in its first 10 days on Steam Early Access. Paladins is now consistently one of the top 10 most-played games on Steam, and is regularly in the top 3 on the Steam Free-to-Play charts.
"We've been overwhelmed by PC gamers' response to Paladins so far," said Todd Harris, Co-Founder and Chief Operating Officer of Hi-Rez Studios. "But the number of tweets, e-mails, and posts from gamers demanding Paladins on their favourite console has been equally overwhelming."
Fortunately for Xbox One and PS4 owners, Paladins was designed with console in mind from day 1 of development. The control scheme was polished by big-name console gamers, ensuring Paladins feels just right to console shooter enthusiasts.
Sign-ups opened October 1 for Paladins' upcoming Console Closed Beta test on both Xbox One and PlayStation 4. Interested gamers can easily register for the Paladins Closed Beta on Xbox One or register for the Paladins Closed Beta on PlayStation 4.
In Paladins, players fight their way through a fantasy world known as the Realm. There, they compete in competitive team-based multiplayer matches, fighting over gold and mysterious crystals.
Players take control of one of 17 Champions in every match, ranging from a deadly sniper to a mech-riding goblin, a mystical elf, a jetpack-clad dragon, and a bomb golem. New Champions are added to the realm regularly, keeping gameplay fresh and exciting.
Each Champion can be customised to fit each player's unique play style through an innovative collectible card system. Players build their own decks of cards to amplify and augment each Champion's core set of abilities, empowering their personalised play styles.
Paladins is free to download and play on all platforms. All gameplay content can be unlocked free of charge, while cosmetic items are available for purchase.
For more information on Paladins, watch the new trailer here https://www.youtube.com/watch?v=l_1eZOonvTE and visit www.paladins.com.
To download Paladins on PC, visit http://store.steampowered.com/app/444090/.