Hardware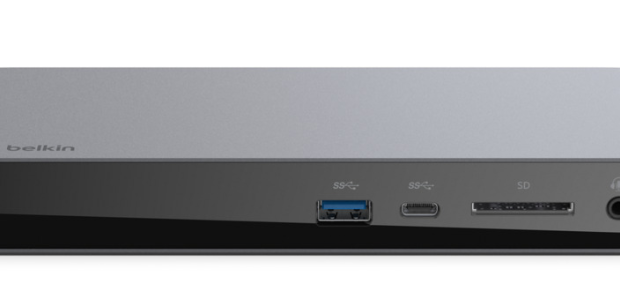 Published on June 25th, 2020 | by Adrian Gunning
Stay Pro-Dock-Tive with Belkin's new Thunderbolt 3 Dock Pro
Welcome to Belkin's latest dock offering, the Thunderbolt 3 Dock Pro.
Boasting power, speed and pixels, this smart dock brings all the benefits in a single docking station solution.
Building on the success of the Thunderbolt 3 Express Dock HD, the Thunderbolt 3 Dock Pro provides consumers with innovative solutions designed to suit both professional and at-home users.
Compatible with Mac and Windows, the Thunderbolt 3 Dock Pro offers Ultra-High Definition monitor support, up to 40 Gbps transfer rates, and 85W of power to your laptop. The dock supports the following monitor modes that include Dual 4K@60Hz, Single 5K @60Hz, and Single 8K @ 30Hz without requiring multiple adapters for lossless, high definition video transmission.
A great option for completing your workstation setup, its design includes:
In-built SD Card Reader to connect SD cards without an adapter
Audio in/out for mic and speaker support
1 x USB-A 3.1 port for USB-A peripherals
1 x USB-C 3.1 port for USB-C devices
2 x Thunderbolt 3 ports, one to connect your laptop with the included Thunderbolt 3 cable, and another to connect a high-resolution monitor/display and Thunderbolt 3/USB-C peripherals
DisplayPort to connect to high resolution monitors or displays
GB Ethernet for reliable, hardwired ethernet connection
4 x USB-A 3.0 ports for devices that connect via USB-A such as a mouse, keyboard or printer.
The Belkin Thunderbolt 3 Dock Pro is available now from Harvey Norman, and will be available via belkin.com.au and other leading technology retailers in the coming weeks.