Games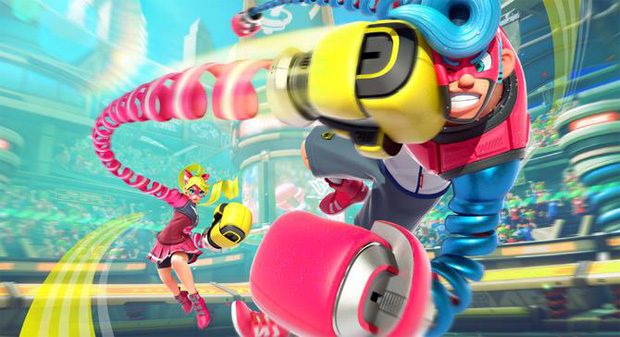 Published on June 19th, 2017 | by Admin
START YOUR WINTER WITH FUTURISTIC FIGHTING ANYTIME, ANYWHERE, AND WITH ANYONE IN ARMS, OUT NOW FOR NINTENDO SWITCH
Up to four friends can play with a colourful range of unique combatants, and face off against each other both locally and online
19th June, 2017 – Start off the winter with ARMS, Nintendo's unique new fighting game that's available now on Nintendo Switch. In the futuristic world of ARMS, certain people have the ability to extend their limbs, leading to fun and frantic battles as combatants aim to become the best fighters around and be crowned the champion of the ARMS League. Whether the Nintendo Switch is used in handheld mode, tabletop mode, or in TV mode, up to four players can challenge each other using a range of unique and colourful combatants in both local and online play*.
Since being revealed back in January, this fast-paced game starring fighters with extendable Arms has gained a strong following, with fans worldwide already debating their favourite characters and actively participating in the recent Global Testpunch demos to get a taste of what the game has to offer. ARMS has also received acclaim with critics, joining a strong line-up of Nintendo Switch titles heading into the winter, including Snipperclips – Cut it out, together!,  The Legend of Zelda: Breath of the Wild, and Mario Kart 8 Deluxe:
"It's fresh, vibrant and genuinely a lot of fun to play" – Press Start Australia
"ARMS is bright, colourful and overflowing with confidence" – Progress Bar
"Nintendo's latest IP has struck a winning blow in the final round in a bout for my money" – Daily Joystick Podcast
Playable with the Joy-Con available for Nintendo Switch, including the new Neon Yellow Joy-Con set available separately in stores from today, as well as the Nintendo Switch Pro Controller**, ARMS is easy to pick up and play with intuitive and engaging controls, while full of depth for more dedicated fighters to delve into. Before each battle, players can choose between one of ten fighters, all of whom have big personalities, bigger arms, and a range of unique special abilities to help fulfil their goal of becoming the Grand Prix champion.
By using the motion controls of the Joy-Con, players can throw a punch with a flick forward, move around the stage by tilting the controllers in the desired direction, or even execute powerful throws by moving both hands forward at the same time. For more tactical play, fighters can select two different Arms, each of which come with their own specialities and strategies to master.
In addition to one-on-one fighting matches that can be played either locally or online***, ARMS has multiple modes that allow up to four friends to play against each other anytime, anywhere. In Team Fight mode, two players are tethered together, and must team up to battle another team of two fighters. Meanwhile, V-Ball requires players to knock an explosive ball into the opponent's court in a mode reminiscent of volleyball, and Hoops challenges opponents with shooting each other into a basketball net, or even dunk them for extra satisfaction. Several more modes are also available, and many of them can be played online.
ARMS will also receive continuous support after launch, allowing players to receive more fighters, stages, and unique Arms at no additional cost.
Start your winter with futuristic fighting anytime, anywhere, and with anyone in ARMS, out now for Nintendo Switch.