Events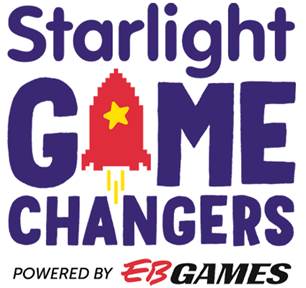 Published on August 13th, 2020 | by Alex Novus
Starlight supporters 'level up' for sick kids
Starlight Children's Foundation (Starlight) is encouraging gamers from around the country to 'level up' for sick kids and teens as part of its third annual Game Changers challenge.
Held from 13 – 30 August 2020, Aussie gamers from all walks of life will be streaming and fundraising on live streaming platform, Twitch, to help raise over $136,500 for sick kids.
Powered by EB Games and Twitch, Starlight Game Changers is open to everyone – whether experienced gamers with an established fan base, or are new to the world of streaming, anyone can register and level up to fundraise and help sick kids.
Now in its third year, Starlight Game Changers aims to replicate the success of the first two events, which has raised almost $200,000 for the charity to date.
Starlight's Partnerships Manager, Tracey Tomlin, said Starlight is hoping to raise $136,500 this year to support its vital hospital services, Captain Starlight and the Starlight Express Room, which are available in every children's hospital across Australia.
"Every minute of every day, a child is admitted to hospital in Australia. Now more than ever, sick and hospitalised kids need fun and positive distraction to help them cope with the loneliness and fear they are facing," she said.
"Game Changers who fundraise $39 will give one seriously ill child access to our vital hospital services, including the Starlight Express Room. It's a place for children to get down to the serious business of having fun playing their favourite videos games or doing arts and crafts with Captain Starlight. Because happiness matters!"
Gamers can now register to participate on GameChangers.org.au, set their fundraising goal, and can stream their talent on Twitch from 13- 30 August.
Participants will receive fundraising and streaming support along the way and will be rewarded for their fundraising efforts with prize incentives and exclusive Game Changers merchandise and SWAG.
Other benefits include exclusive VIP experiences for top fundraisers and a wildcard experience for one lucky streamer!
Gamers already registered are: Princess_Ze1da, RubeePlays, MaidMama, JackHuddo and Cubeyy.
To sign up, and join the Starlight Discord community Starlight Streamers, visit: GameChangers.org.au or follow the #starlightgamechangers hashtag.