Comics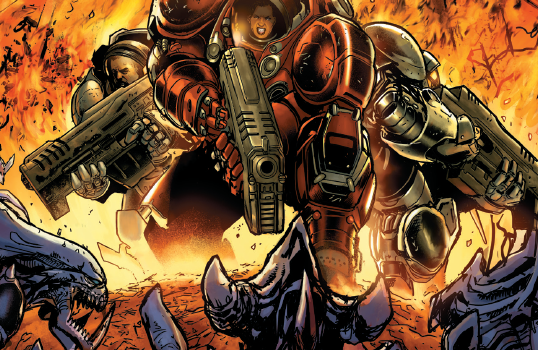 Published on January 16th, 2019 | by Dan Lix
Starcraft: Soldiers #1 Review
Summary: This new Starcraft mini series is jacked up and good to go! Now gimme somebody to shoot! (Rock and roll!)
Starcraft: Soldiers is the second mini series set in Blizzard's Starcraft universe. Written by Jody Houser and Andrew R. Robinson, this story begins with Shivani Singh graduating from the officer's academy at the heart of Terran Dominion space, on Korhal. Due to her impressive performance at the academy, she has her pick of assignments.
She's offered a cushy job on Korhal—play it safe, fast track her career, and she'll make captain in no time. It's a job that her classmates would kill for, but Singh refuses because she signed up to make a difference. Instead, she takes a position out in the Demilitarized Zone on the world of Cavir, with the assignment to preserve the tenuous peace between the Terran Dominion and the Zerg Swarm.
What she finds on Cavir is just how fragile this peace might actually be.
Story
Singh arrives at Camp Pitcairn on Cavir, and she's greeted with incredulous reactions. No one can understand why she'd willingly accept the assignment. It's a fair reaction, since life on this fringe world seems harsh and unforgiving. There is immediate friction between Singh and her squad when she embarks with them on their first patrol. They're used to doing things their way, and this brash academy graduate, fresh out of officer training, is here in their faces barking about the chain of command.
The squad only reluctantly follows her by-the-book commands. And when shit goes down, they immediately break ranks and Sergeant Tiller takes over despite Singh's protestations. It feels like a fairly natural response, given the circumstance. This is a tight knit group living in a place where you either "learn or die". There isn't time to sort out chain of command with a green faced new officer. They take charge of the situation and act.
Art
Starcraft Soldiers #1 was illustrated by Miguel Sepulveda. The art in this book is amazing. It's so very much Starcraft, that when I saw the neatly ordered ranks of Terran marines, Cyclones, and Liberators, I felt compelled to grab my mouse and drag a selection rectangle around them. The marine armor is accurate and detailed, right down to the joints and battle scarring. Terran Goliaths look impressive as they stand idle in the background, while a technician works on one.
During her arrival via dropship, Camp Pitcairn looks every bit like you'd expect a Starcraft outpost to look. The brightly colored command center stands out in the middle of the base, and missile launcher emplacements stand poised atop the perimeter walls much like you'd expect from a Starcraft map.
Aside from being an embodiment of the Starcraft universe, the art also stands very well on its own. The atmosphere of Camp Pitcairn looks oppressive and hot. The glow from the dropship thrusters leaves a bright trail in space but diminishes to a dull glow in the atmosphere. Characters are expressive and diverse. For instance, when she first meets Col. Basch—commander of Pitcairn—he looks suitably smug when he asks if she plans to handle what the planet throws at her with her 'Good grades and a can-do attitude'.
Overall
I enjoyed this latest entry into the Starcraft comic book universe. There's still a lot to learn about Singh and the slums where she grew up. For instance, during her graduation we briefly meet a character from her past, who hints at seedy underworld connections. Chances are, we'll be seeing them cross paths in the future.
Circumstances in this story also stand to fracture the fragile peace between the Dominion and the Swarm, and I'm excited to see where that will lead. If you're a fan of Starcraft, or just good sci-fi in general, I recommend giving this book a read.
Story: 4/5
Art: 5/5