Comics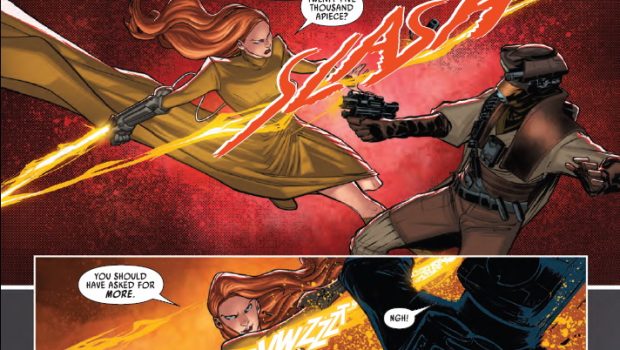 Published on September 19th, 2021 | by Tim Chuma
Star Wars: War Of The Bounty Hunters – Boushh #1 (2021) Review
Summary: Not a compulsory purchase but worth it if you want to find out more about some of the background characters in the Star Wars galaxy.
Boushh is famous from Return of the Jedi due to being the bounty hunter that Princess Leia disguises herself as to get into Jabba's palace after he meets his untimely demise. Supposedly his death was not that well known at the time but Jabba knew and was just playing along to see what she would do. This particular story is set sometime before that during the War of the Bounty Hunters where Boushh and his crew of exiles are doing jobs for the highest bidder. One of these is a high risk, high reward on the ship of Domina Tagge by the head of the Crimson Dawn. Things do not go entirely to plan.
As with the previous one-shot stories in this series, this one gives you the time and space to go into an important background character whose tale would not fit in the main narrative.
As with the Mandolorian, Boussh does not often take off his mask for professional and personal reasons and even when he does they do not show his face in the frame.
I did like the story of his crew all being exiles so they made their own family to do jobs even if they are not so sure about their employers. Even the person they are meant to be assassinating gets their own time in the story and we get to see them personally testing a weapon they hope to sell to the Empire as part of their weapons contract.
While these one off stories are not really compulsory to buy to understand the main War of the Bounty Hunters storyline, they are still good background for characters and their motivations within the wider galaxy. Disney throwing the expanded universe content into the bin is still a sore point for a lot of people but at least they are developing new expanded universe to replace it and the newer stuff will be able to featured going forward.
Comic details:
Writer: Alyssa Wong
Penciler: David Baldeon
Cover Artist: Mahmud Asrar
Publisher: Marvel
Published: September 15, 2021