Comics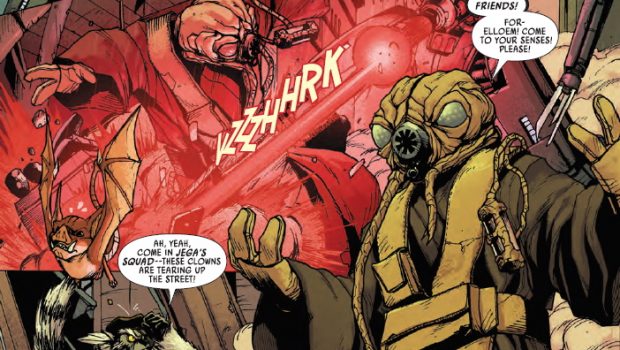 Published on August 8th, 2021 | by Tim Chuma
Star Wars: War Of The Bounty Hunters – 4-Lom & Zuckuss #1 (2021) Review
Summary: Better than I thought it was going to be. Worth a look if you are following all the events of the War of the Bounty Hunters and have read everything else.
4
Zuckuss brings the ruckuss
I was a bit leery of some of these one-shots for the War of the Bounty Hunters storyline. The Jabba the Hutt one was reasonable I suppose but not really about him. These two have even less to do with the main story than the rest of the characters so I wasn't sure how this was going to work out.
For this one I should not have worried as it actually turned out to be quite a good story with a lot of drama and pathos. It was great that these two characters got the space in their own story and were not shoehorned into another series.
There is quite a lot going on here, even though it is part of the War of the Bounty Hunters storyline it is off in its own separate section and has events years before.
It is quite a turn for you to actually feel something for these two after they were portrayed as the bad guys in the main War of the Bounty Hunters comic. Good and bad are flexible in the Star Wars universe especially with people out of the edges in the Outer Rim where people will do anything to make a living.
Lots of great character designs in this one and interesting action scenes, well worth having a look at if you are already reading all the other entries in this series.
Comic details:
Writer: Daniel Older
Penciler: Kei Zama
Cover Artist: Mahmud Asrar
Publisher: Marvel
Published: August 04, 2021