Comics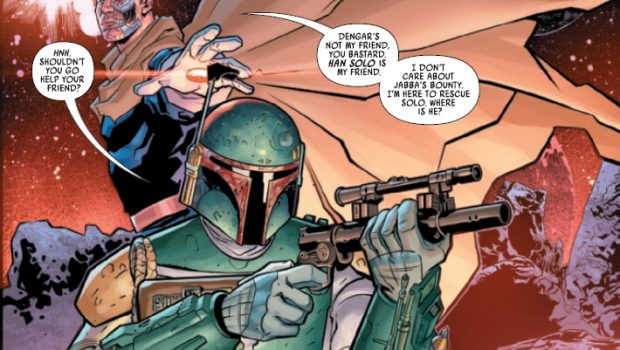 Published on September 13th, 2021 | by Tim Chuma
Star Wars: War of the Bounty Hunters #4 (2021) Review
Summary: If you are looking for the big show it was in the last issue, this series feels like it is winding down now.
4
Boba Fett vs the Rebels
Valance and Dengar finally catch up with Boba Fett and Luke manages to stop Darth Vader from cutting the frozen Han Solo in half while not bothering to land his X-Wing and Jabba the Hutt hatches a plan to get his hard-earned prize back off the Empire.
This series seems to be winding down now after the dramatic events of the last entry. I have heard there is going to be another story based on the Crimson Dawn and one of the one-shots is the bounty hunter Princess Leia disguises herself as to gain entry to Jabba the Hutt's palace in Jedi.
Not really sure how much more they could do in the last story since Chewbacca got set on fire and Darth Vader engaged the leader of the Crimson Dawn in hand to hand combat.
Seems like everyone is going to go off into their own storylines so you can go back to just reading those stories rather than everything to get the story.
This storyline always had a limited amount of time it was going to run as the events eventually end up leading into Return of the Jedi and it is good background if you want to know what happened before that story.
I would recommend this one if you have been following the story up to his point and would consider getting the trade paperback for the War of the Bounty Hunters when it comes out.
Comic details:
Writer: Charles Soule
Penciler: Luke Ross
Cover Artist: Steve Mcniven
Publisher: Marvel
Published: September 08, 2021