Films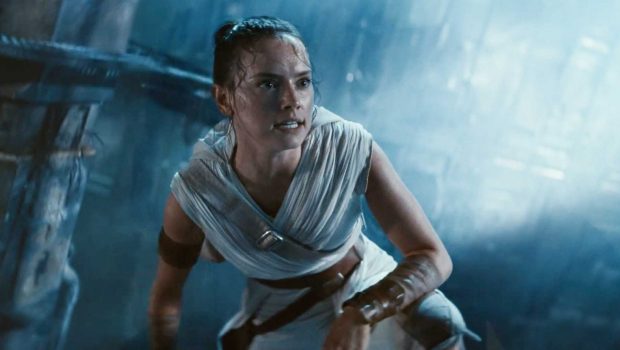 Published on December 19th, 2019 | by Damien Straker
Star Wars: The Rise of Skywalker – Film Review
Reviewed by Damien Straker on the 19th of December 2019
Disney presents a film by J. J. Abrams
Produced by Kathleen Kennedy, J. J. Abrams, and Michelle Rejwan
Screenplay by J. J. Abrams and Chris Terrio
Starring Daisy Ridley, Adam Driver, John Boyega, Oscar Isaac, Carrie Fisher, Mark Hamill, Anthony Daniels, Naomi Ackie, Domhnall Gleeson, Richard E. Grant, Joonas Suotamo, Kelly Marie Tran, Ian McDiarmid, Keri Russell, and Billy Dee Williams
Music by John Williams
Cinematography Dan Mindel
Edited by Maryann Brandon and Stefan Grube
Rating: M
Running Time: 142 minutes
Release Date: the 19th of December 2019
Contains mild spoilers
Star Wars: The Rise of Skywalker is the modern trilogy's weakest entry. The generic conclusion suggests the senseless backlash to Rian Johnson's The Last Jedi (TLJ, 2017) has urged Disney and returning director J. J. Abrams to narrow the artistic and creative paradigms of this finale. Skywalker's rhythms preference generic action beats and its limp storyline relies too heavily on major contrivances to resolve its protagonist's story arc.
Instead of transporting his characters to fresh avenues of the galaxy, Abrams and his co-writer, Chris Terrio, take shortcuts. They lean too heavily on fan service and nostalgia to please loyalists. The result is an underwhelming remake of Return of the Jedi (1983) that also undoes the solid work of the previous films, including Abrams' The Force Awakens (TFA, 2015).
The most pressing point has been the bloodline of Rey (Daisy Ridley). The answers have been frustratingly slow because there has been no endpoint planned from the start. Instead, audiences have been teased about her parentage and relationship to the Force. In this ninth episode, she is ordered by Leia (Carrie Fisher) to complete her training. However, she is distracted by the telepathy of her nemesis, Kylo Ren (Adam Driver), who taunts her about joining the dark side.
Once reunited with her friends, Poe (Oscar Isaac), Finn (John Boyega), C3PO (Anthony Daniels), and Chewie (Joonas Suotamo), the group ventures to find two objects, a mini pyramid and a dagger, which will lead them to where the First Order's final fleet is hiding. Meanwhile, the evil Palpatine (Ian McDiarmid) has returned and demands that Kylo eliminates Rey. He promises him an army and unmatched power if he completes this task.
Following the dismal prequels, Abrams' impossible task was redefining Star Wars for Disney and without George Lucas' input. TFA was a strong entry. It succeeded through imaginative set pieces, a tactile aesthetic design, and by teasing Rey's heritage. Abrams' direction suggested care for the world and its characters as much as the action. The most memorable scene was the quietest. We watched Rey live her life in the desert as a self-sufficient scavenger amidst the fading wreckage of an AT-AT Walker. It was low-key character building that strengthened our fondness and understanding of Rey's way of life.
Too much of Skywalker lingers on autopilot and lacks similar reprieve. Clunky exposition dominates the quiet scenes and the action rhythms are repetitive and uninvolving. Rey's group lands in a location, discusses the plot, and is then ambushed by stormtroopers before escaping. The setup rarely changes. Johnson's film was an imperfect sequel but had the nerve to be structurally daring and allowed its characters to unexpectedly stumble. The over-the-top reactions to TLJ has ensured Disney and Abrams are now tentative about upsetting obnoxious fans with changes. Their filmic style is both brisk and cautious, and too tentative to ever surprise or innovate.
A major talking point of Skywalker's story is Palpatine's return. He received his comeuppance in Return of the Jedi after falling down a well like Timmy O'Toole in The Simpsons. His revival is unceremonious because it is contrived, badly explained, and laughably cheesy. Forty years ago, it might have been menacing watching him rub his hands together and cackling loudly in his man cave. After experiencing Donald Trump, Palpatine is corny not intimidating.
His major revelation evokes feelings of disbelief because it was unearned in TFA and TLJ and is a 'jump the shark' moment. It does not help that his inconceivable return is also addressed with clunky dialogue at the start. 'Palpatine is back! He's been pulling the strings from the shadows!' Poe explains. Johnson said that when approached for his film there was no clear trajectory. The lack of planning is apparent because Palpatine is clumsily reintroduced to rewrite Snork's unexpected death in TLJ.
The much-hyped return of Lando Calrissian (Billy Dee Williams) proves to be another pointless ode to fan service. There is also a ghostly reappearance of Luke that is an unnecessary rewrite of a genuinely funny and unexpected moment in TLJ. It thumbs its nose at Johnson's work as if gleeful about its own by-the-numbers plotting. Similarly, the last hour rehashes Return of the Jedi and various Marvel films.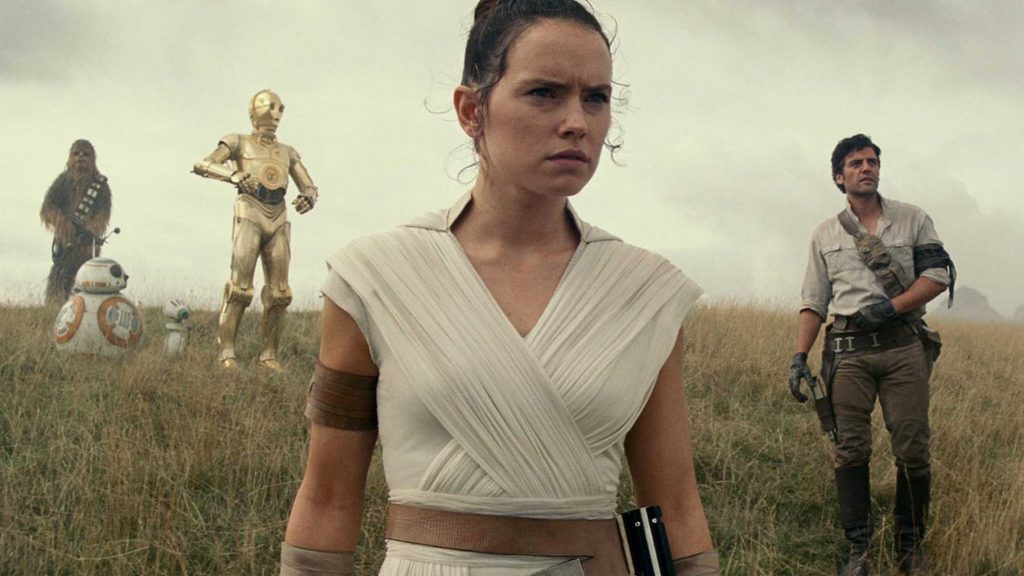 It is disappointing that Abrams resorts to the most overused trope in Star Wars and superhero films: a battle in the sky against a giant airship. Meanwhile, the showdown with Palpatine copies Jedi's ending. The familiarity dilutes the tension and the likelihood of Rey choosing the dark side. A Daenerys-esque arc of descending into madness is hinted at, including a cheesy horror image in the dark, but the outcome is clear. It withdraws from how recent entries tried blurring the lines between good and evil.
Skywalker's action sequences are remote rather than truly involving. Perhaps it is the monotony of set pieces in mainstream movies, but there is never a time when the iconic Star Wars music score enriches the combat. The gears turn but there's a lack of invention and inspiration. The same is true of Abrams' visual spectrum, which omits memorable artistic imagery. His input involves cross-cutting rapidly between threads and establishing the next tension-free set piece. There is a festival scene where hundreds of alien creatures celebrate and a lightsaber duel on a fallen Death Star as waves crash violently. Neither scene matches the exhilaration of the casino sequence in TLJ.
While supposedly concerned about its character bonds, Skywalker proves impersonal. TFA suggested its trio would be equal but the promise is diluted by making Rey the centrepiece. The creative choice typifies Disney's preference for princesses searching for their individuality. Consequently, the only memorable performance is by Daisy Ridley. She possesses the visceral emotional charge needed to underline Rey's internal conflict. Her dogged resistance to her past is pivotal to countering the abrupt interrogations of Kylo who tries drawing her towards darkness. His pursuit is unquestionably a metaphor for love, but after three films the series is indecisive about their bond. Its resolution is contradicted by a cornball epilogue.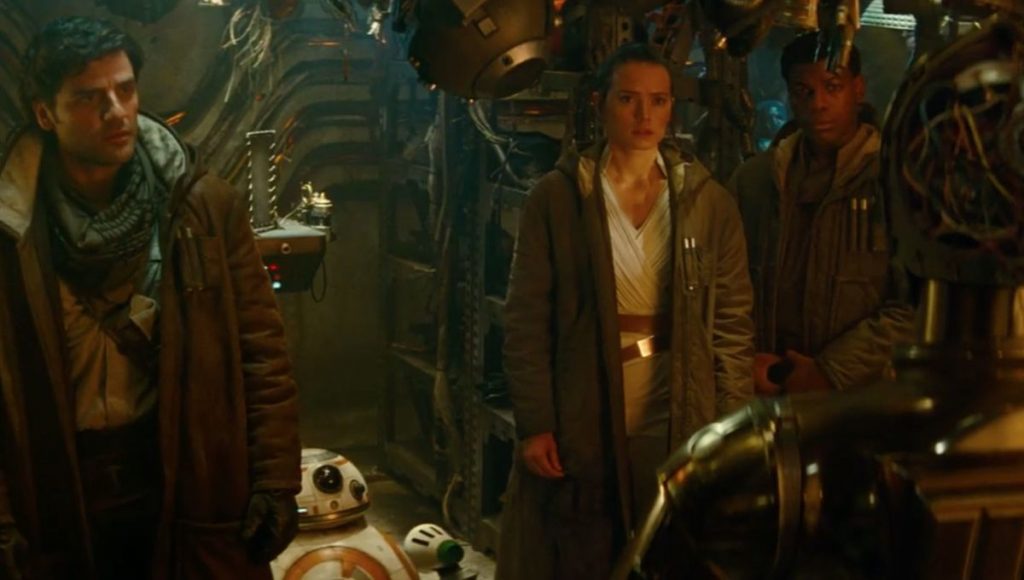 A similar example of attempting to please everyone involves Rey's training. She struggles with her tasks (a rebuttal to misogynists who whined she was perfect) but later performs an incredible move where she slashes a vehicle in two and then single-handedly destroys a transport ship. Aside from Rey, Driver's Kylo is visibly tormented but lacks the palpable danger of a classic villain. As Finn, John Boyega dutifully partakes in the action, but his arc, including connecting with Jannah (Naomi Ackie) who escaped being a stormtrooper, is superficial. Ackie's character is introduced too late to resonate. Similarly, something important Finn wants to tell Rey is also carelessly discarded before the end.
Poor Kelly Marie Tran, who played Rose in TLJ and endured terrible cyber-bullying, is sidelined until the climax. Meanwhile, Poe's arc involves a terribly cliché encounter with a masked woman from his past named Zorii (Keri Russell). She hates him, but would you know it, she might help during a crucial moment. It is a disappointing end to a funny and energetic character. Too many scenes in Skywalker pull their punches with these players. An iconic figure is 'killed' but revived a scene later. This happens twice and is a cheap tactic that proves that fan loyalty comes at the cost of dramatic possibilities.
Once again, Star Wars is a victim of its own success. What was once vivid and imaginative is now an overprotected commodity, less interested in exploring new ideas than serving focus groups and angry fans. Skywalker epitomises this decline into decadence. It is slickly assembled by a committee to ensure that it recreates little more than Lucas' greatest hits. Those hoping for surprises, meaningful story arcs, engaging set pieces, and characters worth a damn, should shrug it off. The franchise that reimagined cinema and earned a second life is spinning its wheels in the coarse sand again.
Summary: Those hoping for surprises, meaningful story arcs, engaging set pieces, and characters worth a damn, should shrug it off. The franchise that reimagined cinema and earned a second life is spinning its wheels in the coarse sand again.