Collectibles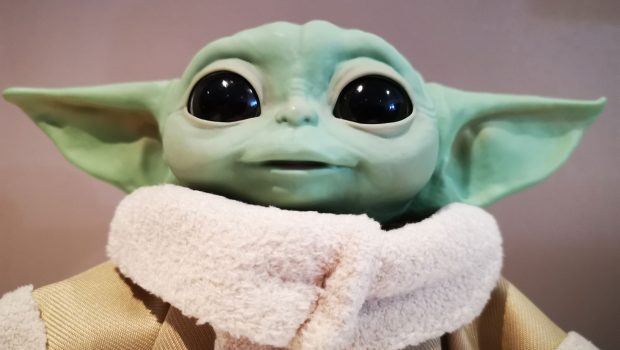 Published on March 13th, 2021 | by Andrew Bistak
Star Wars The Mandalorian Child Animatronic Edition Toy Review #Grogu #BabyYoda
Summary: Get the asset before it's gone forever!
We recently reviewed the amazing and totally "out of his world" Star Wars The Child life-size figure from Sideshow Collectibles that was created in conjunction with Lucasfilm from the hit TV series, The Mandalorian. The end result is a very realistic figure that will make you the envy of your friends and family.
The only caveat is that this figure is more statue-like and while a true display piece, its positioning is fixed. However HASBRO have created the slightly smaller and animatronic version of The Child (Grogu) or "Baby Yoda" that not only moves but even plays sounds. While considerably smaller than the Sideshow statue, it is far cuter.
Who is The Child? A mysterious alien pursued by bounty hunters on behalf of Imperial interests, the Child was held captive by mercenaries on a remote planet in the Outer Rim. Hired by an Imperial, a Mandalorian bounty hunter named Din Djarin set off to retrieve the Child. However, the Mandalorian ultimately refused to hand over the prized bounty, instead going on the run as ruthless bounty hunters chased them across the galaxy.
This toy is well-presented from HASBRO with the packaging mirroring Grogu's floating egg, the first thing that I noticed about Baby Yoda was the very clever animatronics of this toy. By touching the top of The Child's head, it activates over 25 sound and motion combinations that as a result, had me grinning from ear to ear.
Not only does Grogu move his arm, his head but he even opens and closes his eyes and makes super cute sounds such as giggles, sighs and babbles. My favourite animatronic motion (that is taken directly from the TV series, The Mandalorian) is when he closes his eyes and raises his arms as he channels the force!
While some of the animatronics are random, by patting his head three times, it activates the Force animations. Oh, even his ears move! Needless to say, it's a very clever piece of technology that both children, kidults and adults will simply adore. So if you're a fan of the TV series, this is a must have toy for your collection, display or to sit proudly on your office desk.
Final Thoughts?
Priced at $99AUD (March 2021), the Star Wars The Mandalorian Child Animatronic Edition Toy is great value for money and while it doesn't have the attention to detail like the Sideshow Collectibles life-size figure, it's easily as good thanks to its animatronics, sounds and amazing cuteness factor.
Recommended!
Star Wars The Mandalorian Child Animatronic Edition Toy
Company: Hasbro
Box Contents:
– Baby Yoda interactive plush
– Mandalorian pendant
– Batteries: 2 x AAA Alkaline batteries required (Included)
Ages: 4+ years
Pack Dimensions: 25.4cm(H) x 5.4cm(W) x 10.1cm(D) x 0.61kg approx
Unboxing Photos