Comics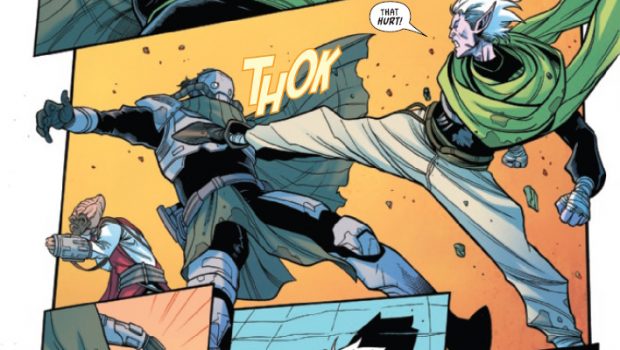 Published on March 12th, 2023 | by Tim Chuma
Star Wars: The High Republic #6 Review (2022)
Summary: I just can't get invested in this storyline at all. Everyone that makes Star Wars what it is still thousands of years from being born.
Some things are going down on Jedha, the giant statue outside the Temple of Kyber falls down and Vildar Mac is trapped under the rubble. The rest of his companions go to help him after realising what has happened.
This does at least have a point of trivia for the movie Rogue One in that the statue seen laying on the planet's surface in that movie had fallen down thousands of years in the past.
I have not really been following this series that closely so while I could follow what was going on at the moment I did not know how it related to the wider story. I did recognise them going back to the bar from a few issues back.
Maybe this one is more for people who want to keep reading the High Republic story and go off in a different direction with Star Wars. There are also a series of young adult novels but I am not sure how much they are related to this storyline.
I did have some hope for the High Republic stuff but it has mostly left me cold so far and I have not been able to get into it. Cannot really get invested in it as much as there is no one I really relate to in these stories as Han, Luke, Leia, Chewy and even Yoda are thousands of years from being born.
Comic details:
Writer: Cavan Scott
Penciler: Ario Anindito
Cover Artist: Yanick Paquette
Publisher: Marvel
Published: March 08, 2023