Comics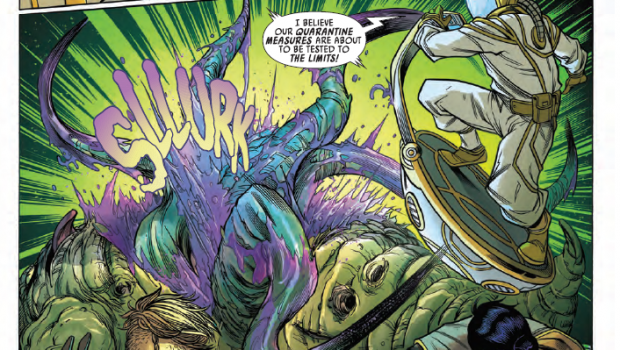 Published on April 8th, 2021 | by Tim Chuma
Star Wars: The High Republic #4 (2021) Review
Summary: Kind of a cop-out "it was all a dream" style resolution but if you are already on board for it you will enjoy it.
Young padwan Avar Kriss finds herself upside down in the clutches of an evil plant-based terror only to have her Master go "I planned it like this all along!" and save them, the Hutts turn up and ruin things for everyone. Back at the Starlight Beacon they are under attack from the same plant and do not know that the same beacon is the cause of it.
Kind of a cop out to have it end this way but not unexpected as that is the way a Jedi Master would think. He does not want to give up his plant arm as it is "part of me now" and the Jedi actually get to do some fighting instead of acting all morally superior. They go after evil in whatever form it exists as the plants have dealt with the Sith before it seems.
No young Yoda here and I am not sure how much he is going to be in this series in either the books or the comics.
Would probably only recommend this if you are already on board with the story as I didn't really know what was going on or care what was going to happen with the characters at all.
Comic details:
Publisher: Marvel
Published: April 07, 2021
Writer: Cavan Scott
Penciler: Ario Anindito
Cover Artist: Phil Noto