Comics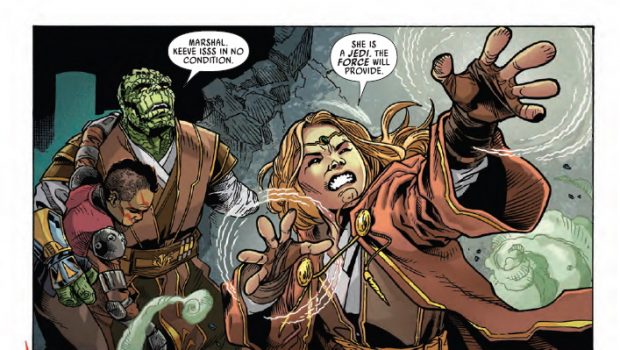 Published on December 20th, 2021 | by Tim Chuma
Star Wars: The High Republic (2021) #12 Review
Summary: Maybe skip this unless you have already been following this storyline. There is also a book series to go along with it. Still worthwhile as it is a new story with characters we have not seen before.
As usual with these series if you leave them and come back some stuff has happened in this case it seems quite a lot. The Starlight Beacon that the High Republic got the Jedi set up to try and give guidance in the outer rim territories actually caused a lot of problems and now a terrorist has been attacking the Jedi directly. The young padwan does not want to go out on the mission but her former master convinces her to as he has been stripped of his Jedi Master status due to his own issues and is waiting for a formal trial.
If that sounds like at lot it is. There is also a young adult series of novels to go along with these stories if you want to get into it. Maybe not the series to dip in and out of but it is at least an original story and new characters and they are not trying to jam everything into existing continuity like a can-opener and not explaining at all why it was not mentioned in the original trilogy.
While there is not a lot of action in this one there is more of the back story for these characters if you have been following this story. As such I would have trouble recommending this one unless you have already been following it. If you really must there are references you can look up but I am not a fan of having to do homework before I can read something.
Comic details:
Writer: Cavan Scott
Penciler: Georges Jeanty
Cover Artist: Phil Noto
Publisher: Marvel
Published: December 15, 2021