Comics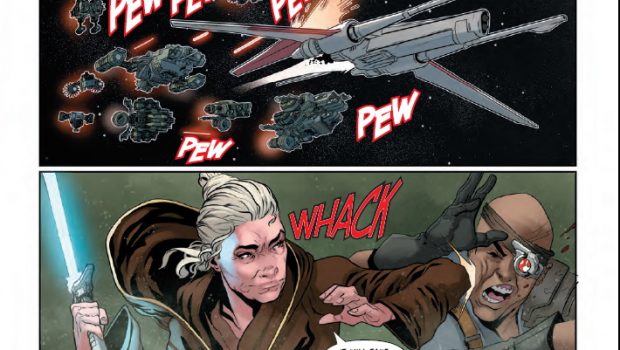 Published on February 7th, 2022 | by Tim Chuma
Star Wars: The Halcyon Legacy #1 (2022) Review
Summary: If you must own a comic about one ship in Star Wars. Maybe wait until one of the Incredible Cross-sections books is updated to the High Republic era?
The 275 year old Halcyon embarks on a cruise with some important passengers, one of the robots on the crew recognises a passenger from when they were last on the ship during the Clone Wars and the ship faces down a confrontation from a First Order Remnant.
To take their mind off this the robot tells the group of when JEDI NIBS and BURRY were on board and fended off an attack by pirates. The ship has seen a lot of history and is so luxurious it seems to attract trouble as people know the passengers will have a lot of loot. Maybe don't go out without an escort in that case? Or maybe not at all?
This ship is important to the new High Republic stories and also is the setting of a new attraction Star Wars: Galactic Starcruiser at the Walt Disney Resort in Florida so they would have to produce something for it.
If you are interested in finding out more about the Halcyon the Star Wars expanded universe and want it to be featured then this is the story for you. Everyone else maybe have a look first before you jump in.
Comic details:
Writer: Ethan Sacks
Penciler: Will Sliney
Cover Artist: E.M. Gist
Publisher: Marvel
Published: February 02, 2022