Events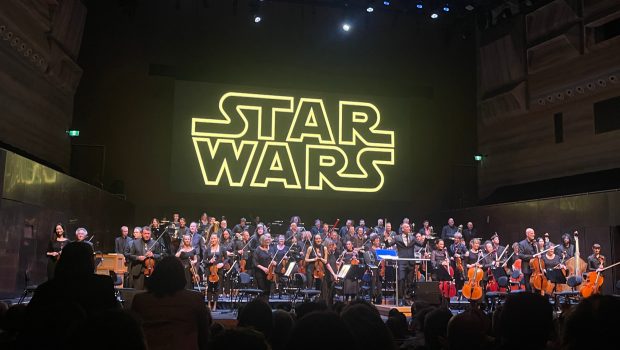 Published on October 7th, 2023 | by Tory Favro
Star Wars The Empire Strikes Back Soundtrack Performed by the MSO, Hamer Hall, Melbourne @MelbSymphony
Summary: The Melbourne symphony orchestra playing Star Wars. The Empire Strikes Back would have to be a highlight of my theatregoing experience.
Last night, the famous Hamer Hall came to life courtesy of the amazing Melbourne Symphony Orchestra, conducted by Nicholas Buc, playing the epic soundtrack to Star Wars Episode V The Empire Strikes Back in real time whilst the movie played on the screen above them.
As a massive Star Wars fan, this was a dream come true for me. The MSO were utterly incredible, and with the boisterous introduction, along with the movie playing on a screen behind the orchestra, I must admit I was literally reduced to tears with excitement as the Star Wars theme started playing to those famous words crawling up the screen.
Hamer Hall is an utterly beautiful theatre with an amazing soundscape. I was positioned metres away from the orchestra pit. In this case, the orchestra being slightly elevated that we could see these amazing musicians. You could genuinely tell that everyone was having a great time in the audience were a part of this. Cheers and clapping erupted whenever main sequences of music were completed along with key parts of the movie.
It was absolutely humbling to watch the movie and glance down, seeing the MSO vigorously playing with such perfection, you could easily be tricked into thinking that this was simply the movie soundtrack playing as opposed to some amazing human beings playing such an iconic soundtrack live right in front of you.
If you have never experienced something like this, I would strongly suggest you do so, as part of an entertainment bucket list that I have just set up for you. The show began very promptly at 7:30, I go to a lot of live events and to be honest if I could make a suggestion it would be that the venue has gates at a certain time followed by a secondary time for the start of the performance. My ticket literally said 7:30 pm, and the show literally started at 7:30 pm which took many theatregoers by surprise and no doubt cost the venue in drink and food purchases.
The sonic landscape was incredible with the audience erupting in particular to the first time, we heard the famous Imperial March, Darth Vader's theme. We also got to hear the haunting music from Dagobah, Yoda's theme, and so much more. What took me by surprise, and it shouldn't have, was the fact that the MSO played the entirety of the music for the evening, not just the key tracks. The conductor had a screen in front of him that was playing the movie that gave him visual cues to conduct with aplomb and enthusiasm, everything coming together beautifully. In particular, he delighted the audiences when he conducted using a bright red lightsaber.
To add to the evening some brilliant cosplayers were in attendance which was very exciting. I am assuming as a Star Wars fan, but they may have been from the 501, but that is an assumption. They all stuck very well to their roles, and looked picture perfect.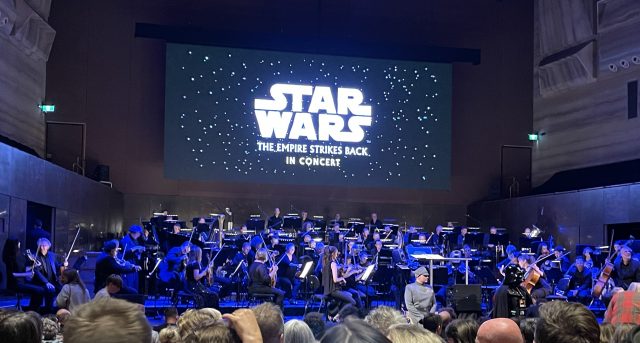 A brief intermission took place halfway through the movie, which allowed people to go out and purchase their drinks and snacks.
The Melbourne symphony orchestra playing Star Wars The Empire Strikes Back would have to be a highlight of my theatregoing experience. Never in my life have I seen anything quite as beautiful in terms of watching a movie and having musicians play the soundtrack live in front of me. It was a privilege and utter pleasure and something I won't soon forget. I strenuously suggest that you find a movie that you enjoy, and if they are offering something similar, that you book tickets immediately.
Many thanks to Hamer Hall and the Melbourne Symphony Orchestra for an amazing, unforgettable experience. I cannot wait to return (I hope) to see Star Wars Return of the Jedi in the same manner!
Tory Favro.