Comics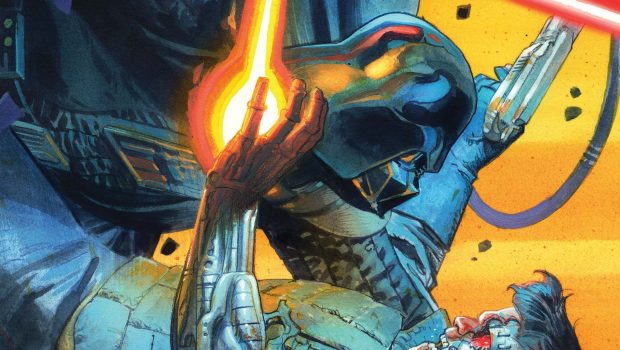 Published on December 16th, 2019 | by Tim Chuma
Star Wars: Target Vader (2019) #6 Review
Summary: Valance has been forced to track down the Hidden Hand by Darth Vader but has a bet each way, will he succeed or not?
Bounty hunter Valance knows a bad deal when he spots one, but with Vader making him an offer he can't refuse he has no choice to help track down the Hidden Hand. While he may be mostly a cyborg, Vader knows exactly what he still holds dear. Will he track them down and escape the Empire or not?
I quite enjoyed the previous instalment of this series and also found another fan of it when I was making enquiries in the stockists. From watching some of the many excellent Star Wars lore channels on Youtube (see below), I have learned there are other Vader-centred stories both in the new and old continuity. While this story concerns Vader, he is not really the main character and mainly makes a cameo.
Even though there is not that much action in this story, it is still a satisfying conclusion and leaves it open for more stories what that character. The cover is total bullshit by the way, that never happens at all as Valance and Vader do not even fight in this one.
If you were already reading this series I would recommend this instalment to see how it ends and if you have not read any of the series it is easy enough to grab this one and the others or wait until the trade paperback comes out to get them all at once.
Comic details:
Writer: Robbie Thompson
Cover Artist: Nic Klein
Youtube Star Wars lore channels:
EckhartsLadder
https://www.youtube.com/channel/UCp6F1mQGuaXiDj5otWBmIjg
Star Wars Explained
https://www.youtube.com/user/starwarsminute
The Lore Master
https://www.youtube.com/channel/UC6X0WHKm7Po3FlBepIEg5og
Star Wars Theory
https://www.youtube.com/channel/UC8CbFnDTYkiVweaz8y9wd_Q
MetaNerdz Lore
https://www.youtube.com/channel/UCIGzUFvwHjqqhthO1AN_1PQ