Collectibles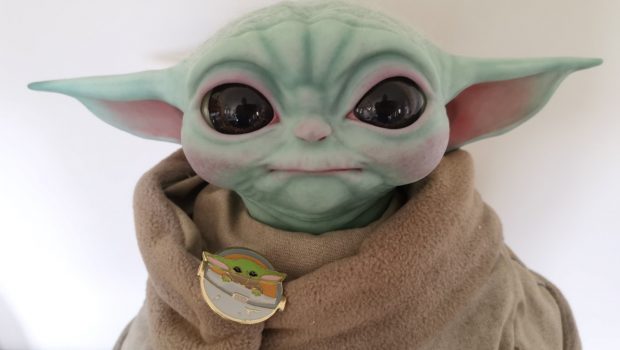 Published on November 3rd, 2021 | by Andrew Bistak
STAR WARS SHORT STORY REVIEW @shortstorygift
Summary: The Star Wars Short Story gifts look amazing and successfully celebrates this iconic franchise which really makes them Jedi worthy!
A long time ago in a galaxy far, far away…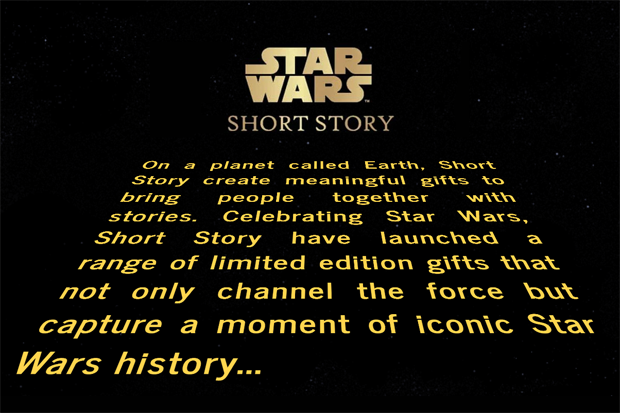 The Mandalorian helped revitalise the Star Wars franchise and The Child/The Asset or as dubbed by fans on the internet, baby Yoda (aka Grogu) soon became the new face of this iconic series, including actor Pedro Pascal who plays Din Djarin, the enigmatic and noble Mandalorian, a space bounty hunter.
So if you think you have seen all the amazing collectibles from The Mandalorian and the greater Star Wars universe, think again because Short Story have taken the iconic imagery from this sci-fi franchise and combined it with their clever gift crafting to create some of the most original items this side of the galaxy.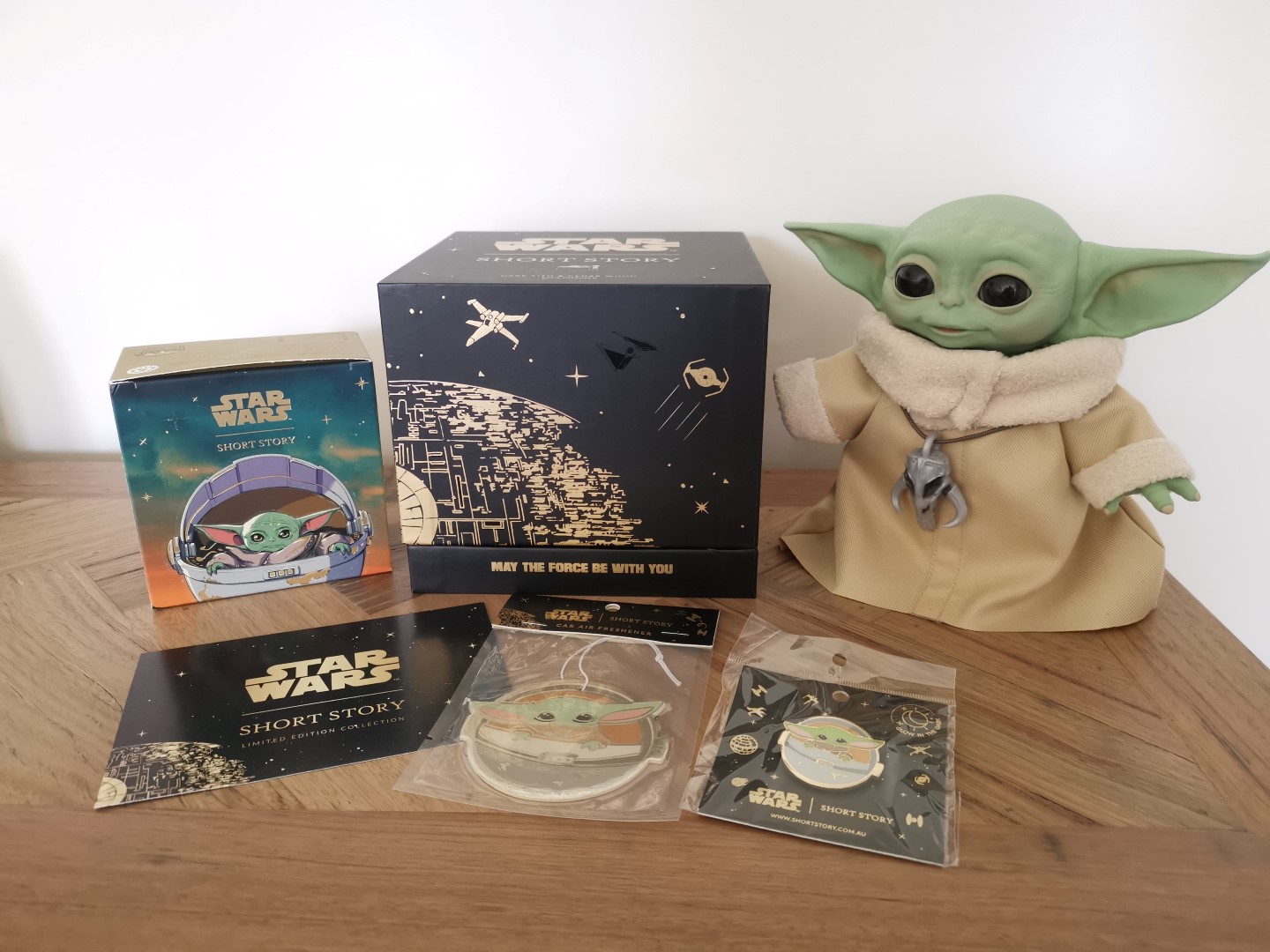 Thanks to Short Story, Impulse Gamer were given the chance to check out some of their limited Star Wars Short Story products that included a Star Wars Diffuser Limited Edition, a Star Wars Candle Grogu Limited Edition, a Star Wars Car Air Freshener Grogu and a Star Wars Enamel Pin Grogu in Pod Limited Edition that also glows in the dark!
Additionally, all the items are well packed and beautifully presented from Short Story and easily noticeable with its Star Wars branding. As mentioned, each of the products focus on a story and whether that's Grogu in his pod or the menacing Death Star with its Dark Sith and Cedar Wood scents of the Star Wars diffuser with its stones and mini metallic Death Star, it all comes together amazingly well that really captures the spirit of these classic stories.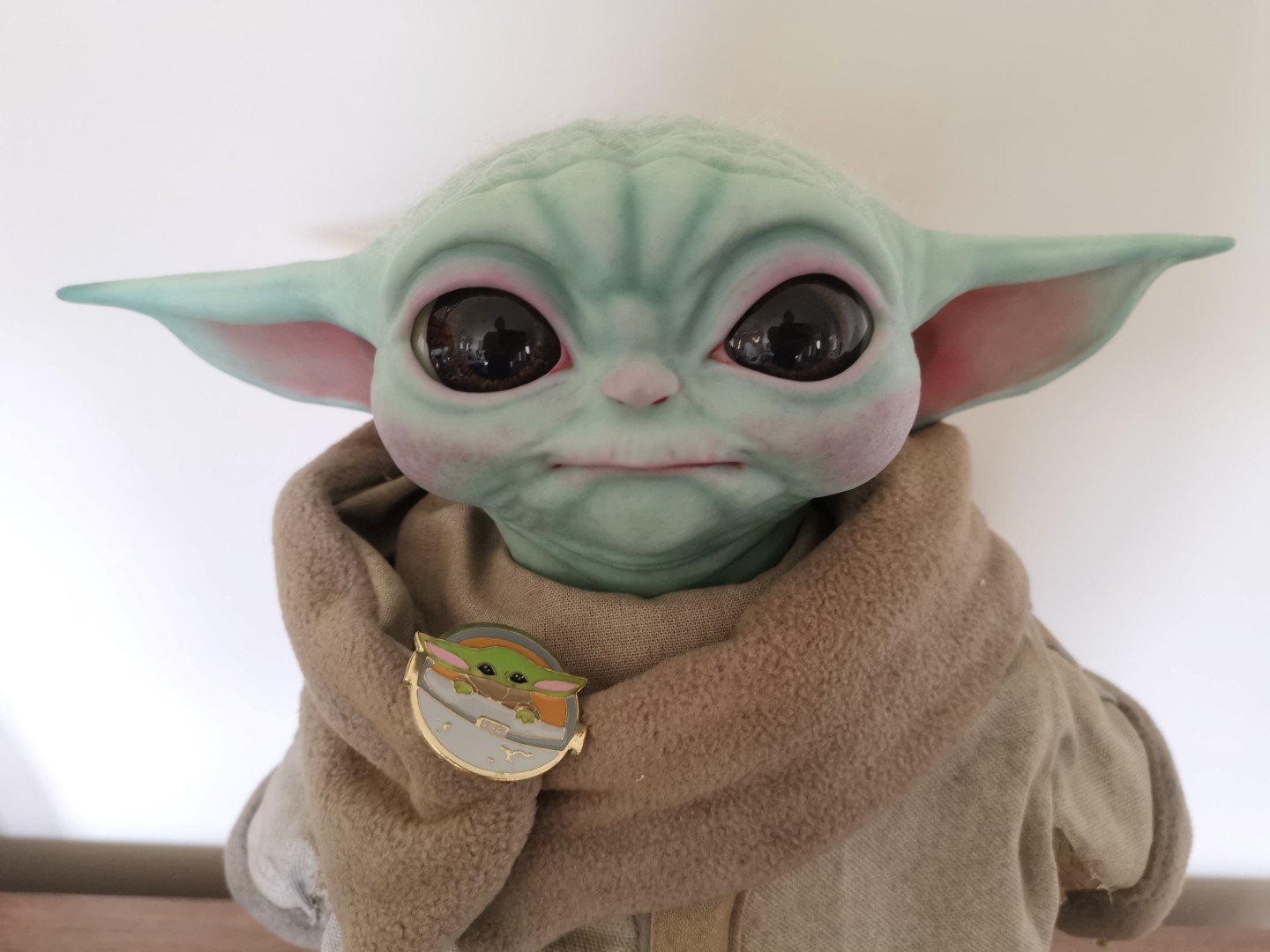 Grogu and his Star Wars Enamel Pin Grogu in Pod Limited Edition.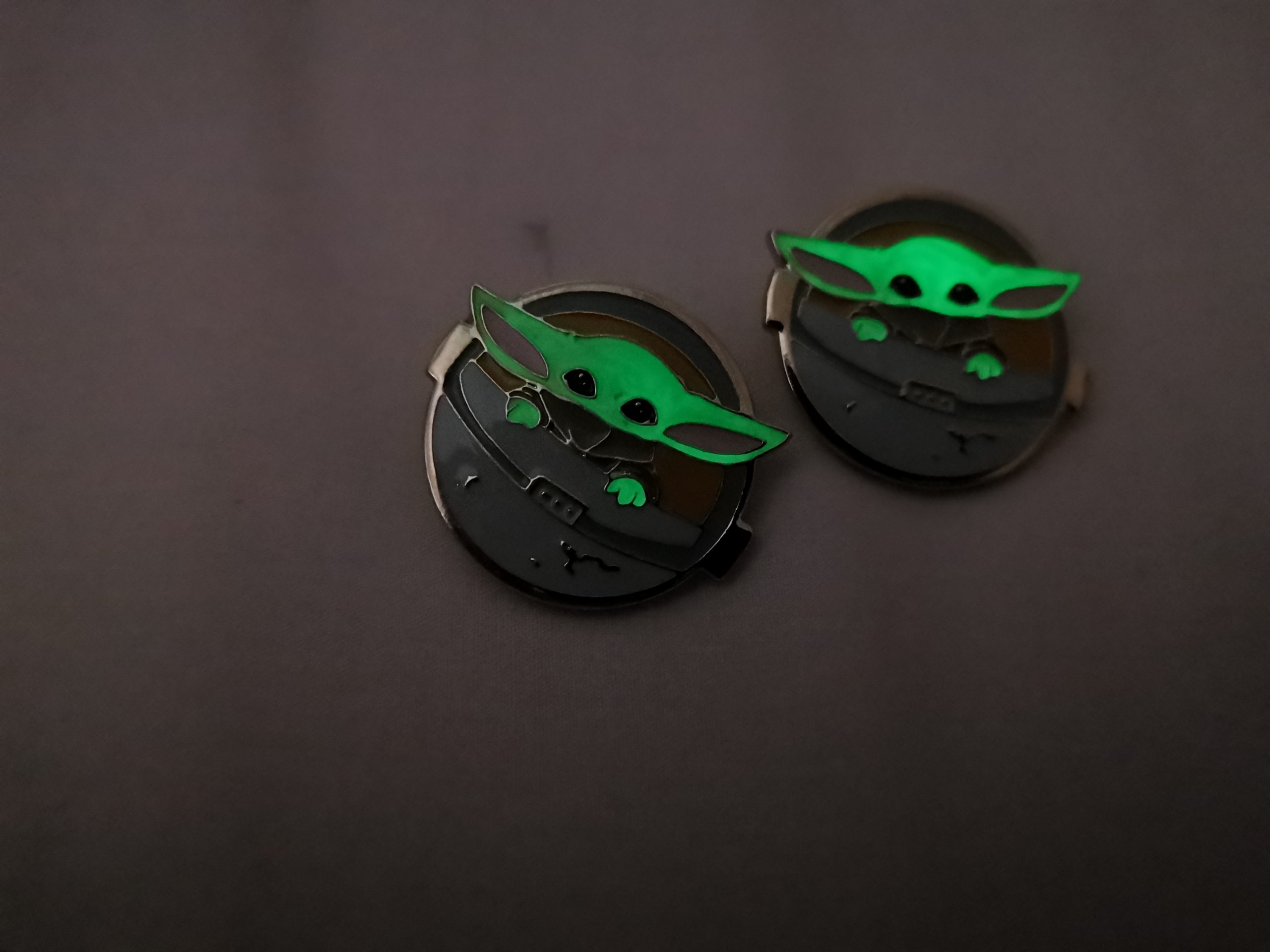 The force is strong and GLOWS with the Star Wars Enamel Pin.
The Star Wars Diffuser retails for around $160AUD and is beautifully presented with its black and gold colouring. Once you have unboxed the diffuser, the first step is to put the porous rocks inside the product which include Black Tourmaline (energy, purification), Volcanic Lava Rock (strength, courage, stability) and Pyrite (powerful protection, intellect, memory) plus the gold Death Star model which is a nice little touch from Short Story.
Diffuser Unboxing Gallery
There is also a 20mm diffuser spray that comes with the product which boasts a mixture of scents, some subtle that include lemon, lemongrass, citronella, lavender, orange flower, violet with the main scents being cedar wood, patchouli and vanilla. According to Short Story, the spray will last over one year and additional diffuser sprays can be purchased but the included one definitely smells out of this world.
Features
Death Star model
Natural stones & rocks in pouch
20 ml diffuser spray
Odour-neutralising scent
Lasts 1 yr +
Beautiful gift box
Box Size: 17L x 17W x 16.7H cm
Diffuser + lid size: 13L x 13W x 10H cm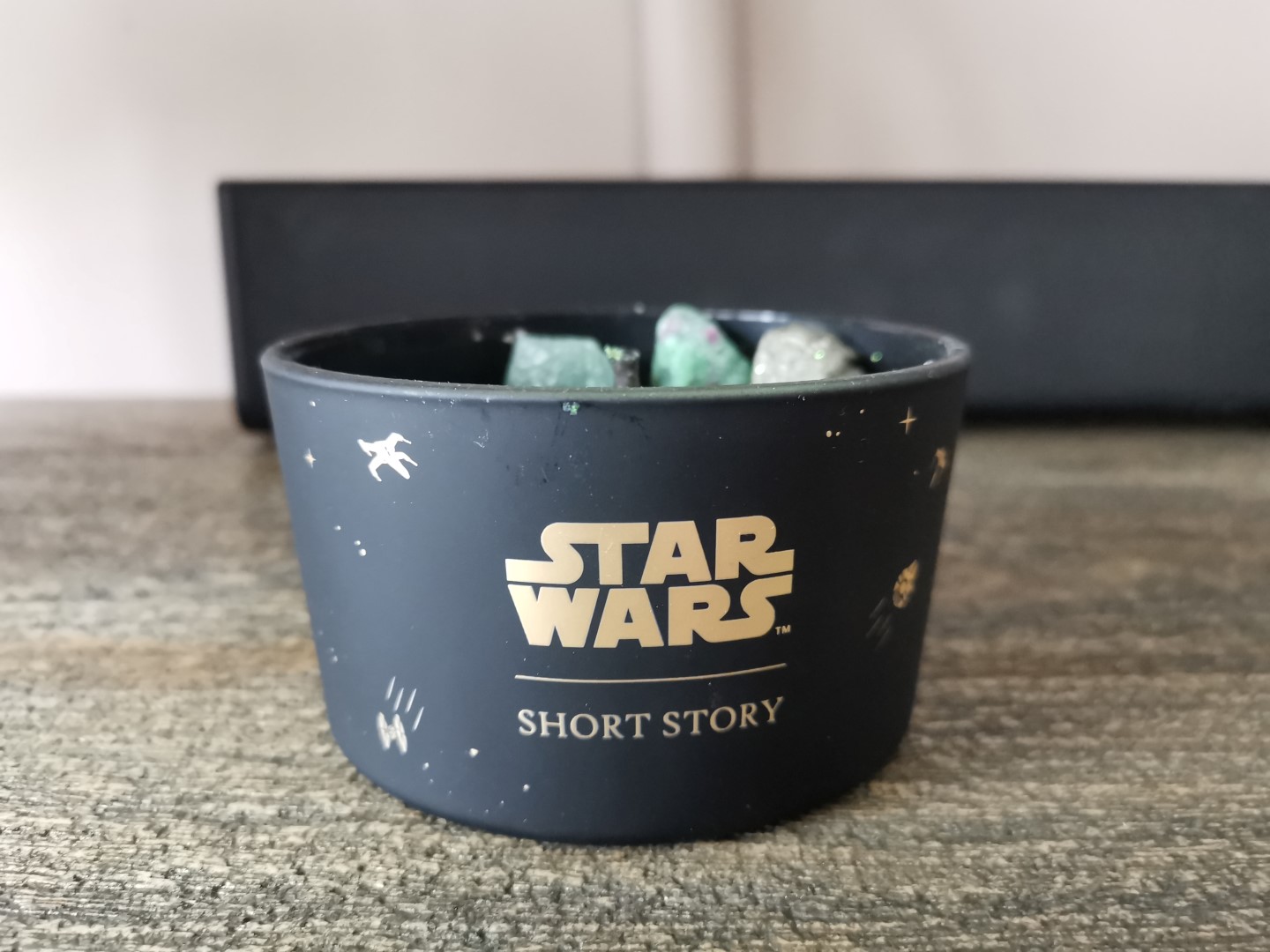 Next up is the Star Wars Grogu Candle Limited Edition ($49.95AUD) that again celebrates the character of Grogu with its green coloured candle and bonus enamble pin. Like the diffuser, it has an amazing collection of scents that includes strawberry, armoise, fig, clary sage with a base of cedar wood and a burn time of 40-hours. Again, it smells spectacular and something Han Solo needed when he, Luke and Chewbacca fell into the Death Star trash compactor.
It also comes with three stones Epidote (love, healing, hope), Aventurine (prosperity, leadership, compassion) and Pyrite (powerful protection, intellect, memory) which mirror the main character's traits from The Mandalorian. Like the diffuser, it boasts odour-neutralising aromas and for me, the candle did smell like Christmas which is a bonus.
Features
Natural rocks, gems, crystal
Glow-in-the-dark enamel pin
40 hour burn time
100% Cotton wick
Soy candle
Safety tested
Beautiful gift ready box with iconic movie scenes, gold foil and glow-in-the-dark details
Each candle is inspired by the personality of each individual character and carries their personality and inspirational quote.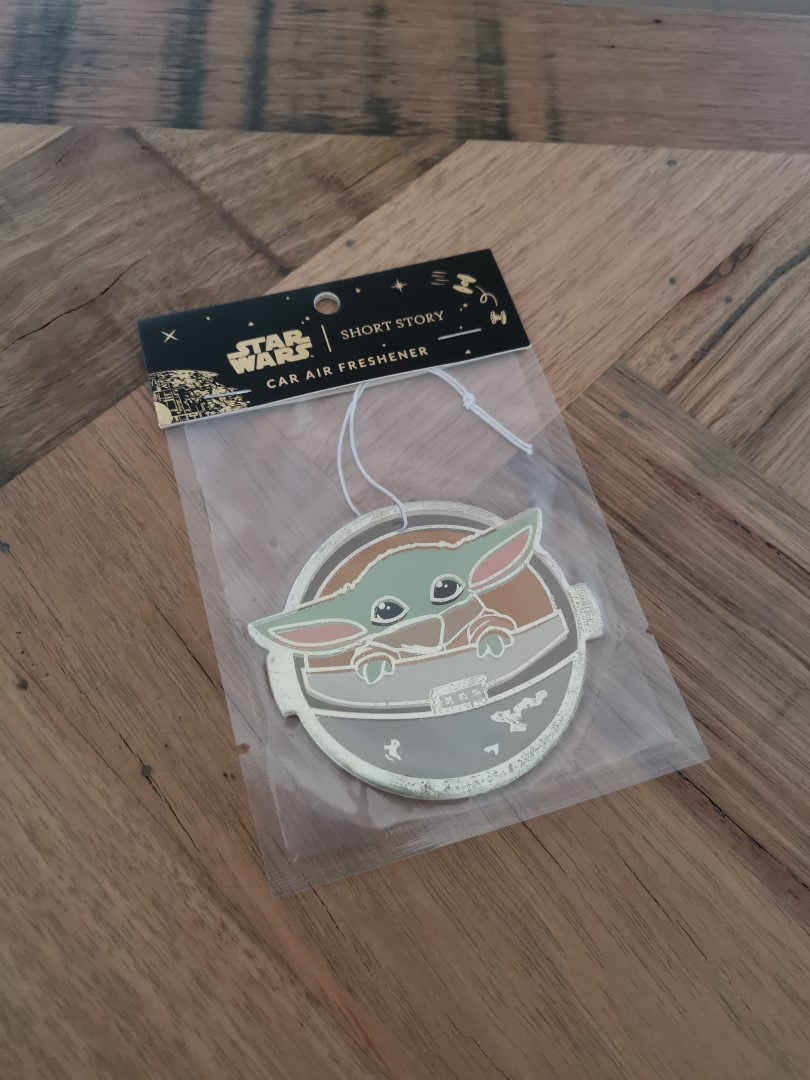 The Star Wars Grogu Car Air Freshener ($9.95AUD) boasts a similar scent to the candle with smells that include strawberry, armoise, fig, clary sage and a base of cedar wood which lasts up to 6-weeks. Unlike the candle and the diffuser, the car air freshener has a stronger smell initially that will start to wane after a few weeks like similar products. Nonetheless, it again celebrates Grogu in his pod and will make your car smell intergalactic.
Star Wars Grogu Car Air Freshener Features

Package: 8.5x13cm
Odour-Neutralising Scent
6 weeks
Mirroring the design of the air freshener is the enamel pin that captures that iconic moment of Grogu in his pod and best of all, it glows in the dark with an eerie green. Given that, it makes the perfect accessory to show your loyalty to the world of fandom and can be worn with anything.
Final Thoughts
These are the gift you're looking for… and Short Story should be commended in creating these high quality gifts that successfully celebrates the institution that is Star Wars.
For more information, please visit https://shortstory.com.au/