Comics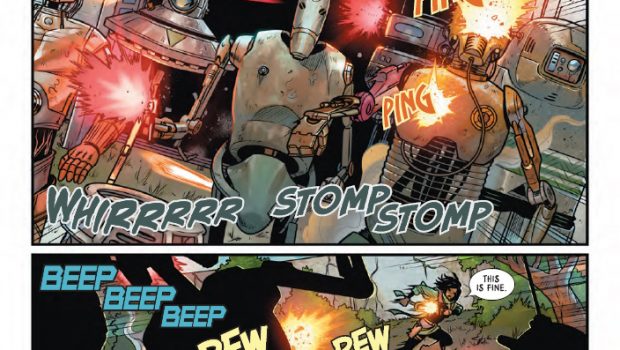 Published on February 6th, 2023 | by Tim Chuma
Star Wars: Sana Starros #1 (2023)
Summary: How much you will get out of this one depends on if you have been following Doctor Aphra and know who this character is. Still a good rest from that plot though.
Sana Starros travels back to her ancestral home only to find it attacked by storm troopers. It seems her cousin has married an Imperial officer and he has come to collect her as she wanted to have the baby at home and he objects, treating her like one of his possessions. When he orders the family killed Sana and her other relations fight back and escape. It seems there is something else at play here and what Sana thought would be a relaxing trip home now is not that.
Given everything that is going on in the Doctor Aphra series I am unsure of where this sits in the timeline. From the first scene it has her breaking into a warehouse to steal "something rare and valuable" which turns out to be pink milk. Don't they have strawberry Big-Ms in the Star Wars galaxy?
I did like her being jumped by the security droids at the family compound and her grandma chastising her for "terrorising my droids" when they were the ones trying to kill her.
Not sure who the Imperial is or where he fits into the wider Star Wars cannon. Seems to be some mid-manager type.
This one was enjoyable enough and it off in its own storyline so you can read it without having to know anything going into it or have to keep up with other titles to get the full thing.
Comic details:
Writer: Justina Ireland
Penciler: Pere Perez
Cover Artist: Ken Lashley
Publisher: Marvel
Published: February 01, 2023