Comics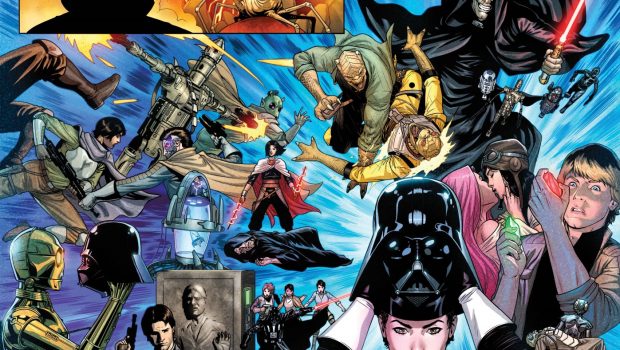 Published on January 20th, 2023 | by Andrew Bistak
STAR WARS: REVELATIONS #1 GIVES READERS A STARTLING GLIMPSE INTO THE FUTURE OF STAR WARS COMICS!
Marvel's Star Wars comic series are on course for an epic 2023 and it all began in STAR WARS: REVELATIONS #1! Returning to comic shops yesterday with a special second printing, the giant-sized one-shot revealed what lies ahead in ongoing titles Star Wars, Star Wars: Darth Vader, Star Wars: Doctor Aphra, and Star Wars: Bounty Hunters, as well as the epic upcoming limited series, Star Wars: Hidden Empire. Set during the era after Star Wars: The Empire Strikes Back, Marvel's line of Star Wars comics have redefined the Star Wars mythos with bold sagas set during this largely unexplored time period. These stories are far from over and STAR WARS: REVELATIONS #1 laid the groundwork for the major turning points to come for these adventures as they continue to head towards an unpredictable future.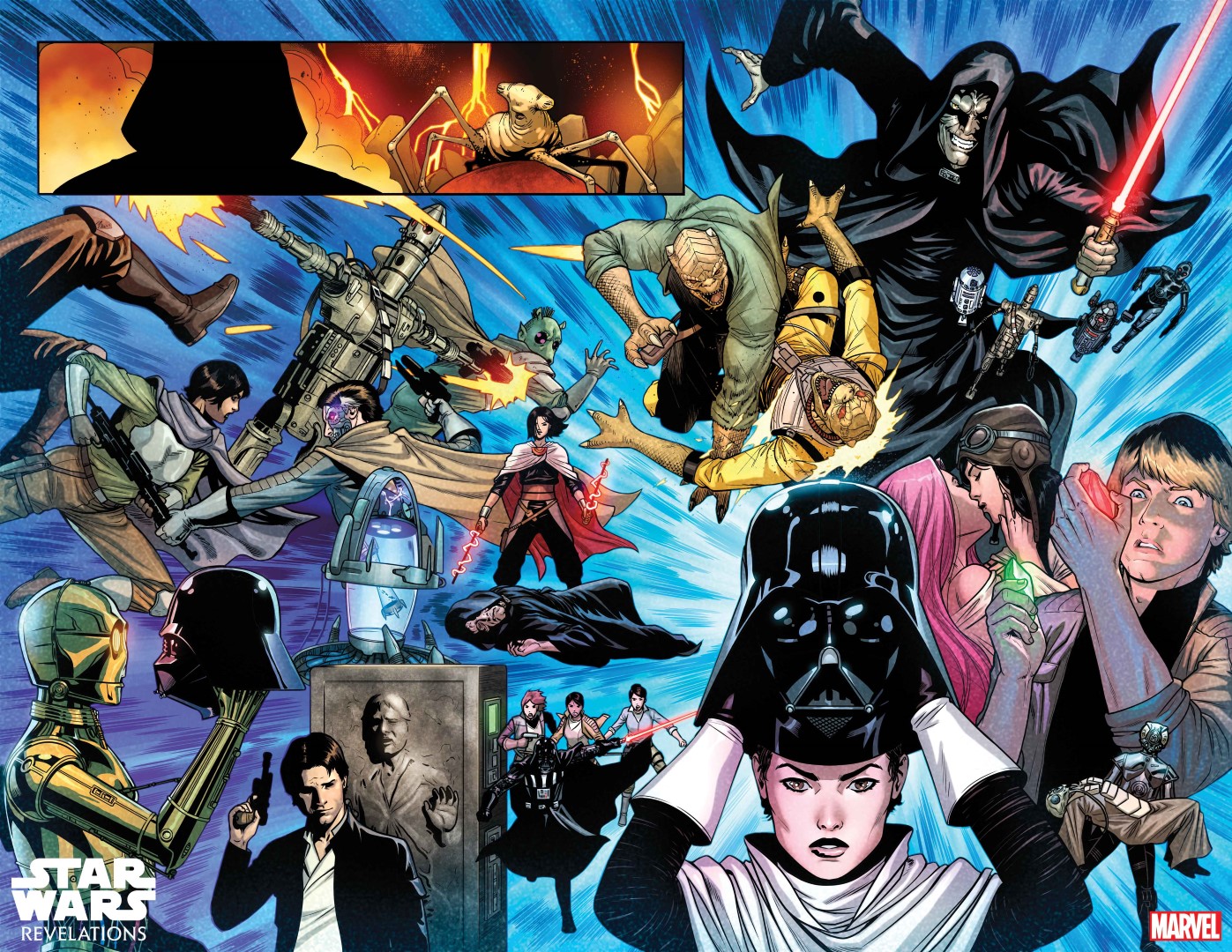 Written by Marc Guggenheim and illustrated by Salvador Larroca, Pere Pérez, Emma Kubert, Justin Mason, and Paul Fry, STAR WARS: REVELATIONS is set amidst the infamous lava pools of Mustafar but will take readers across all corners of the galaxy. Join Darth Vader as he watches the very destiny of the Rebellion, the Empire, Doctor Aphra, and the galaxy's most notorious bounty hunters in a vision that will leave him and fans breathless.
Here are some of the POSSIBLE future events on the horizon that STAR WARS: REVELATIONS #1 teased…some may come true, some many not!
TONKA VS. BOSSK – Already unfolding in the pages of STAR WARS: BOUNTY HUNTERS #29!
R2-D2'S SQUAD – What could R2-D2 possibly be doing with IG-88, BT and 000?! This couldn't possibly happen…could it?
APHRA KISSING DOMINA– But isn't Aphra with Sana…?
KYBER CRYSTAL CHOICE – Luke Skywalker faced with the choice of a green Kyber Crystal…or a RED! Could Luke lean towards the Dark Side?
THE END OF ZUCKUSS – 4-LOM holds the lifeless body of his friend and fellow Bounty Hunter, Zuckuss.
SABE BECOMES VADER – We've already seen Sabe suit-up in the pages of STAR WARS: DARTH VADER…but could she take the place of the Dark Lord of Sith?
DARTH VADER LEADS THE HANDMAIDENS – The last time Darth Vader came face-to-face with the other Handmaidens it didn't end well…so could they really team up in the future?
HAN DUPLICATE? – How could Han Solo possibly be in two places at once? Unless one of them isn't Han Solo…
C-3PO MEETS HIS MAKER – C-3PO and Darth Vader go head-to-head! And C-3PO…wins?
VALANCE VS. T'ONGA – The two friends a soldier couldn't possibly be at odds…could they?
IG-88 JOINS THE TEAM – One of the greatest Bounty Hunters in the Galaxy comes to join the Bounty Hunters team!
QI'RA TRIUMPHANT – Qi'ra standing over a lifeless Palpatine in front of the Fermata Cage—could this be the true finale to HIDDEN EMPIRE?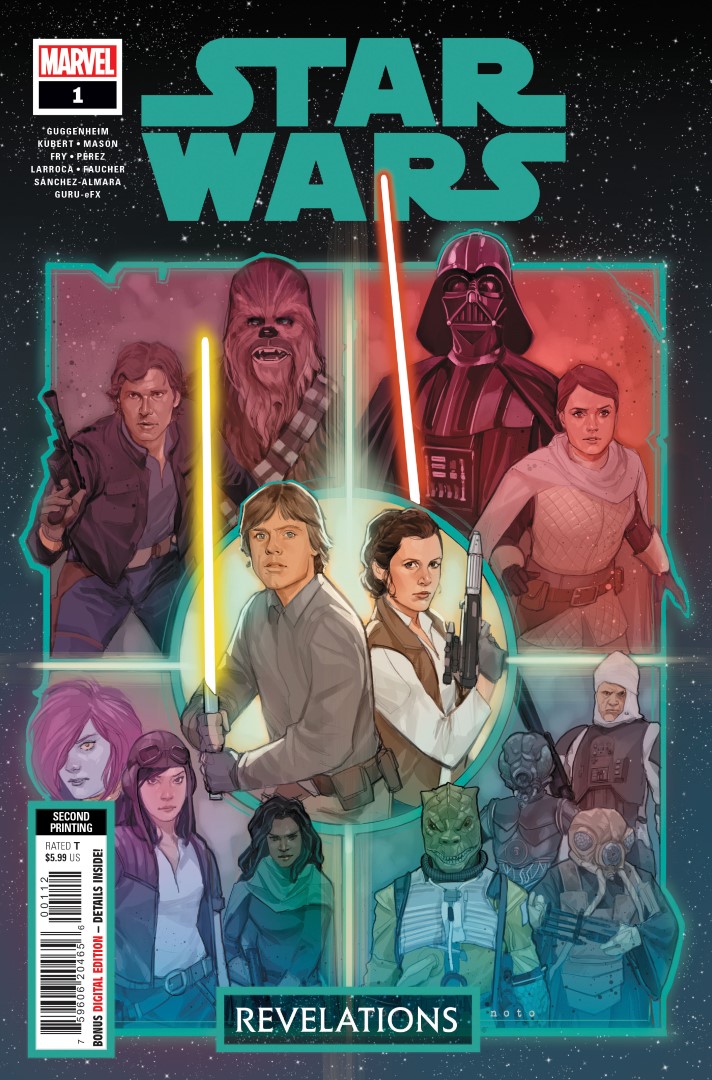 "Now, we all know that the Force can be used to glimpse the present, the past, and possible futures," Guggenheim told StarWars.com. "Well, The Eye [of Webbish Bog] is going to show Vader all of the above, including moments that will be coming into play in 2023 all across the Star Wars line. It's our clever way of giving readers a preview of what everyone has up their sleeves for next year, but this isn't a 40-page movie trailer. It's a real Star Wars story with Vader at the center."