Comics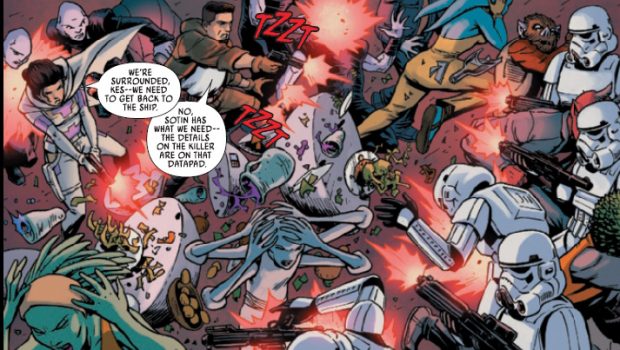 Published on July 25th, 2023 | by Tim Chuma
Star Wars: Return of The Jedi – The Rebellion #1 Review (2023)
Summary: Are we still doing these? Fine! Looking forward to the next one with the keyboard player from the band in Jabba's Palace.
When Admiral Ackbar discovers a plot to assassinate Mon Mothma she refuses to have any more security detail assigned to her and they are forced to take alternative measures. Poe Dameron's parents are assigned to track down who is going to be the assassin but will they reach them in time?
Seemingly they are going to go into the individual stories of every single character in the Return of the Jedi but this wasn't all about Admiral Ackbar unfortunately. I always thought shoehorning sequel trilogy stuff into the original trilogy was gross but it works well enough here with Poe Dameron's parents.
I would like to see an actual Star Wars secret agent story in comic form as they proved something like that would work with the Andor Disney plus show that was slow burn for most of the series but managed to build up interesting characters and fully-realised world.
Again with this I would only recommend it if you are fully committed to Star Wars and wanted to get everything that came out about it. I have tapped-out on Star Wars comics and books as it is too hard to follow now. I am not even watching all of the Star Wars streaming shows now.
Comic details:
Writer: Alex Segura
Penciler: Matt Horak
Cover Artist: Ryan Brown
Publisher: Marvel
Published: July 19, 2023