Comics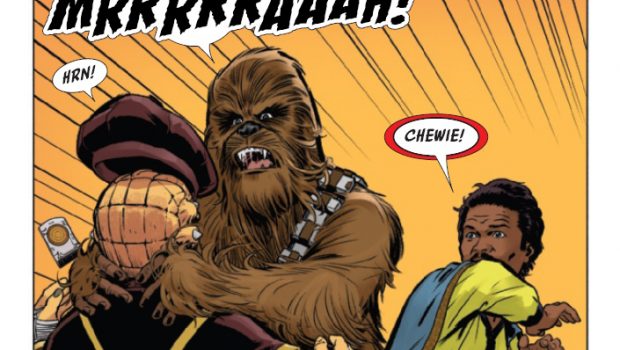 Published on May 9th, 2023 | by Tim Chuma
Star Wars: Return Of The Jedi – Lando #1 Review (2023)
Summary: All the extra stuff that happened before the events of Return of the Jedi finally make it to the page. Not essential but still fun.
Lando and Chewbacca are on a planet trying to get plans for Jabba's palace and it is going…poorly with Chewie trying to choke who they are trying to buy them off. Lando manages to convince them to still sell but now the price has doubled. Their only option to get the money is on a high stakes game of Sabbac (yes, how he lost the Millennium Falcon to Han) at a local casino with an old acquaintance who isn't exactly thrilled to see him but agrees to the game. Chewie also puts himself down as collateral as he understand how important the mission is. Unfortunately the seller has decided to cash in on the bounty for our heroes so they better get that game on quick.
Finally we are into the Jedi timeline and free of the interminable period are the events of Empire that seemed to stretch out for much longer than they seemed in the films. Apparently they have already tried to get into Jabba's palace at this point and it was a bust.
Another fun story with Lando and Chewbacca going around and getting in japes. This was just hinted at in the movies that there was a bunch of stuff that happened to get the characters where they were in play to start but it is great to finally see it.
While this one is not really essential for enjoying the movies as they are it is still something fun if you want more of the characters from the original trilogy and not straying too far from the original storylines.
Comic details:
Writer: Stephanie Phillips
Penciler: Alvaro Lopez
Cover Artist: Ryan Brown
Publisher: Marvel
Published: May 03, 2023