Games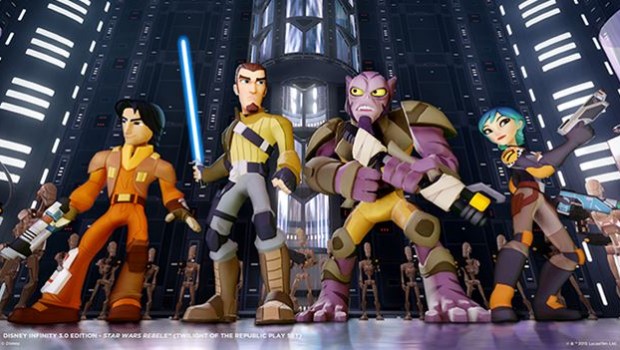 Published on June 13th, 2015 | by admin
Star Wars Rebels™ Characters Join Disney Infinity 3.0 Lineup
MELBOURNE, Aust. – (JUNE 12, 2015) Disney Interactive and Lucasfilm today announced that some of the Star Wars™ characters from the popular animated TV series Star Wars Rebels™  are joining Disney Infinity 3.0. Kanan Jarrus, Ezra Bridger, Sabine Wren, and Zeb Orrelios will be joining other Star Wars, Marvel, Disney and Disney•Pixar characters in Disney Infinity 3.0's Toy Box. Additionally, all characters are unlockable within each Star Wars™ Play Set.
In an effort to thwart the evil plans of the Galactic Empire, these characters are key players in the fight against the forces of the dark side, providing a unique addition to the Disney Infinity 3.0 experience.
KANAN JARRUS
Jedi turned rebel fugitive, Kanan Jarrus leads his team in secret operations to help overthrow the Galactic Empire. He defends the innocent with his blaster and Lightsaber™ and guides his Padawan, Ezra, in the ways of the Force™. 
EZRA BRIDGER
Growing up on his own, Ezra Bridger relied on his street smarts – and subconscious Force abilities – to survive on Lothal. That changed when he met the Ghost crew; Ezra came to believe in their cause, and with the help of Kanan, began to learn the ways of the Jedi, using his custom Lightsaber to undermine the Empire and inspire the rebels. 
SABINE WREN
Sabine Wren has explosive talents for art and demolitions alike, and she won't hesitate to use them against the Empire. She can stealthily approach and sabotage the enemy or stand alongside her rebel allies to lend her twin blasters to the cause. 
ZEB ORRELIOS 
Zeb Orrelios is as strong a brawler as he is headstrong. He stands alongside his fellow rebels with his bo-rifle in hand, ready to take on the Imperial forces.
The Disney Infinity 3.0 Starter Pack will be available this Winter and includes the Star Wars™ Twilight of the Republic Play Set, the Disney Infinity 3.0 Base, Ahsoka Tano and Anakin Skywalker character figures, and a web code card that unlocks content for PC and mobile devices.
A Play Set based on Disney•Pixar's upcoming film Inside Out and a Marvel Play Set featuring Hulkbuster, Ultron, and other Marvel characters will also be available. Additional Disney Infinity 3.0 figures and Play Sets will be announced in the coming months.