VR Gaming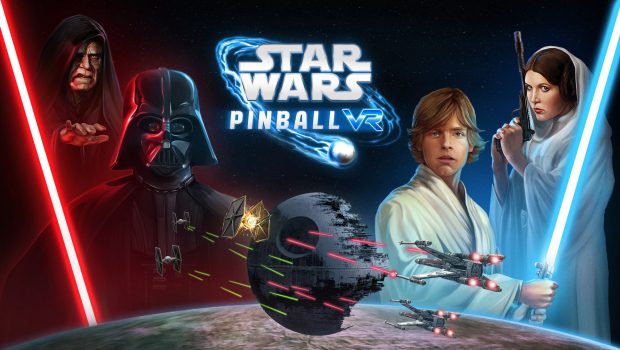 Published on May 2nd, 2021 | by Chris O'Connor
Star Wars Pinball VR PC Review (Quest 2 via Link and Air Link)
Summary: If you've always wanted a Star Wars themed "cave"... this is the cheapest way to get it!
I've been a fan of PC Pinball simulators for about as long as I can remember. I've been a fan of the Zen Pinball series specifically, for quite some time now. Their mix of beautiful visuals on their tables, sound design and the extra level of interaction that you just can't get with real Pinball all adds to the fun. So naturally when you take that and put it in VR, I'm in! But Zen have gone above and beyond (much like they do with the tables themselves) and this isn't just a collection of Star Wars themed pinball tables to play in VR… oh no… it's a whole Fan Room set up!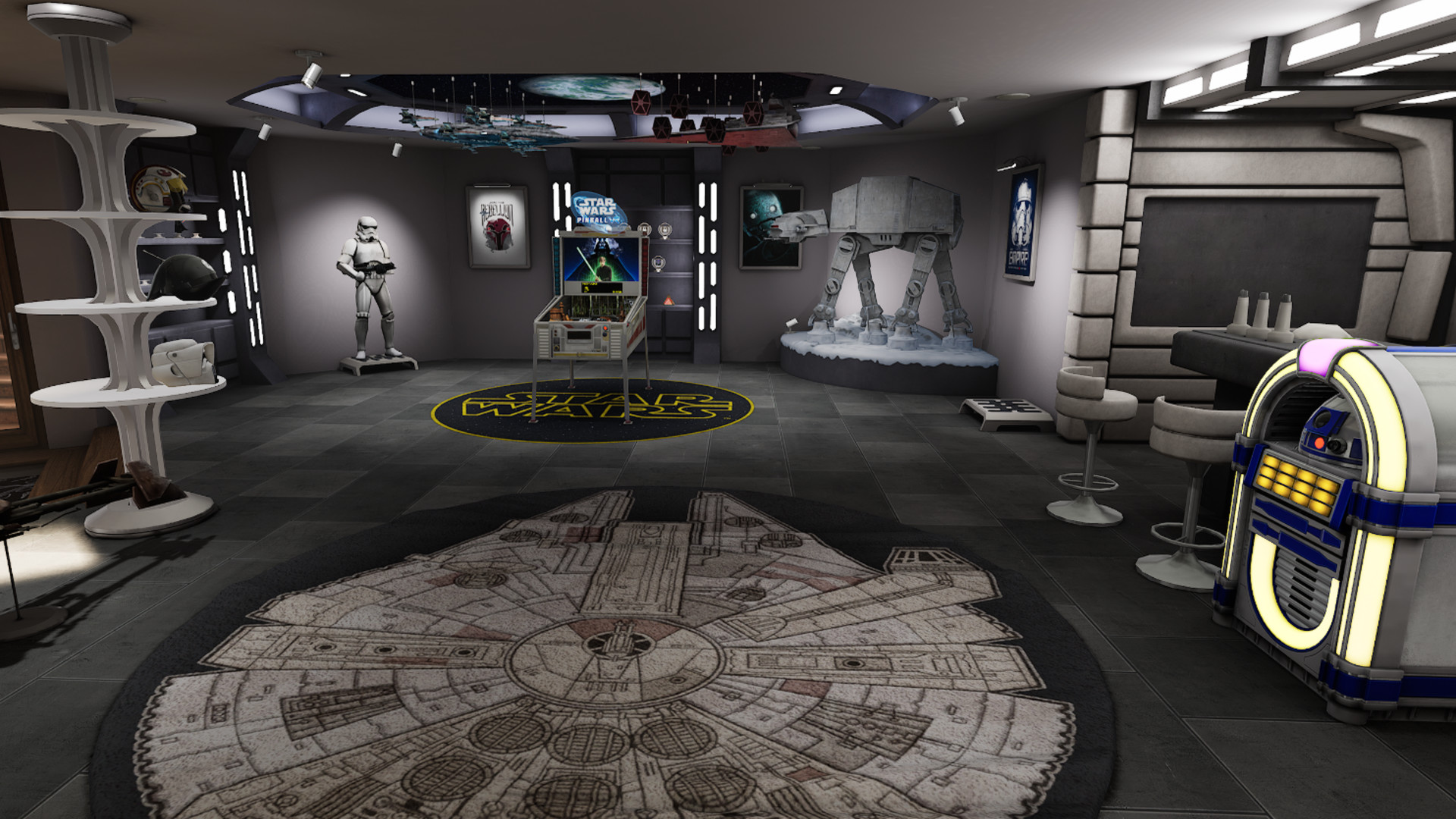 For fans of Zen pinball, some of the tables will look familiar (or all of them … I don't think I've kept up with some of their table releases). But now when you play them, you can look to either side of the table and enjoy the added thrill of seeing Yoda, or Emperor Palpatine or… well, let's just say you should definitely play The Mandalorian table.
The introduction to the game is very well done also, your options menu is a big screen TV… but then when you turn around and look at this room and all that it can be (there are a few decorations to start with, but mostly just space waiting to be filled.)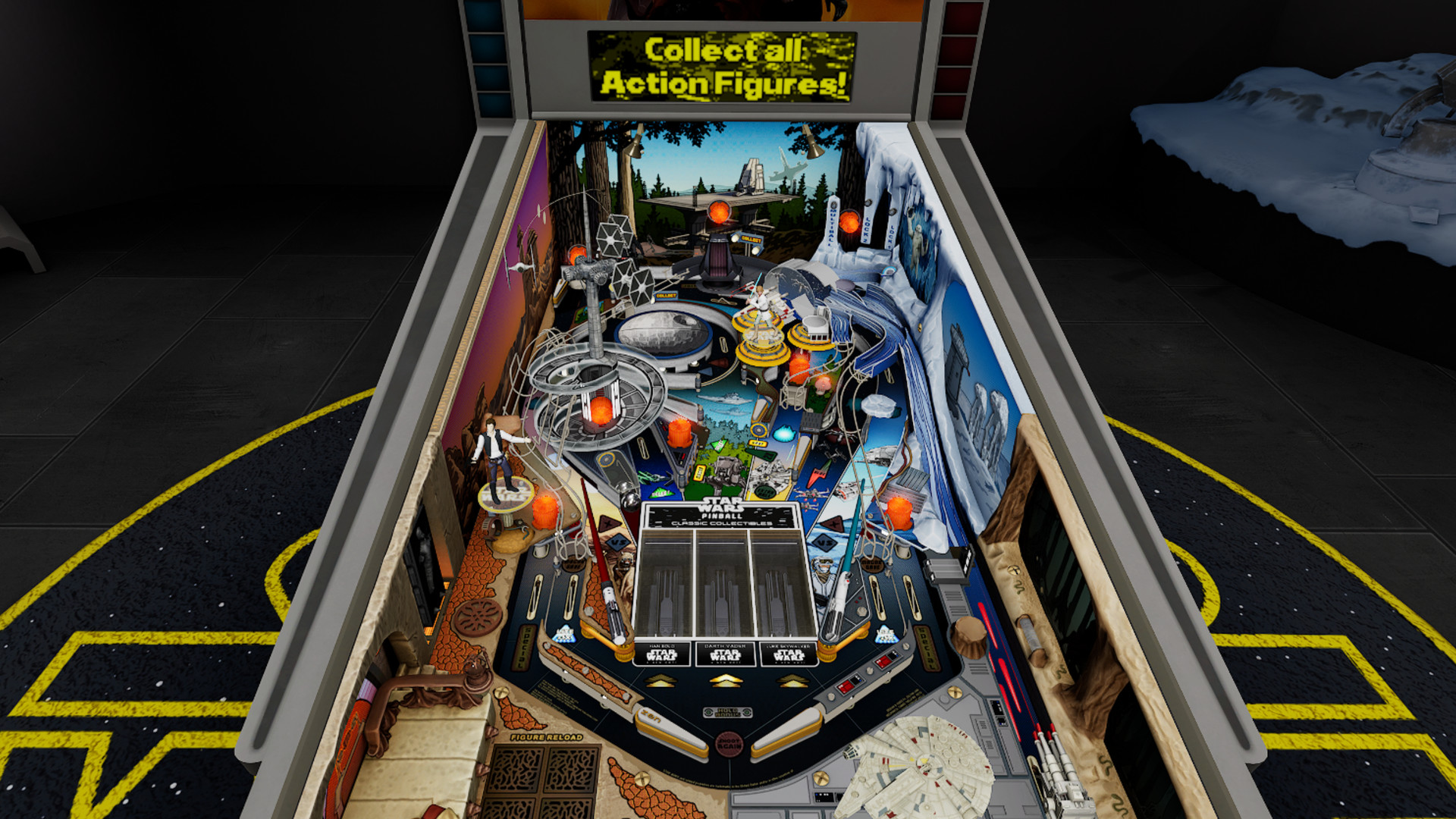 I do have to say that it is so nice to finally be able to actually "pull back" the launcher rather than just hold down a button for a given period of time. It's a small thing but it really kicks the immersion off brilliantly. Whilst on the table you can switch view to within/on the game surface to get a different sense of the layout. Speaking of getting a sense of the layout… as might be expected, it is really really nice to finally be able to look around the elements of the table to keep better track of the ball. You can play the tables in a standard mode or force powers mode, career mode will set you tasks to complete and every time you play you can see how you compare to other players. If the tables themselves weren't enough reason to keep coming back, as you unlock more achievements you are rewarded with new items for your "cave". Songs for the jukebox, helmets for your display stand, posters for your walls and so on. The more you play, the more you can unlock and the more you can personalise your space.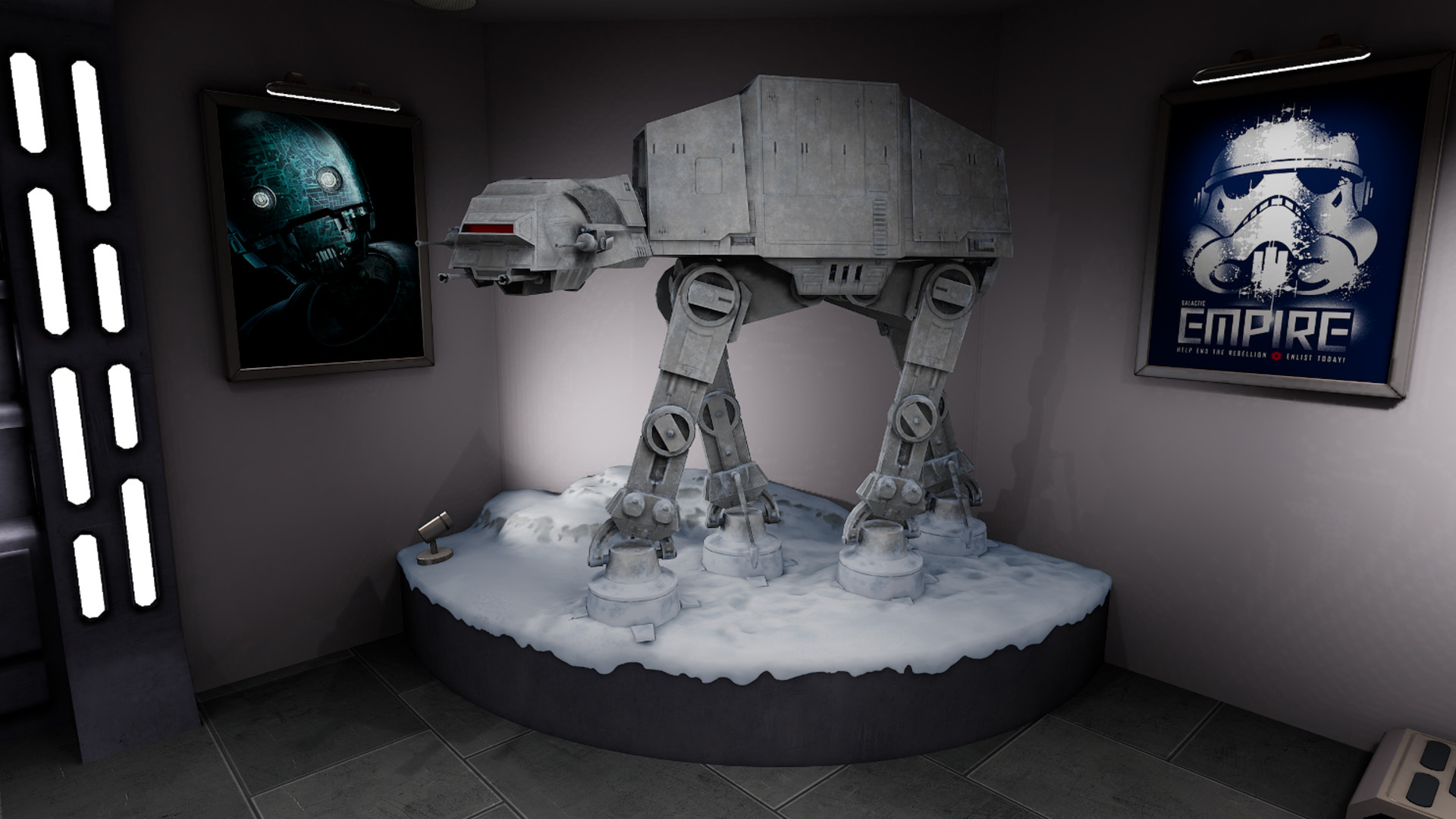 For a lot of us (I know I'm definitely in this category), the idea of having a Star Wars themed room is massively appealing but the cost is prohibitive. Star Wars Pinball VR gives users the chance to have their very own dedicated Star Wars room and it is every bit as thrilling as I hoped it would be. The only thing I would have perhaps liked is the ability to have the tables individually set up around the room, rather than just one table in the room that you use to access all the varieties of game. But that's probably just nostalgia for the old days of arcades with rows of pinball machines talking.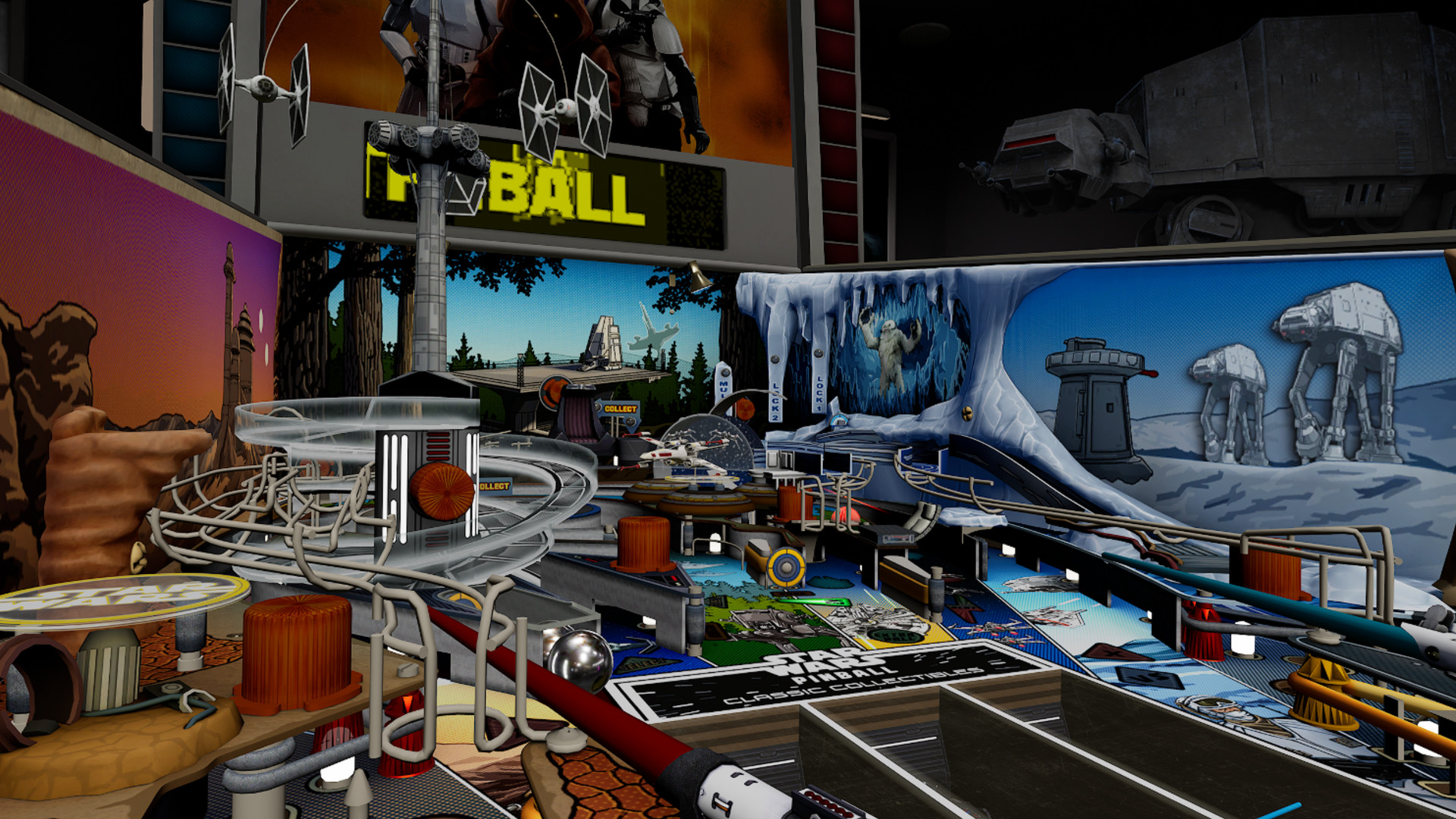 For the price… this is easily one of the best value VR games I've played, I mean sure Half Life Alyx is stunning and immersive… but once you've played the story you will most likely shelve it for a long time before a replay. Pinball is an easy pick up and play game and when you put it in VR and throw in Star Wars props, models and so on…. it's pretty hard to beat. I did find it had a bit of trouble exiting the game, but this could have been due to the fact I was playing it via Quest 2 Link and Air Link… either way, I suspect that will be sorted out with an update.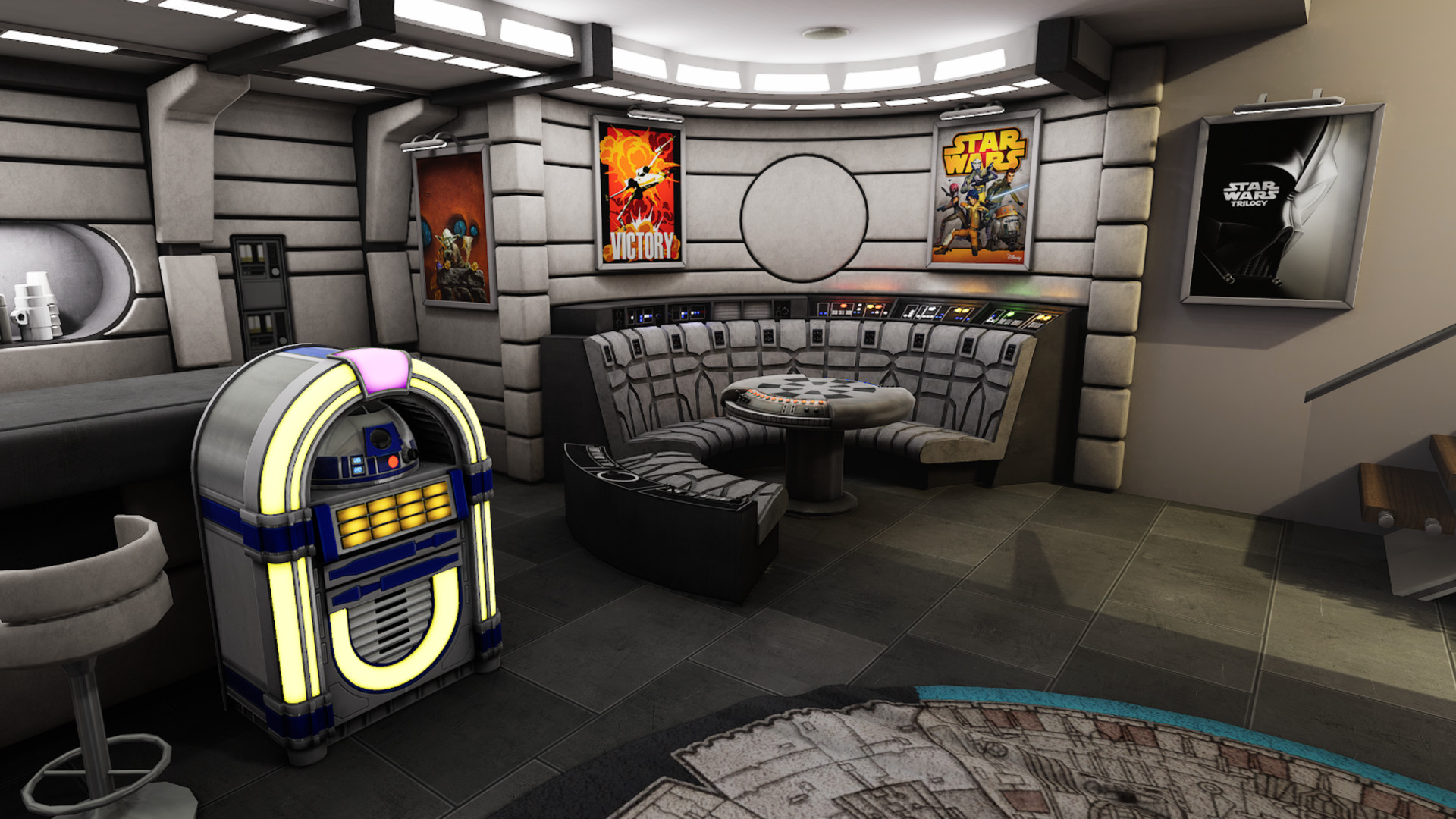 No question here… if you love Star Wars or Pinball and VR this is a must buy… any combination of those things but especially if you love Star Wars Pinball and VR… then you should buy it now and jump in and feel the force… of nostalgia wash over you!