Comics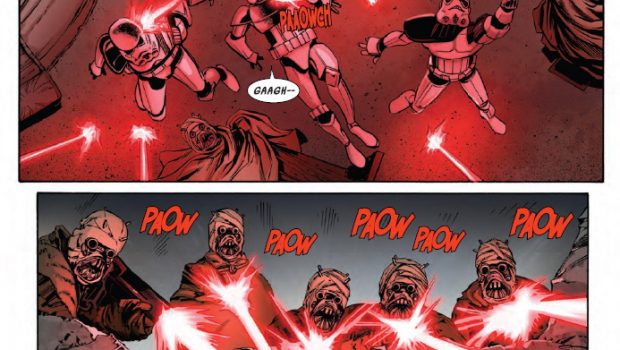 Published on September 22nd, 2022 | by Tim Chuma
Star Wars: Obi-Wan #5 (2022) Review
Summary: A soft-landing for this series that ties things up nicely. Not really essential but if you like Obi Wan Kenobi and want some more stories with him the entire series is now available.
The sand storm has ended but there is still danger about in the form of the garrison of Empire soldiers on the planet. Some Tuskens raid a local depot in what seems to be one thing but turns out they want to attract attention. Obi Wan comes across the aftermath and tries to help the lone survivor but it is not clear if they want to be helped.
This series goes out on a subdued note compared to what has come before it and it was never really to go that long. If you want to know more about Obi Wan Kenobi I would recommend this entry and the series in general.
Maybe some of the stuff that happened in this one is a bit too convenient to wrap it up and go into A New Hope but it was always going to end up around that time.
I would consider getting this one in a collected edition with the other entries in the series if you were going to get it.
Comic details:
Writer: Christopher Cantwell
Penciler: Adriana Melo
Cover Artist: Phil Noto
Publisher: Marvel
Published: September 14, 2022