Comics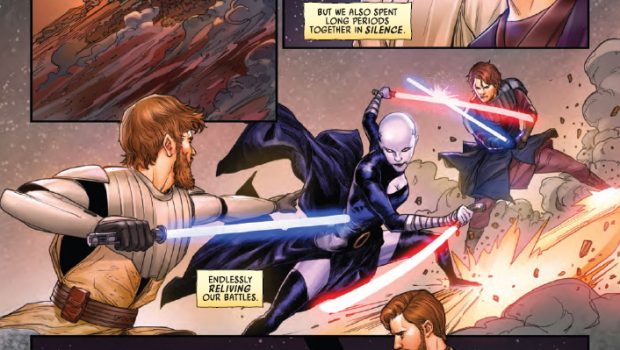 Published on September 6th, 2022 | by Tim Chuma
Star Wars: Obi-Wan #4 (2022) Review
Summary: While not as vital as other stories with these characters, if you want more after the recent Obi-Wan series then check this one out.
Obi Wan and Anankin Skywalker are tasked with an "off the books" mission to bring one of the commanders from the Battle of Arbion bridge to justice who has gone rogue and is now causing problems for the Republic. It is made clear to them that he needs to be eliminated but Obi Wan does not want to do that if possible.
While there are a quite a lot of stories with Obi Wan and Anakin Skywalker from the Clone Wars TV series this seems to be a new story that has not been shown before. The story does seem very Heart of Darkness even though the rogue commander is not really the main character in the story.
Obi Wan has become increasingly concerned about what the war they are fighting is really about and even the rogue commander seems to think it is about something else but says it is "death" rather than Palaptine which is pretty much the same thing. Can't have been the only person to wonder in this in all of the Star Wars stories.
Special note must be given to Asajj Ventress turning up in one panel even though they do not go into what happened during that battle. It seems she may be making an appearance in the future as the old story where it was only Anakin Skywalker who fought her is no longer cannon.
While not essential to read if you are just a more casual Star Wars fan it is still worth it if you are still wanting more backstory on Obi Wan after the recent Disney+ series and some more of the character with Anakin Skywalker.
Comic details:
Writer: Christopher Cantwell
Penciler: Madibek Musabekov
Cover Artist: Phil Noto
Publisher: Marvel
Published: August 31, 2022