Comics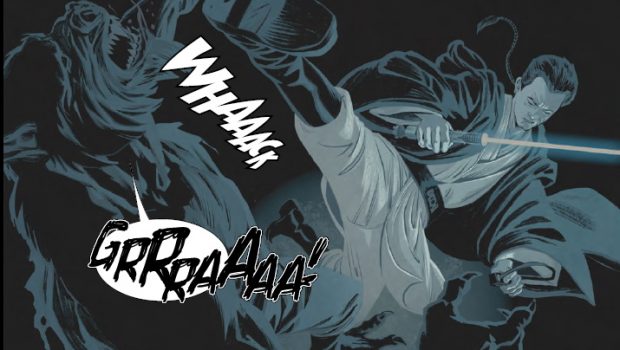 Published on July 4th, 2022 | by Tim Chuma
Star Wars: Obi-Wan #2 Review (2022)
Summary: Well worth it for a new story with Obi-Wan and Qui-Gon Jinn. Obi-Wan does appear to kick a werewolf at one point and the two look like Daft Punk in those visors.
4
Obi-Wan kicking werewolves
Qui-Gon Jinn and Obi Wan arrive to answer a distress call from a remote mining colony suddenly plunged into darkness only to find themselves attacked by some unseen force and things and even the sudden darkness is not all that it seems. With their night vision visors failing and even the lightsabers dimming can they solve the mystery?
This is a welcome addition to the series and also to Star Wars cannon as to now there are very little other stories with Obi Wan and Qui-Gon apart from the prequels and the two are known to have done a lot of things together before that. While there has been all of the Clone Wars series and stories with Obi Wan and Anakin Skywalker I do not think they did the same with Qui Gon so this is valuable just for that.
Another good thing about this story is that it stands on its' own so you don't need to have read any other stories to get what is going on apart from knowing who the main characters are going into it. With all the different storylines going on in the main comics of this series it is a relief to still have comics like this.
Well worth a look if you are a fan of the young Obi Wan and want a new story with Qui Gon Jinn.
Comic details:
Writer: Christopher Cantwell
Penciler: Luke Ross
Cover Artist: Phil Noto
Publisher: Marvel
Published: June 29, 2022