Collectibles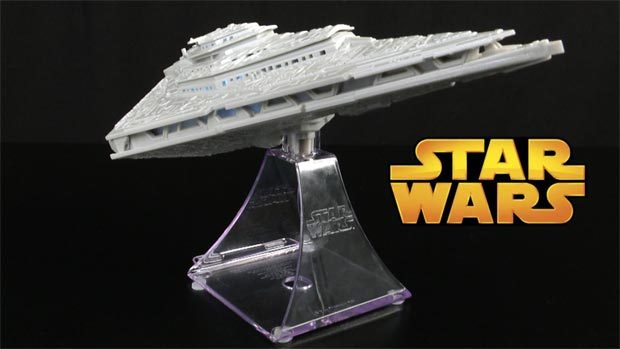 Published on June 26th, 2016 | by James Wright
Star Wars iHome Bluetooth Star Destroyer Speaker Review
Summary: The Star Wars iHome Bluetooth Star Destroyer Speaker is a fun speak system that also serves as a collectible!
This awesome licensed product is none other than a miniature Star Wars Star Destroyer "Bluetooth Speaker" that successfully mirrors this deadly space craft from the film. The company who creates these products (eKids) also have a Tie Fighter, Death Star and the Millennium Falcon available, however for this review, we're checking out the Star Destroyer!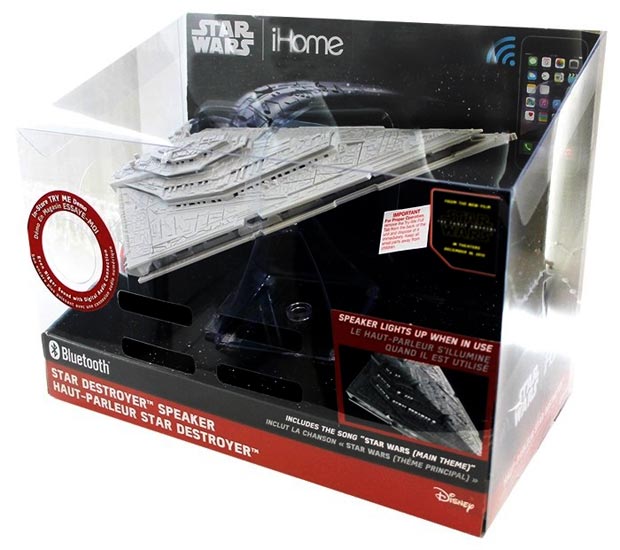 Before jumping into the sound quality of this speaker, the first thing that you notice is the overall build of this product and the attention to detail. It looks like the Star Destroyer and best of all, it comes with a clear acrylic stand that allows the user to display this as a collectible. As it's a Bluetooth product, you can even take calls via the Star Destroyer which also boasts one-touch connectivity to your Bluetooth device plus a 3.5mm audio out jack as well. This means you can connect external devices to it via a wired connection.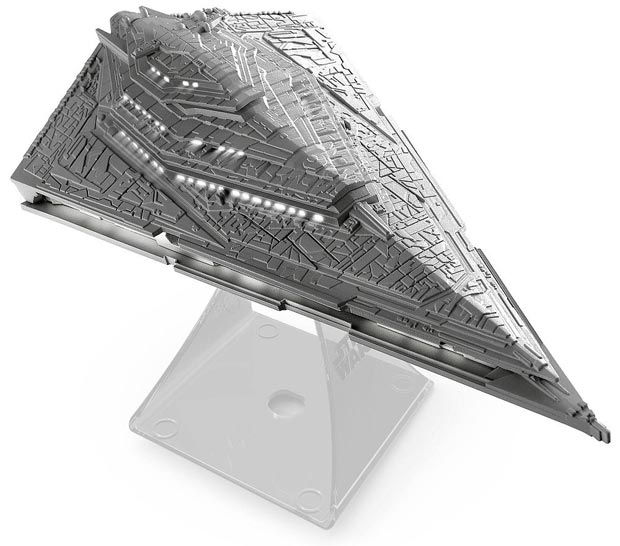 To pair the Star Destroyer to your Bluetooth enabled device, you simple hold the top right engine on the back which is basically a button and then search for the product on your phone or tablet. Once paired, any music that plays on your Bluetooth devices streams to the Star Destroyer which also allows you to receive calls via this product. In terms of placement and controls, the 3.5mm audio out jack is on the left which also includes a power on/off button. The microphone is located on the back which is the large engine to the left. The dimensions of this product is 168 x 292 x 239mm and weighs just over half a kilo.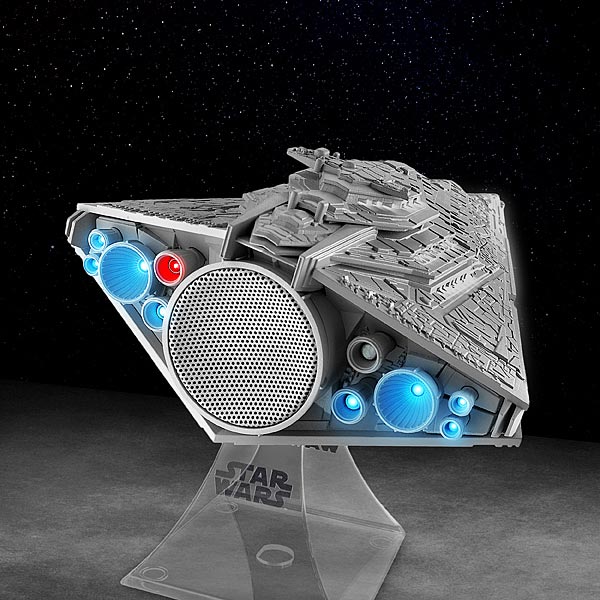 Another cool component of this product is that it lights up when in use which include some of the windows of the Star Destroyer which are white and the back of the ship where the engines are blue. It's quite a cool sight, particularly when some Star Wars music is coming out of this collectible speaker. In terms of power, the Star Destroyer comes with an internal lithium-ion battery that can be charged via a USB port and lasts around 8-hours on a full charge. There's also a charging indicator and the product can even be charged while listening to music. I also like the fact that my pressing the on button, it plays some of the Star Wars theme!
The audio quality of this Star Destroyer speaker is not bad, sure it's not like a dedicated stand alone speaker system but in my opinion, it is far superior than your smartphone or tablet. The audio can also be quite loud, however the louder you play it, the sound does become a little distorted. For midrange sounds, the speaker does it's job well and for the most part, the audio, specifically for music was good. The bass was a little tinny at times.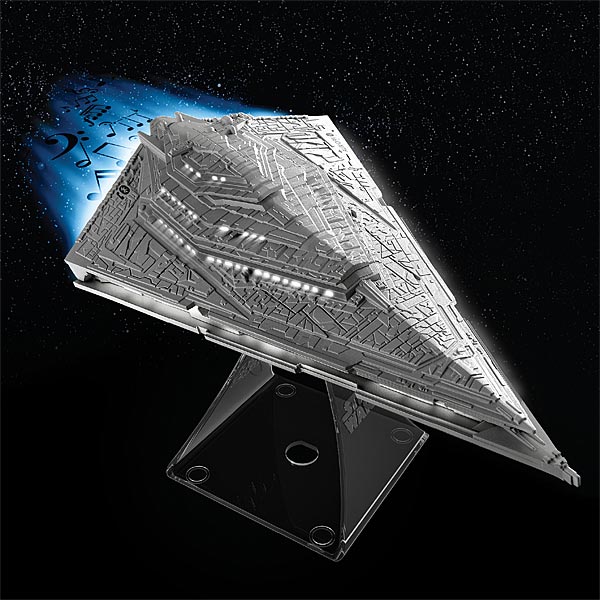 Final Thoughts?
In conclusion, the Star Wars iHome Bluetooth Star Destroyer Speakers is a clever device that also serves as a collectible which is in the shape of this deadly Imperial spaceship. It's easy to setup and boasts some cool LED's when in use. Charging is simple and more importantly, it's quite a loud speaker system with decent quality all round. However if you're looking for something more powerful, than this is not the droid for you!
Product Specifications

Star Destroyer Bluetooth® Speaker on acrylic stand
Officially-licensed Star Wars merchandise
Wirelessly stream music from up to 30 ft. away
Compatible with Bluetooth 1.1, 1.2, 2.0, and 2.1+EDR enabled devices
Auto-link button for fast, easy Bluetooth setup
Also plays audio from devices equipped with 3.5mm headphone jack (cable included)
Take calls from your paired device on your Star Destroyer
Frequency Response: 100Hz to 16Khz
Power: 3W@1%THD
Speaker lights up when in use
Mono
You can charge the speaker while listening
LED charging indicator light
Batteries: Rechargeable lithium-ion battery (a charge lasts up to 8 hours)
Charges via micro USB with the included cable (to charge via wall, you must provide your own wall to USB adapter)
Dimensions: 11.5″ x 6.7″ x 9.4″
Weight: 2 lbs.
For more information please visit http://www.mobilezap.com.au/10059/stereo-speakers.htm