Comics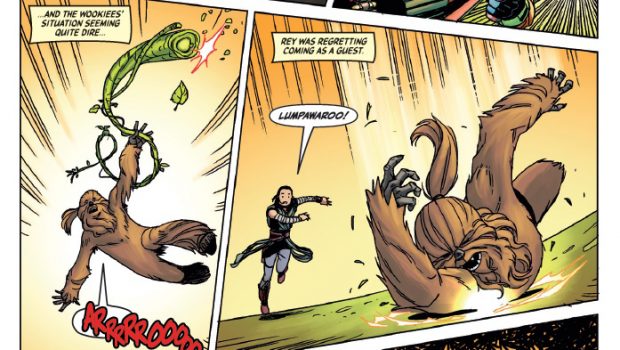 Published on February 27th, 2023 | by Tim Chuma
Star Wars: Hyperspace Stories #4 Review (2023)
Summary: A refreshing change from the Marvel Star Wars stories that seem to be spinning their wheels at the moment. Not an essential read but a nice distraction.
Rey and Chewbacca go back to Kashyyyk for Life Day but Rey has a bounty hunter on her tail and they end up having to deal with that instead. This does not really work out how you would expect seeing there is a bounty hunter involved.
For once it was a relief to be clear of the current Star Wars storyline that is mired in the time period between Empire and Jedi and seems to be circling the drain. There have been some other ones with Han Solo and Chewbacca but this is the first one I have read by Dark Horse.
This does seem to be aimed at younger fans of Star Wars but that's OK as not everything has to be for a certain demographic.
Also this is a good example of a one and done story so you can just read this one in isolation and not have to have read any other stories or keep track of other characters.
Comic details:
Writer: Amanda Deibert
Artist: Lucas Marangon
Colorist: Michael Atiyeh
Genre: Science-Fiction, Action/Adventure
Publisher: Dark Horse
Publication Date: March 01, 2023
Format: FC, 32 pages; Miniseries