Comics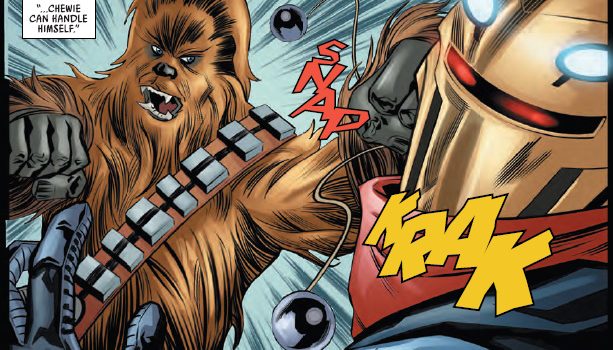 Published on January 24th, 2023 | by Tim Chuma
Star Wars: Han Solo & Chewbacca #9 Review (2022)
Summary: Another series that is wrapping up but this one was only meant to be a shorter series. Maybe best to wait for the trade paperback at this point.
Chewbacca narrowly escapes falling to his death on Coruscant and they find the urn does not contain ashes at all. They decide to go to a shady planet to find help about what it actually is and end up being ambushed by other people who are also trying to get it.
Chewy gets to beat up a lot of people in this which is always good to see. As expected they run into some "old friends" and the next issue is meant to be the last of this short series. As it is set before the first Battle of Yavin you know both of them will make it out but it will still be fun to see how.
This one does jump around a bit in terms of setting and characters but it is still easy enough to follow.
As with the soon to be completed Bounty Hunters series it may be best to wait until the trade paperback is out rather than start reading this now.
Comic details:
Writer: Marc Guggenheim
Penciler: David Messina
Cover Artist: Phil Noto
Publisher: Marvel
Published: January 18, 2023