Comics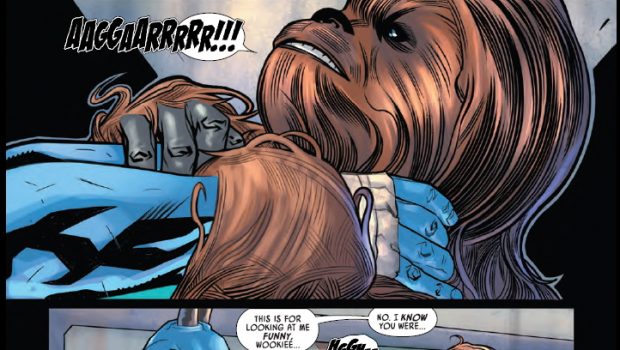 Published on October 4th, 2022 | by Tim Chuma
Star Wars: Han Solo & Chewbacca #6 (2022) Review
Summary: Good to see Chewbacca be the centre of attention and not just in that one comic where he got killed (now no-longer canon).
"Some stuff happened" is all I can work out from the situation. Chewbacca is on a prison planet, the Millennium Falcon has been stolen, Han Solo is supposedly dead, shot in the back by Greedo and Han's "father" was never, that it was all a con from the start.
The prison guards seem to be content to let the wookie fight as the prisoners do not get that much entertainment. It seems Chewbacca does have some friends inside as they are willing to help him escape, but the plan calls for some extreme measures.
While it may be best that you read the previous few instalments of this story to understand what is going on, I was still sort of able to piece things together and it is not that hard to work out who is on what side.
There is a famous comic anthology of Chewbacca's death that is now longer canon and the creator did not really enjoy killing him off. This is not the first time in Han Solo's adventures he appears to have died as a similar situation occurred in the War of the Bounty Hunters series when Leia and the crew thought they "lost" the carbonite slab containing Han when it was blown out of an Imperial ship.
Still a worthwhile series if you are a fan of these characters and not really digging the other stories that mainly have the side characters these days.
Comic details:
Writer: Marc Guggenheim
Penciler: David Messina
Cover Artist: Phil Noto
Publisher: Marvel
Published: September 28, 2022