Comics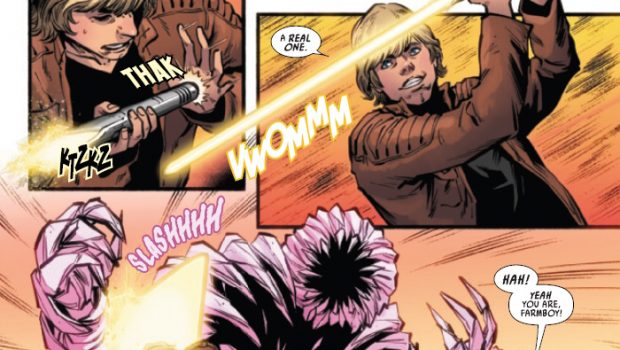 Published on June 4th, 2023 | by Tim Chuma
Star Wars: Doctor Aphra #32 Review
Summary: A new storyline for this character so it was going to take a while to get going again. She has been through a lot at this point. Luke went along with it a bit too easily.
Doctor Aphra is off on a new adventure but needs the help of a Jedi, so kidnap Luke Skywalker it is. He does seem to go along with her a bit too easily I thought considering she did knock him out and put a restraining bolt on R2D2. Turns out she needs his help to find a hidden Jedi temple that she has a message from another Jedi.
With this being a new story it was going to take a while to get going and there is a reasonable amount of action in this but not as much as the issues leading up to it understandably. It reminded me of one of the very first issues I read of the new run with the gang exploring the ancient civilisation.
This storyline seems to be off to the side and not in the current timeframe in between Empire and Jedi but the comics have started to go into that now.
I would recommend this one if you have been enjoying Doctor Aphra and absolutely have to read everything Luke Skywalker is in.
Comic details:
Writer: Alyssa Wong
Penciler: Minkyu Jung
Cover Artist: Jung-Geun Yoon
Publisher: Marvel
Published: May 31, 2023